Library use up in Taipei in 2015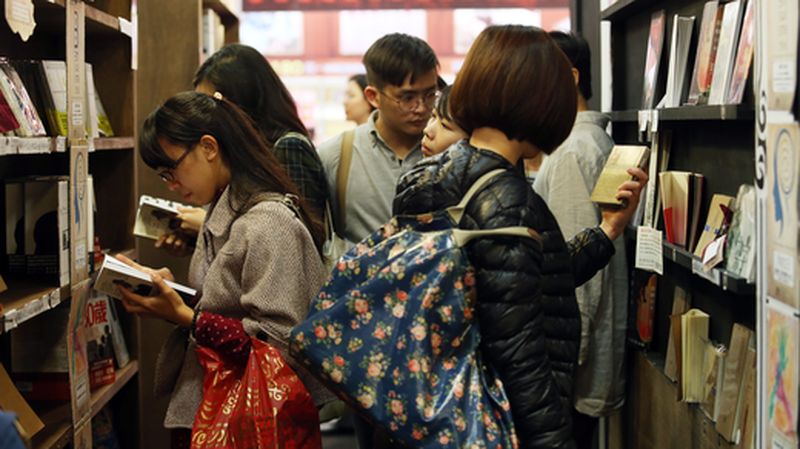 Taipei, Feb. 11 (CNA) Libraries are continuing to draw users in Taipei, even in an age where information is instantly available at the press of a button.
Taiwan's capital actually saw an increase in the number of books lent out in 2015, with Taipei residents on average checking out 5.1 books per year from libraries, according to data from the Taipei Public Library released Jan. 30.
The total number of titles borrowed was 12.98 million, up from 12.79 million in 2014.
Women represented the majority, accounting for 7.19 million, or 55.39 percent, of the books borrowed in 2015. Female readers seemed more active than their male counterparts, but this is not surprising if the gender ratio of library cardholders is similar to the population of Taipei, which is 52.11 percent female.
In terms of age, the most studious demographic was men and women aged 41-50, who checked out 3.46 million titles, followed by men and women aged 31-40 with 2.76 million titles, and young students from grade 1-9 with 1.52 million titles. People under 30 made up a small fraction of library users, likely because of Taiwan's lowering birth rate over the past three decades.
As for the books themselves, language and literature were the most popular, followed by the arts (including comic books), history and geography, applied sciences, and social sciences.
Among the top 20 most-borrowed literature titles, 19 were Chinese translations of English or Japanese texts. Japanese novelist Keigo Higashino's "Miracles of the Namiya General Store" was in first place, while Higashino's eight other novels ranked at various spots between third and 16th. E.J. James's "Fifty Shades of Grey I" was second; Hugh C. Howey's "Wool" was sixth and "Shift" 18th; S.J. Watson's "Before I Go to Sleep" was 10th, while Suzanne Collins's The Hunger Games trilogy came in at 20th.
The only literary work by a local writer was a collection of essays by physician-turned-writer Hou Wen-yong (侯文詠) in 17th.
The top 20 literature titles were checked out between 1,133 and 2,114 times each last year, while the top 20 non-literature titles were checked out between 826 and 1,333 times.
Two-fifths of the top 20 non-literature titles were translations of English or Japanese non-fiction books, including Daniel Kahneman's "Thinking, Fast and Slow" (5th), Carmine Gallo's "Talk Like TED: The 9 Public Speaking Secrets of the World's Top Minds" (6th), Leil Lowndes's "How to Talk to Anyone: 92 Little Tricks for Big Success in Relationships" (8th), Peter Thiel and Blake Masters's "Zero to One: Notes on Startups, or How to Build the Future" (20th) and Marie Kondo's two titles on keeping a home clean through organization (7th and 19th).
Twelve were Chinese-language originals, including three books (1st, 2nd and 12th) on healthy diet and the connection between mental and physical health, by dietitian Sara Tang (賴宇凡). In third place was "First Emperor of the Qin: A Trip in Historical Thinking" (秦始皇: 一場歷史的思辨之旅) by National Taiwan University Professor Lu Shih-hao (呂世浩), and in 10th place was "The Scientific, Medical and Mental Trip of Meditation" (靜坐的科學醫學與心靈之旅) by Yang Ding-i (楊定一), a biochemistry and medicine doctor, and his daughter Lena Young (楊元寧).
Also on the list were Taiwanese-Japanese Chen Hsuan-ju (陳宣儒), also known by her Japanese name Mika Tanaka, and her "Wansei Back Home" (灣生回家) in 9th place, which documents buried stories of some Taiwan-born Japanese during their years living in Taiwan before 1945, and a collection in 13th place of stories involving fortune tellers by late writer Shih Chi-ching (施寄青).
One book on travel in the Kansai region of Japan in 4th place also made the top 20 non-fiction list, as well as three titles on stock investment in the local market, in 11th, 15th and 16th places.
(By Kuo Chung-han)ENDITEM/J