Banana silk yarn weaving designated as Hualien cultural heritage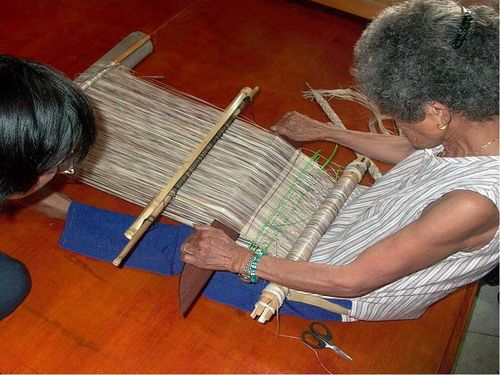 Hualien, Nov. 10 (CNA) The technique of making banana silk yarn, a craft that is exclusive to the aboriginal Kavalan (噶瑪蘭族) tribe, has been designated as an intangible cultural heritage of Hualien County.
The Kavalan people are the only aboriginal tribe in Taiwan that has the expertise to make fabric from banana plants, a skill that has been passed down from one generation to another.
According to tribal stories, banana fiber was adopted for use as an alternative to sisal to make fabric because bananas could be grown all year round.
[Photo courtesy of the Hualien County Cultural Affairs Burea]
Thanks to a group of women in the Shinshe (新社) settlement in Fengbin (豐濱) in Hualien County, this tribal craft is being preserved.
The fabric that they make is displayed at the LALABAN handicraft shop that was set up in Shinshe by the Hualien Kavalan Development Association in 2005.
The popular souvenir shop brings new creativity to the traditional craft and sells not only fabric and clothing, but also stationery and household decorations, made from banana fiber.
[Fiber stripped from banana stalks is sun-dried. Photo courtesy of the Hualien County Cultural Affairs Burea]
Chen Shu-mei (陳淑美), director of the Hualien County Department of Culture, said Tuesday that banana plant fabric is the third cultural asset that has been designated by the county government as intangible cultural heritage of the region.
The other two are the weaving of men's wear in the Bunun (布農族) tribe and a Bunun Sowing Festival song known as a pasibutbut, she said.
(By H.F. Lee and Lillian Lin)ENDITEM/pc