ELECTION 2024
/
Ko Wen-je reiterates China policy based on 'deterrence & communication'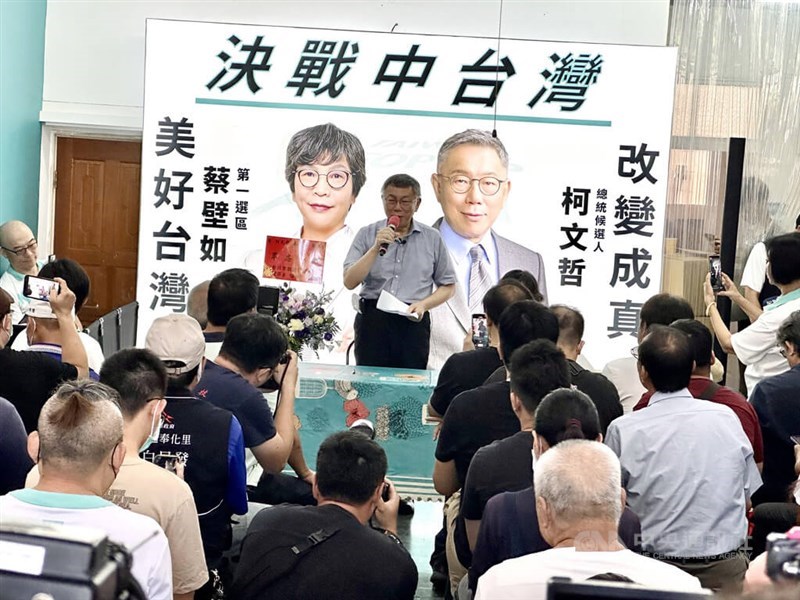 Taipei, Sept. 14 (CNA) Taiwan People's Party (TPP) presidential candidate Ko Wen-je (柯文哲) said Taiwan has no choice but to maintain the cross-strait status quo, and as such, must prioritize "deterrence and communication" in its approach to Beijing.
In a Bloomberg TV interview that aired on Thursday, Ko said that for the time being, maintaining the cross-strait status quo is "the only choice we have," since "the U.S. won't let Taiwan unify with China and China won't let Taiwan become independent."
"There's no point in even talking about unification or independence right now because you can't achieve either," he said.
Asked how he would try to defuse Taiwan's currently tense relations with China, the former Taipei mayor said he would be guided by the principles of "deterrence and communication."
Credible deterrence, he explained, is necessary for Taiwan to be able to effectively negotiate with China, while communication is needed to reduce hostility and lower the risk of miscommunications that can lead to war.
National defense
Elaborating on his national defense views, Ko said he supported increasing Taiwan's defense budget to 3 percent of GDP -- higher than the record 2.5 percent the government has requested in its 2024 budget proposal.
He argued that the ruling Democratic Progressive Party (DPP), despite its habit of "opposing China every day," has failed to adequately equip Taiwan's military and has spent defense funds in a "reckless" manner.
For the defense of an island nation like Taiwan, the priorities should be cybersecurity, air force, navy and then the army, in that order, Ko said.
"To be honest, I don't know why Taiwan is buying M1 Abrams tanks. Those tanks can't even be driven across a lot of our bridges. The defense budget needs to be increased, but the way it is distributed needs to be rational," Ko said.
1992 consensus and China
Ko was also asked for his view on the "1992 consensus" -- an understanding reached in a 1992 meeting between Taiwan's then-ruling Kuomintang (KMT) and Beijing that both sides recognize there is only "one China," which includes Taiwan, but that both can interpret "one China" in their own way.
In response, Ko said the consensus had been "stigmatized" in Taiwan and that he would deal with the issue "pragmatically" and not get stuck in disputes over terms.
"When China asks if we accept the '92 consensus, the DPP government directly says 'no.' My answer would be: 'There doesn't seem to be a market for this in Taiwan. Should we change the name of the term?'"
On the issue of China more broadly, Ko said he believed its leader Xi Jinping (習近平) was busy dealing with internal problems like high unemployment and an economic bubble, and that Taiwan was not "near the top of his list."
In such circumstances, Taiwan should focus on avoiding confrontation and not "stick [its] neck out," he said, adding "you don't want to be your enemy's No. 1 goal."
View All