China should not 'dictate' who can come to Taiwan: Liz Truss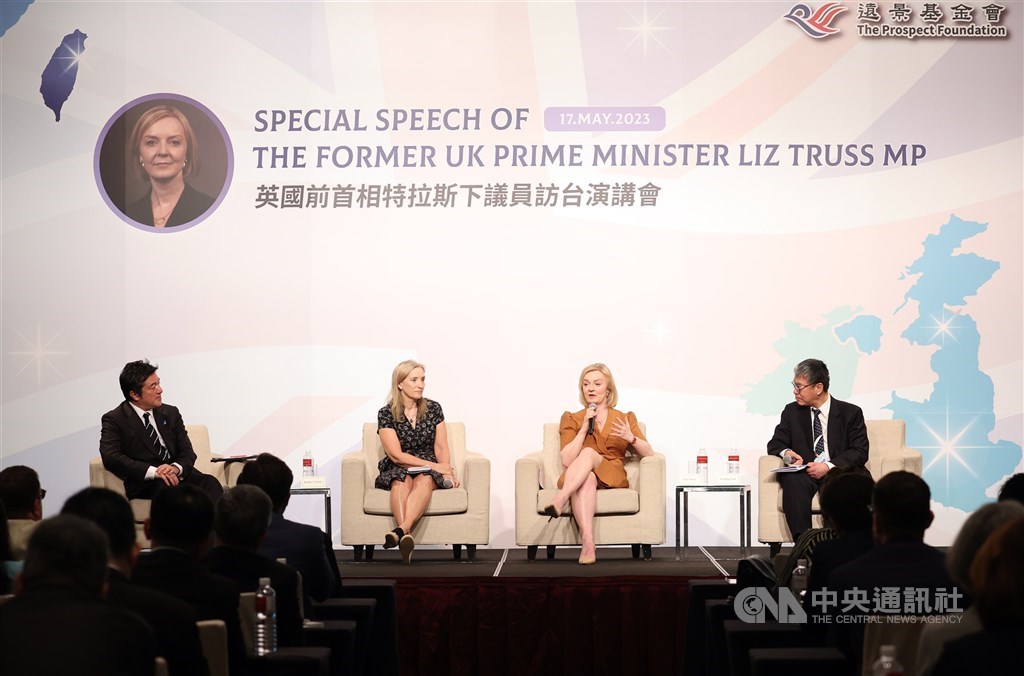 Taipei, May 17 (CNA) China should not be allowed to "dictate" who can or cannot visit Taiwan, former U.K. Prime Minister Liz Truss told a press conference in Taipei on Wednesday.
It is "a very dangerous idea that we should allow a totalitarian regime to dictate who goes where in the world," said Truss, referring to the Chinese government, "That to me is a curb to fundamental freedoms and exactly the opposite of what we should be advocating and promoting."
Truss, who left Downing Street after a tumultuous 49-day stint in office last year, arrived in Taiwan on Tuesday, making her the first former U.K. prime minister to have come to Taiwan in 27 years since Margaret Thatcher's last visit in 1996.
Britain's shortest-serving prime minister stressed her current five-day visit was made at the invitation of Taiwan's government, adding she intended to "increase awareness" of Taiwan's situation and "do all I can to help ensure [Taiwan's] continued success" as a free democracy.
Truss' comments come amid criticism from China and fellow Conservative MPs over the appropriateness of her five-day trip to Taiwan.
The Chinese embassy in London has characterized Truss' Taiwan trip as "a dangerous political show" that would "do nothing but harm to the U.K.," accusing her of "colluding" with "independence secessionist forces" in Taiwan in an attempt to escalate tensions across the Taiwan Strait.
Meanwhile, Truss' fellow Conservative MP Alicia Kearns, chair of the U.K. Parliament's foreign affairs committee, told the Guardian that the former prime minister's visit to Taiwan amounted to "the worst kind of Instagram diplomacy."
In her own defense, Truss said it was worrying that "elements of the British press" and "elements of the British political system" were sometimes prone to "reproduce" the lines taken by Beijing.
"What the Chinese Communist Party is trying to do, is they are trying to make it unacceptable for people to visit and talk to Taiwan," she said. "We should think about what their aims and ambitions are in trying to do that," she added.
Truss' comments at the press conference followed her speech urging democratic nations around the world to gear up their support for Taiwan through economic and military cooperation in the face of increasing Chinese threats.
"We have to do all we can to support free democracies like Taiwan in the face of aggression from a Chinese regime," she said at an event hosted by the Prospect Foundation, a Taiwan government-funded think tank.
Western countries, Truss said, have "a collective responsibility" to stand up for Taiwan, which she described as "the most consequential place in the world" in "the most consequential struggle of our time."
In her speech, Truss urged the U.K. government to publicly endorse Taiwan's bid to join the Comprehensive and Progressive Agreement for Trans-Pacific Partnership (CPTPP) while vetoing China's application to the transatlantic trade bloc.
The U.K. should "champion the fast-tracking of Taiwan's accession" to the CPTPP, she said, adding it was also "vital" that China should be blocked from joining the pact.
Taiwan applied on Sep. 22, 2021, to join the CPTPP -- a Tokyo-led trade bloc representing a market of 500 million people and accounting for 13.5 percent of global trade -- about one week after China submitted its application.
Any new ascension to the CPTPP requires the unanimous support of its 12 signatories, including the U.K., which officially joined the bloc at the end of March.
Truss, who has been a China hawk since her days as U.K. foreign secretary from September 2021 to September 2022, also proposed the establishment of an "economic NATO" to "take on the economic coercion" by China.
In terms of military cooperation, Truss called for a "more coordinated approach" to make sure Taiwan has the defense it needs and is able to defend itself.
"We cannot pretend that we have meaningful deterrence without hard power," she said. "If we're serious about preventing conflict in the South China Sea, we need to get real about military and defense cooperation."
Related News
Interview: No guarantees when negotiating with China, ex-British PM says