Tsai's National Day speech delivers goodwill message to China: analysts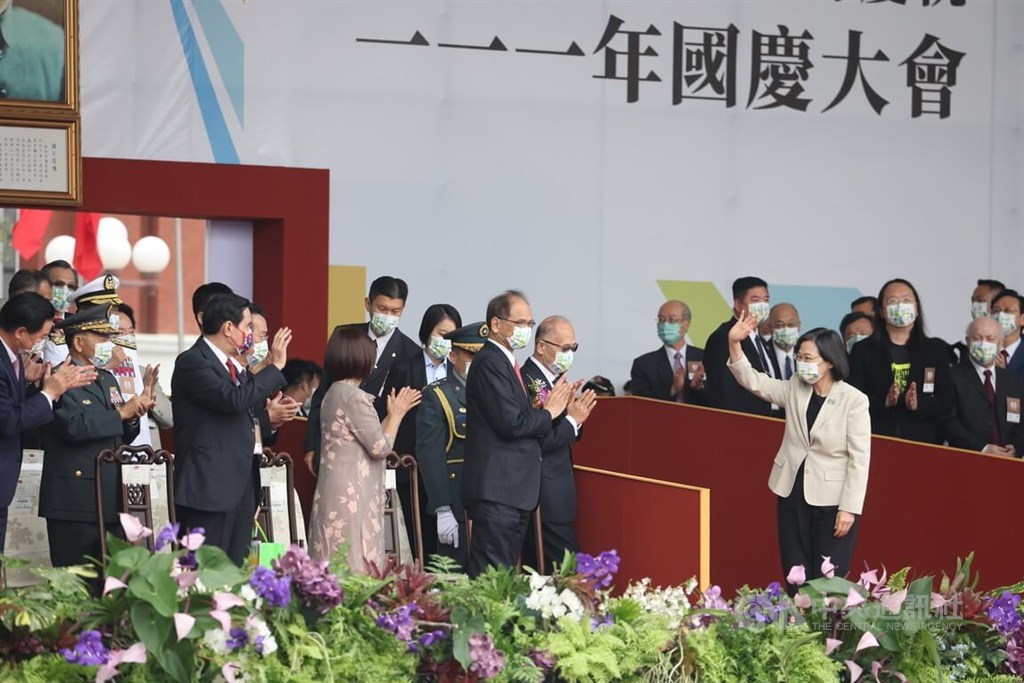 Taipei, Oct. 10 (CNA) President Tsai Ing-wen's (蔡英文) pledge in her National Day speech on Monday to find a "mutually agreeable arrangement" to maintain peace and stability across the Taiwan Strait signals goodwill to China, analysts said.
Unlike Tsai's National Day speech in 2021, in which the president said the Republic of China and the People's Republic of China "should not be subordinate to each other," which angered Beijing, her remarks this year seemed to offer an olive branch to enhance cross-strait stability, Chu Chao-hsiang (曲兆祥), a professor at National Taiwan Normal University's (NTNU) Graduate Institute of Political Science, told CNA.
Under its one China principle, China has long viewed Taiwan to be an inseparable part of its territory.
Cross-strait ties involve not only Taiwan and China but also international factors, in particular how relations between Washington and Beijing evolve, Chu said.
However, as Tsai's speech on Monday is expected to anger China less, it can be considered, to some extent, to be an expression of goodwill to Beijing, he added.
Chu praised Tsai, who is also chairwoman of the ruling pro-independence Democratic Progressive Party, for her emphasis on Taiwan's plan to reopen its borders to foreign arrivals by lifting the nation's COVID-19 restrictions.
Tsai maintained in her National Day speech that armed confrontation is "absolutely not an option" for the two sides of the Taiwan Strait, adding "we look forward to the gradual resumption of healthy and orderly cross-strait people-to-people exchanges after the loosening of border restrictions on both sides, thereby easing tensions in the Taiwan Strait."
"Provided there is rationality, equality and mutual respect, we are willing to work with the Beijing authorities to find a mutually agreeable arrangement for upholding peace and stability in the Taiwan Strait," she told the crowds standing in front of the Presidential Office at the National Day ceremony.
"This is our shared responsibility," Tsai added.
Chu said Tsai came up with concrete measures to use the border easing policy to increase interactions across the Taiwan Strait and such exchanges are expected to help Beijing and Taipei reduce tensions.
Tensions across the Taiwan Strait have escalated, in particular after U.S. House Speaker Nancy Pelosi's 19-hour visit to Taipei in early August, which prompted China to launch massive military exercises around Taiwan. Since then, Chinese military planes have repeatedly crossed the median line of the Taiwan Strait.
Chang Wu-ueh (張五岳), an associate professor at Tamkang University's Graduate Institute of China Studies, said although he is not naive enough to think Tsai's speech will lead to a significant improvement in cross-strait ties and mutual trust between Taipei and Beijing anytime soon, the president's tone is also unlikely to spark more anger from China and further worsen ties between the two sides.
Echoing Chu, Chang said to take advantage of the border reopening amid the pandemic is a pragmatic and feasible approach to boost cross-strait exchanges, in particular for citizens on both sides, and assuage tensions between Taiwan and China.
Lin Tzu-li (林子立), an associate professor in the Department of Political Science at Tunghai University, said Tsai mentioned "China" only once in her speech, which showed the president wants to leave behind traditional cross-strait ties by leading Taiwan beyond the restraints imposed by the "one China" policy.
In her speech, Tsai attempted to tell people here that Taiwan's best defense against China is to continue to grow economically and democratically, which is expected to build a stronger Taiwan and increase the nation's ability to combat China's threats and allow Taiwanese people not to accept Beijing's One China principle, Lin said.
Tsai added that only by respecting the commitment of the Taiwanese people to Taiwan's sovereignty, democracy and freedom can there be a foundation for resuming constructive interaction across the Taiwan Strait.
Among the responses from China, Shi Yinhong (時殷弘), a professor of international studies at Renmin University in Beijing, said the phrase "Taiwan's sovereignty" cited by Tsai in her speech simply meant "Taiwan independence," which is strongly opposed by the authorities in China.
Shi said he does not think Tsai adopted a softer approach in her National Day speech and asserted that the 1992 consensus is the only foundation for cross-strait ties, adding Tsai's remarks in her address will not be accepted by Beijing.
Beijing has curtailed cross-strait exchanges since Tsai assumed office in May 2016 over the president's refusal to accept the so-called "1992 consensus," a tacit understanding reached in 1992 between the then-Kuomintang (KMT) government and the Chinese government.
Under the consensus, both sides of the Taiwan Strait acknowledge that there is only "one China," with each side free to interpret what "China" means, according to the KMT interpretation.
However, Beijing has never publicly recognized the second part of that interpretation.
Related News
Oct. 10: National Day celebrations, 2022
Oct. 10: Full text of President Tsai Ing-wen's National Day address
Oct. 10: Tsai urges respect for Taiwan's sovereignty in National Day address
Oct. 10: KMT chair emphasizes resolve to safeguard ROC on National Day
Oct. 10: Legislative speaker touts support for referendum on lowering voting age
Oct. 10: Flag-raising ceremonies held across Taiwan on Double Ten National Day