Tsai urges respect for Taiwan's sovereignty in National Day address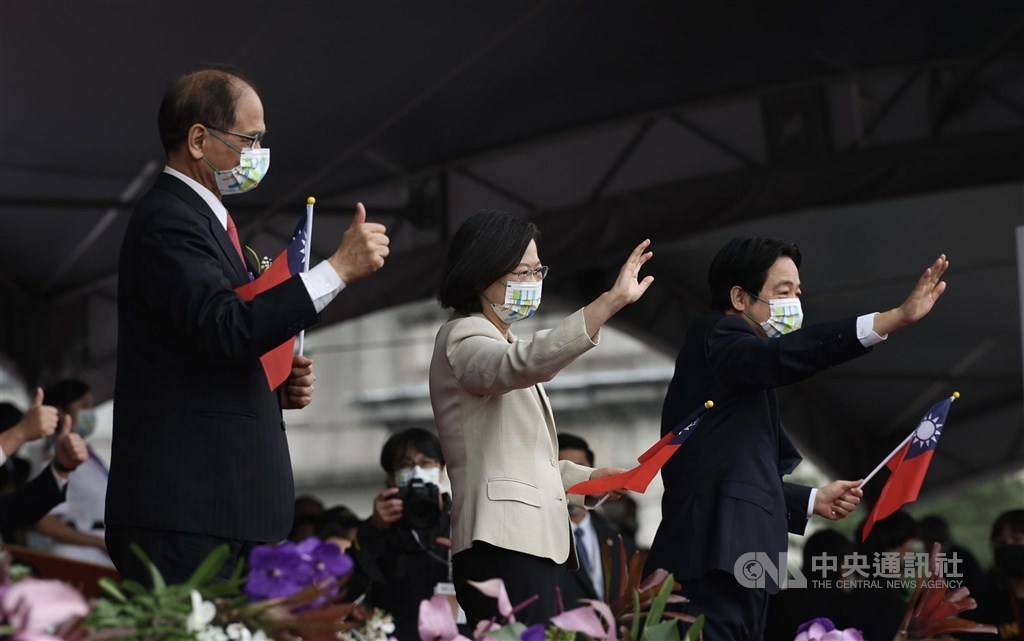 Taipei, Oct. 10 (CNA) President Tsai Ing-wen (蔡英文) said military confrontation in the Taiwan Strait is "absolutely not an option" as she called on Beijing to respect Taipei's sovereignty in a National Day address Monday.
In a speech in Taipei to mark the 111th Republic of China (ROC) National Day, Tsai said peace and stability in the Taiwan Strait was the basis for the development of cross-strait relations.
"It is regrettable that in recent years the Beijing authorities' escalation of their military intimidation, diplomatic pressure, trade obstructions, and attempts to erase the sovereignty of the ROC have threatened the status quo of peace and stability in the Taiwan Strait and the region," she said.
Tsai said that in the 73 years since the ROC government relocated to Taiwan, the island's people have formed a strong sense of identity and belonging as they have lived and grown together.
"The broadest consensus among the Taiwanese people and our various political parties is that we must defend our national sovereignty and free and democratic way of life. On this point, we have no room for compromise," she said.
"The Beijing authorities should not make any misjudgment on account of Taiwan's vigorous democratic system," nor should they attempt to "divide Taiwanese society by exploiting the fierce competition between our political parties," the president said.
According to Tsai, doing so will not benefit cross-Strait relations and will only push the two sides further apart.
The president stated that "armed confrontation is absolutely not an option for our two sides."
"Only by respecting the commitment of the Taiwanese people to our sovereignty, democracy, and freedom can there be a foundation for resuming constructive interaction across the Taiwan Strait," she said.
President Tsai's address starts at around 1 hour and 45 minutes after the video begins (in Mandarin). Source: Presidential Office
With the lifting of COVID-19 border restrictions, President Tsai said Taiwan looked forward to "healthy and orderly" cross-strait people-to-people exchanges resuming, which she believes will help to ease tensions.
She also underlined her government's stance that it is willing to find a "mutually agreeable arrangement" to uphold peace and stability provided there is "rationality, equality, and mutual respect" with Beijing.
Beijing has moved to curtail cross-strait exchanges since Tsai assumed office in May 2016 over the president's refusal to accept the so-called "1992 consensus," a tacit understanding reached in 1992 between the then-Kuomintang (KMT) government of Taiwan and the Chinese government.
Under the consensus, both sides of the Taiwan Strait acknowledge that there is only "one China," with each side free to interpret what "China" means, according to the KMT interpretation.
Beijing, however, has never publicly recognized the second part of that interpretation.
China has since cut off official communications with the government in Taipei and intensified its military activity near Taiwan in the form of naval exercises and almost daily incursions into Taiwan's air defense identification zone.
Tsai made her address in front of the Presidential Office Building as part of celebrations marking the 1911 Wuchang Uprising, which led to the overthrow of China's last imperial dynasty and the establishment of the ROC.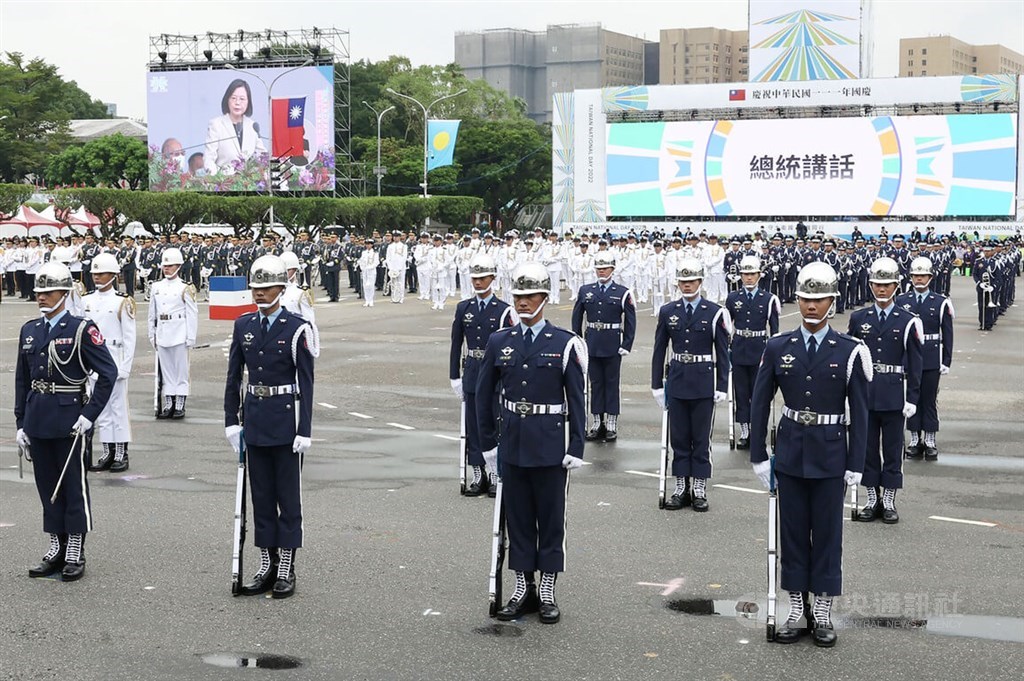 Meanwhile, Tsai said in her address that for more than two years, combating the COVID-19 pandemic has been the main challenge for the world, including Taiwan.
She expressed gratitude to all people in Taiwan, saying that each of them had played a "heroic role" during these challenging times.
The president also expressed her condolences for those who passed away due to the pandemic, "Their passing reminds us that there will always be room for us to do better."
As of Sunday, Taiwan has recorded 6,871,538 COVID-19 cases and 11,527 deaths from the disease since the pandemic began in early 2020.
Related News
Oct. 10: National Day celebrations, 2022
Oct. 10: Full text of President Tsai Ing-wen's National Day address
Oct. 10: Tsai's National Day speech delivers goodwill message to China: analysts
Oct. 10: KMT chair emphasizes resolve to safeguard ROC on National Day
Oct. 10: Legislative speaker touts support for referendum on lowering voting age
Oct. 10: Flag-raising ceremonies held across Taiwan on Double Ten National Day