Chinese drills over Pelosi visit 'unnecessary': Taiwan president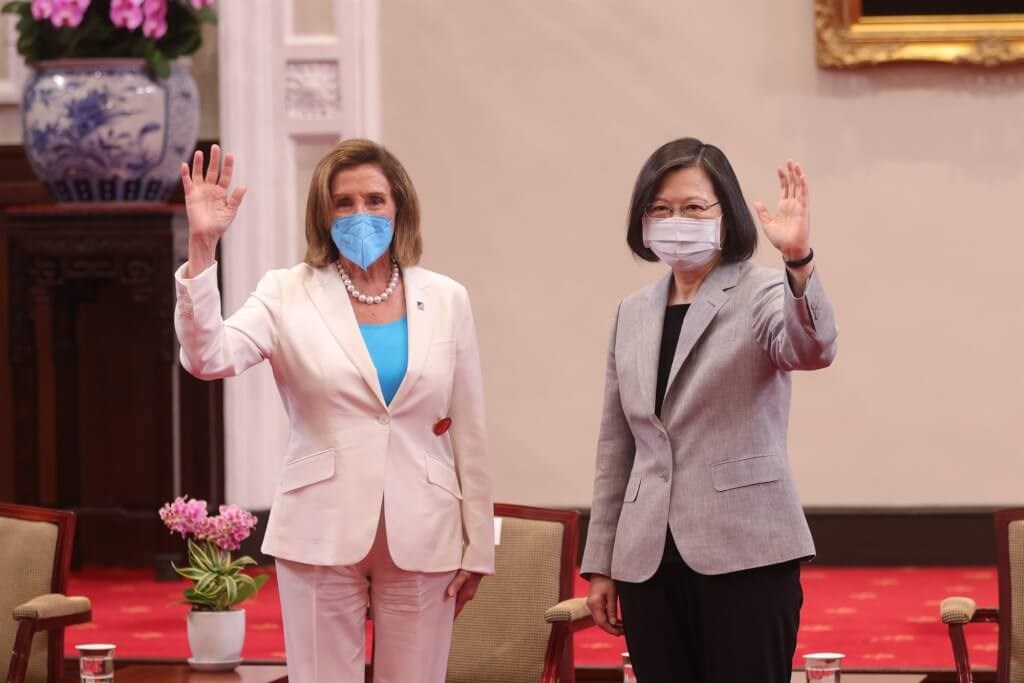 Taipei, Aug. 3 (CNA) China's move to hold live-fire military drills near Taiwan in response to U.S. House Speaker Nancy Pelosi's visit was "unnecessary," President Tsai Ing-wen (蔡英文) said Tuesday, adding that Taiwan was open to "constructive dialogue" to maintain peace across the Taiwan Strait.
Speaking during a press event with Pelosi at the Presidential Office, Tsai said she told the visiting speaker that Taiwan has always been committed to maintaining the status quo.
The president said the government welcomed U.S. congressional delegations over the years and that the "normal practice of friends visiting each other is inherent in our culture of hospitality."
"Military drills are unnecessary responses. Taiwan has always been open to constructive dialogue," she said, adding that Taiwan will continue to work with stakeholders "to bring stability and peace in the region."
Tsai was responding to a Chinese People's Liberation Army (PLA) announcement late Tuesday after Pelosi's aircraft landed in Taipei that it would hold live-fire military drills in six maritime areas near Taiwan from Thursday to Sunday.
Beijing, which sees Taiwan as part of its territory, had previously threatened to take "resolute and strong measures" after media reports said Pelosi could visit Taiwan.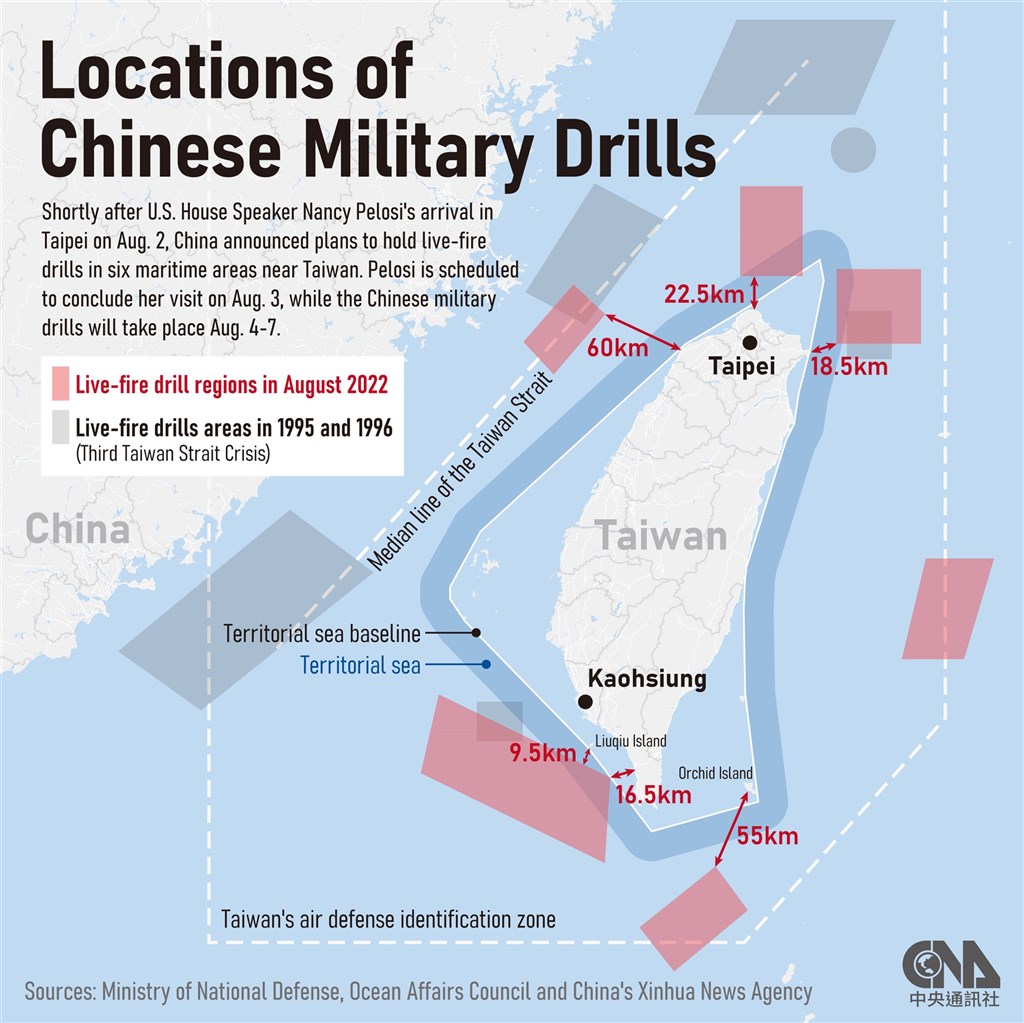 Aside from military drills, China also suspended imports of some food and agricultural products from Taiwan in retaliation for Pelosi's visit, the first by a U.S. House speaker since 1997.
Pelosi answered questions from only three journalists at the press event that were submitted well before the press event began.
Asked by CNA about Beijing's response to her visit, Pelosi said she was not sure why Beijing "made a big fuss" over her Taipei trip, though she speculated it may have been because she was the House speaker.
The military drills could also be the result of "certain insecurities on the part of the president of China as to his own political situation that he's rattling the saber," she suggested.
"But it doesn't really matter. What matters to us is that we salute the successes of Taiwan. We work together for the security of Taiwan. And we just take great lessons from the democracy," she said.
The 82-year-old California Democrat said it was quite common for U.S. congresspersons to visit Taiwan, citing a previous trip made by six U.S. lawmakers, including U.S. Senate Foreign Relations Committee Chairman Bob Menendez, in April.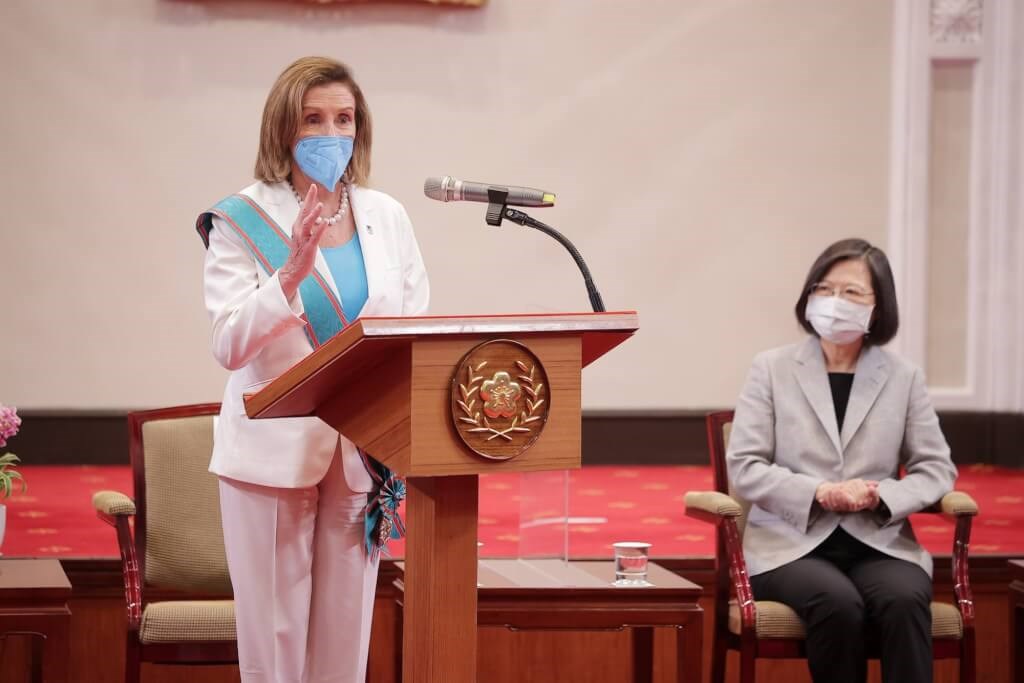 Pelosi reiterated Washington's stance that it supported the cross-Taiwan Strait status quo. "We don't want anything to happen to Taiwan by force."
Meanwhile, when asked about the possibility of inviting President Tsai to speak at a joint session of the U.S. Congress, Pelosi sidestepped the question, saying only that due to COVID-19, the U.S. Congress has been unable to hold a joint session in three years.
Pelosi, who embarked on an Asian tour Sunday, made an unannounced stop in Taiwan late Tuesday, despite Beijing's warnings not to do so.
The American delegation she led on the current tour includes Democratic lawmakers Gregory Meeks, Mark Takano, Suzan DelBene, Raja Krishnamoorthi and Andy Kim.
Update
Aug. 8: China's Yellow Sea drills won't affect Taiwan int'l flights: MOTC
Aug. 7: China sends 66 warplanes, 14 warships around Taiwan Sunday
Aug. 6: 20 Chinese warplanes, 14 warships deployed around Taiwan: MND
Aug. 6: U.S., Japan, Australia urge China to stop military drills
Aug. 5: 68 Chinese warplane, 13 warship sorties recorded around Taiwan: MND
Aug. 5: MOFA reports continued cyberattacks seeking to crash its website
Aug. 5: International flights avoiding Taipei FIR due to China drills: Official
Aug. 5: China's drills a 'new normal' aimed at changing status quo: Experts
Aug. 5: Controversial IC tycoon to donate NT$3 billion for Taiwan's security
Aug. 4: President Tsai calls China's live-fire drills 'irresponsible act'
Aug. 4: 22 Chinese aircraft cross Taiwan Strait median line as PLA launches military drills
Aug. 4: China fires 11 Dongfeng ballistic missiles into waters off Taiwan: MND
Aug. 4: China cannot stop world leaders from visiting Taiwan: Pelosi