Chinese rhetoric on Pelosi, Gingrich visits markedly different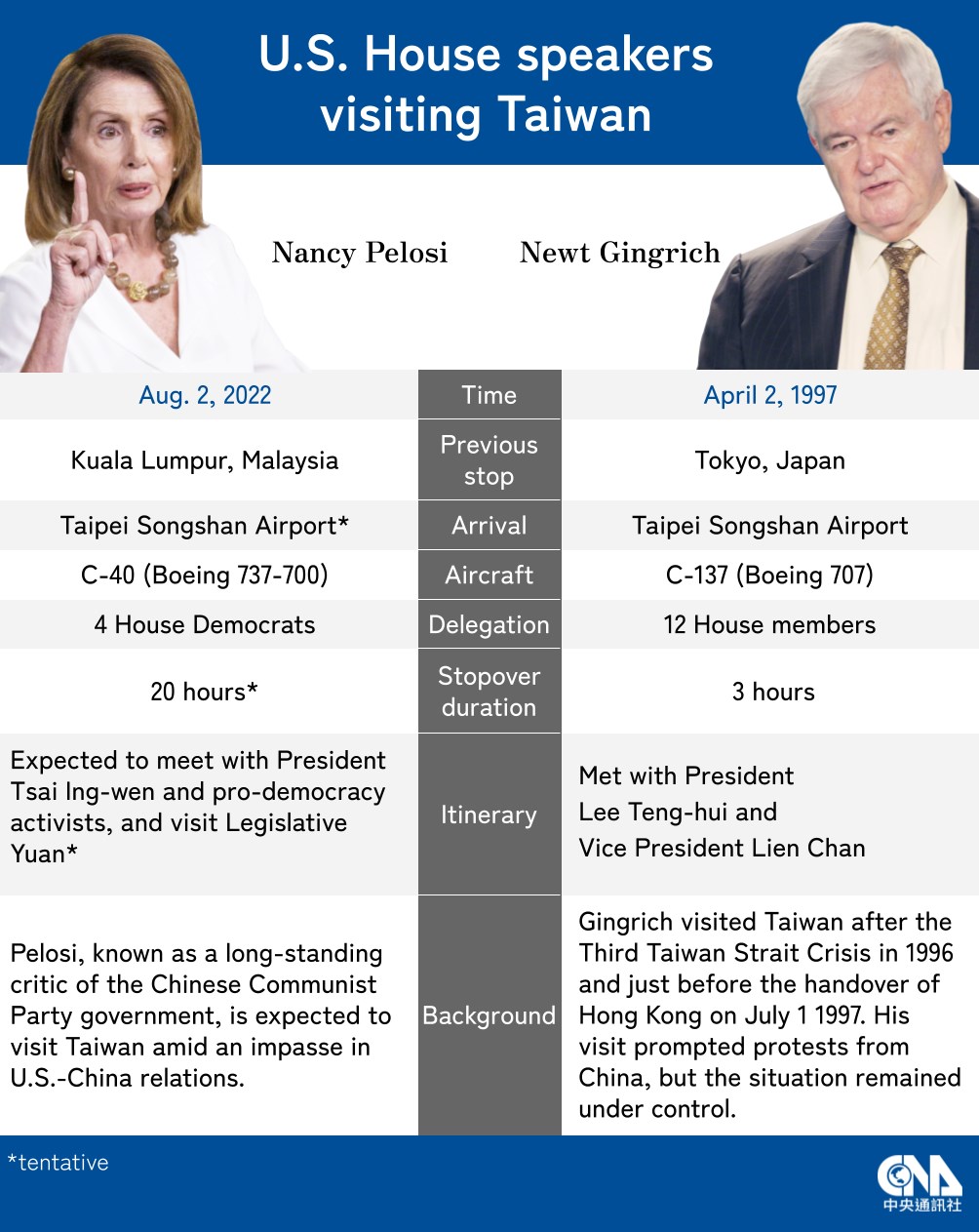 Taipei, Aug. 2 (CNA) China's rhetoric ahead of a reportedly imminent visit by U.S. House Speaker Nancy Pelosi to Taiwan Tuesday has differed dramatically from the language used when her predecessor Newt Gingrich visited the nation in 1997.
In March 1997, Gingrich headed a delegation of 13 U.S. House representatives on a series of visits to South Korea, Japan, China and Hong Kong, just months before the territory's handover to Beijing, including an unannounced last-minute stop in Taiwan on April 2.
In a report published on March 31, 1997 by the New York Times, the then-second-in-line for the U.S. presidency was quoted as saying he had told China's top officials that if they attacked Taiwan: "We [the U.S.] want you to understand, we will defend Taiwan. Period."
According to Gingrich, the message was delivered first to then Association for Relations Across the Taiwan Straits Chairman Wang Daohan (汪道涵), followed by then-Chinese President Jiang Zemin (江澤民) and then-Chinese Premier Li Peng (李鵬), the newspaper reported.
It cited Gingrich as saying that the Chinese leaders did not protest his remarks, but simply replied, "OK, noted."
The Chinese leaders responded to his warning by sending the message: "Since we don't intend to attack, you don't have to defend. Let's go on and talk about how we will get this thing solved," Gingrich was quoted as saying in the report.
The administration of then-U.S. President Bill Clinton later issued a statement saying that Gingrich was "speaking for himself" during his conversations with the Chinese leaders.
It was U.S. policy "to meet its obligation under the Taiwan Relations Act, including the maintenance of an adequate self-defense for Taiwan," while reasserting Washington's adherence to its "one-China policy," according to the statement.
During the Taiwan visit that lasted just under three hours on April 2, 1997, Gingrich met with then-President Lee Teng-hui (李登輝) and then-Vice President Lien Chan (連戰) at the Presidential Office building in Taipei.
Before departing Taiwan, he told the media that both sides of the Taiwan Strait should clearly understand that the U.S. would take any means necessary to stop Beijing from attempting to annex Taiwan by force or intimidation.
The Lee administration issued a statement stressing that the Republic of China (ROC, Taiwan's official name) was a sovereign democratic state that "did not need to declare independence," and that the nation hoped to address cross-strait issues through peaceful dialogue.
Gingrich was the first U.S. House speaker to visit Taiwan after the U.S. severed diplomatic ties with the country in 1979.
In an article published on the website of the Kuomintang think tank National Policy Foundation in April this year, former Taiwan representative to the U.S. Shen Lyu-shun (沈呂巡) observed that while Gingrich is more outspoken about reinstating the ROC's seat in the United Nations, Pelosi has won "more universal praise" and is known for her vocal criticism of the Chinese Communist Party (CCP).
During her visit to Beijing in the early 1990s, Pelosi held up a banner bearing the message in traditional Chinese characters "To those who died for democracy in China" at Tiananmen Square, in an effort to raise awareness about human rights issues, resulting in her being removed by Chinese police officers and subsequently deported, Shen said.
Pelosi also advocated for the revocation of China's most favored nation status in bilateral trade, Shen said, adding that she met with the Dalai Lama in India in 2008 and has met with pro-democracy Hong Kong dissidents.
"While the CCP views Pelosi as a thorn in its side, she has given Taiwan room for development," Shen said.
Pelosi's reported visit has angered Beijing and seen China's state propaganda crank into overdrive, with former editor-in-chief of the state-run Global Times Hu Xijin (胡錫進) calling for the People's Liberation Army to "down" Pelosi's flight on Twitter, which led to his account being suspended.
China's state-run Xinhua news agency on July 29 published an article on a telephone conversation between U.S. President Joe Biden and Chinese President Xi Jinping (習近平) a day earlier, during which the two leaders reportedly discussed topics including the situation in the Taiwan Strait. Xi was quoted as warning the U.S. over the Taiwan issue, saying: "He who plays with fire, will get burned."
China's Ministry of Foreign Affairs on Monday said in a statement that a visit to Taiwan by Pelosi would lead to "serious consequences," while its Ministry of National Defense warned in late July that it would not "sit idly by."
Update
Aug. 6: 20 Chinese warplanes, 14 warships deployed around Taiwan: MND
Aug. 6: U.S., Japan, Australia urge China to stop military drills
Aug. 6: Taiwan companies told to abide by China's labeling rule: MOEA
Aug. 5: 68 Chinese warplane, 13 warship sorties recorded around Taiwan: MND
Aug. 5: Controversial IC tycoon to donate NT$3 billion for Taiwan's security
Aug. 4: President Tsai calls China's live-fire drills 'irresponsible act'
Aug. 4: China fires 11 Dongfeng ballistic missiles into waters off Taiwan: MND
Aug. 4: China cannot stop world leaders from visiting Taiwan: Pelosi
Aug. 4: G7, EU urge China to refrain from 'aggressive military activity'
Aug. 3: China's military exercises aimed at blockading Taiwan: defense ministry
Aug. 3: Pelosi departs Taiwan after whirlwind visit
Aug. 3: Pelosi, TSMC Chair Liu discuss semiconductor chips: Legislator
Aug. 3: Activists meet with Pelosi at Taiwan's National Human Rights Museum
Aug. 2: Visit to honor 'unwavering' U.S. commitment to Taiwan: Pelosi