Taipei mayor airs grievances with China at twin-city forum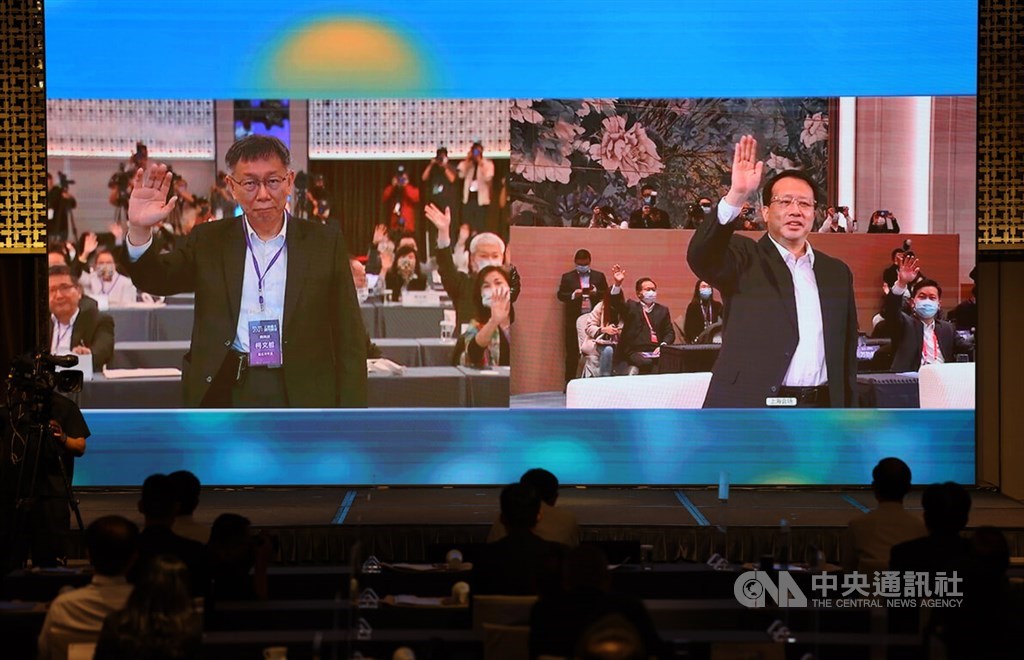 Taipei, July 19 (CNA) Taipei Mayor Ko Wen-je (柯文哲) referenced the war in Ukraine and blamed China's military sorties near Taiwan for harming cross-strait ties in a speech at the final Taipei-Shanghai twin-city forum of his tenure on Tuesday.
The annual forum, which has taken place alternately in Taipei or Shanghai since 2010, was held virtually for the third consecutive year on Tuesday due to the COVID-19 pandemic.
In his keynote speech at the event, Ko, who will leave office in December after eight years as Taipei mayor, warned that the ongoing Russia-Ukraine war should give both sides "cause for reflection" with regards to the current state of the cross-Strait relationship.
In spite of the two sides' close economic and trade ties and frequent people-to-people interactions, Ko said, in recent years, the broader relationship has been caught in a deepening "spiral of malice."
Issues such as Taiwan's participation in the World Health Assembly (WHA), the incursions of Chinese military aircraft near Taiwan, and Chinese import bans on some of Taiwan's agricultural products have become major points of contention and harmed relations between people from the two sides, he said.
Ko warned that if the two sides continue to quarrel, ignore each other, or engage in "political manipulation," the situation will only get worse.
"We can diverge politically, but [our] people should not see each other as enemies," he said, instead advocating for a process of "building goodwill through exchanges" in order to minimize the potential for conflict or war.
In his own remarks, Shanghai Mayor Gong Zheng (龔正) said that the cross-strait points of contention raised by Ko "have already found satisfactory resolutions in the past."
He appeared to be referring to the 2008-2016 period under Taiwan's Kuomintang (KMT) government, when relations between Taipei and Beijing were warmer, allowing for Taiwan's participation in organizations such as the WHA as an observer.
"These problems demonstrate once again that cross-Strait exchanges cannot be removed from a shared foundation in politics," he said.
Instead, Gong reaffirmed the notion that "the two sides of the Taiwan Strait are one family," and praised the forum as an opportunity for the sides to better understand each other and build goodwill.
After the forum concluded, media coverage in Taiwan centered on the perception that Ko had taken a stronger, more confrontational stance against China than in previous years.
When asked about this by local media later on Tuesday, Ko said that because the meeting was conducted virtually, "a lot of things had to be said in the open" that could otherwise have been discussed in private.
"My purpose today was to express some of the grievances of the Taiwanese people," said Ko, who has been open about the fact that he is considering a presidential run in 2024, likely as the nominee of his centrist Taiwan People's Party.
Ko was also asked to respond to criticism from Taipei mayoral candidate Chen Shih-chung (陳時中), who had earlier dismissed as "sophistry" Ko's complaint, made last week, that the government's frequent characterization of Chinese warplanes as "harassing Taiwan" lacked a clear definition.
"If Chen Shih-chung wants, he can just say directly that he'll stop holding the forum," Ko said, possibly implying that Chen's criticism reflected a hard stance against China. "If he's up to it, he can even chase all the Chinese businesspeople in Taipei back [to China]!"
Chen, who is running for mayor in November's local government election in the capital city as the nominee of the ruling Democratic Progressive Party (DPP) after having served as health minister until this month, said Tuesday that he was not opposed in principle to the forum, as long as it was "necessary" and "meaningful."