Taiwan to help wax, custard apple growers after China import ban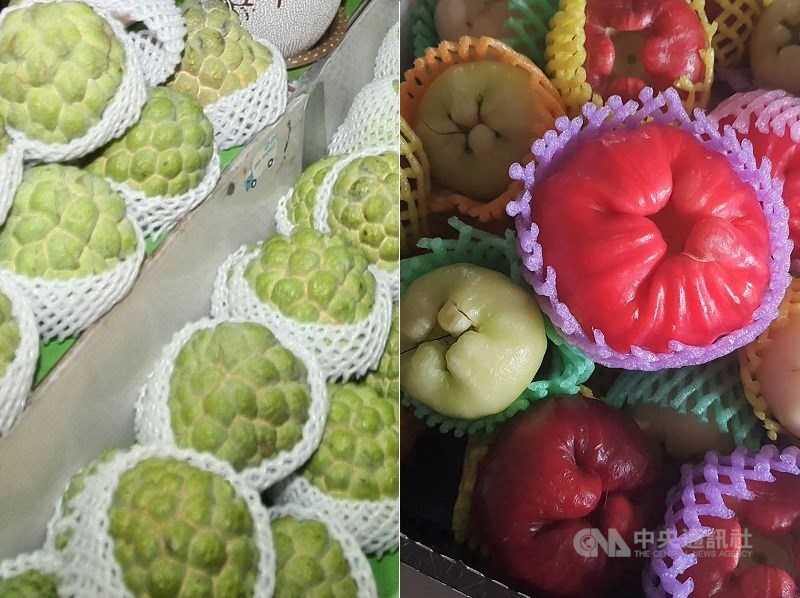 Taipei, Sept. 19 (CNA) Taiwan's government will help local growers of wax apples and custard apples after China announced a halt on the imports of these fruits from Taiwan because of quarantine issues, Council of Agriculture (COA) chief Chen Chi-chung (陳吉仲) said Sunday.
China only notified Taiwan about its decision, which takes effect on Monday, to suspend imports of wax apples and custard apples around 9 a.m. on Sunday, Chen of the Cabinet-level council said during a press conference.
According to a notice issued by the Department of Animal and Plant Quarantine under China's General Administration of Customs on Saturday, the decision to suspend imports of the Taiwanese fruits came after Planococcus minor, a type of mealybug, was found in several shipments this year.
To protect the fruit growers, the COA will adopt measures it had first used following China's ban on the imports of Taiwan pineapples earlier this year, including offering financial subsidies to affected farmers.
The COA will this time earmark NT$1 billion (US$35.96 million) to help promote the domestic sales of wax and custard apples and expand their sales to other overseas markets, Chen said.
Other measures will include spreading out the harvest time of these fruits, which usually begins in December, to enable farmers to sell throughout a longer period instead of at once, he added.
The mealybug in question is present in many Asian countries, including Taiwan, China, India, and Indonesia, Chen said.
Since they are usually found on the surface of fruits, the common practice in such situations is to fumigate the fruits with methyl bromide when the insects are found by the importing country, so the shipments can clear customs, he said.
Chen said the practice had been adopted last year in incidents with Taiwan custard apple imports that had been reported by China to have mealybugs.
During the first half of this year, China notified Taiwan about mealybugs found in 13 shipments of custard apples and six shipments of wax apples from Taiwan, but did not give any scientific evidence, Chen added.
The COA chief said there had been no reports of mealybugs in Taiwan fruit imports in July and August, questioning China's decision as it was made after Taiwan had recently updated the mainland authorities about amended regulations on more rigorous management of custard apple production and exports.
According to COA data, Taiwan produces 57,000 metric tons of custard apples and around 47,000 metric tons of wax apples each year, which are mainly grown in Taitung County, Kaohsiung, and Pingtung County in the southern part of the country.
Around 90 percent of the exports of these two fruits are shipped to China, which respectively accounts for 23 percent of Taiwan's total production of custard apples and 10 percent of wax apples, COA data showed.
This is the second time this year that China has suspended imports of fruits from Taiwan, after it banned shipments of pineapples at the end of February, also citing the discovery of mealybugs.
The COA has ordered its Bureau of Animal and Plant Health Inspection and Quarantine to request its Chinese counterpart to explain its decision by the end of September, or Taiwan will take the dispute to the World Trade Organization, Chen said.