U.S. responds to Chinese aircraft carrier transit in Taiwan Strait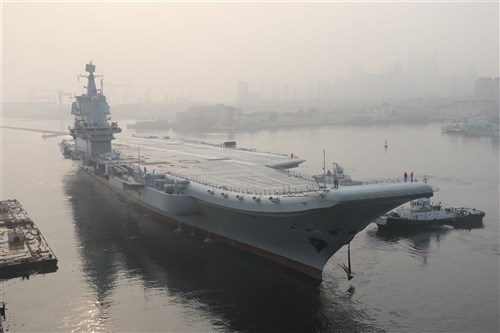 Washington, Dec. 26 (CNA) The U.S. State Department urged China to "abstain from coercion" on Thursday, following the transit of a Chinese aircraft carrier through the Taiwan Strait earlier that day.
The "Shandong," China's first indigenous aircraft carrier, was officially commissioned in China's southern Hainan Province on Dec. 17.
On Thursday, the vessel made a northbound passage through the Taiwan Strait, the sixth such transit by a Chinese aircraft carrier since 2017, according to Taiwan's Ministry of National Defense.
While apparently routine, the move drew attention for its timing, slightly more than two weeks ahead of Taiwan's Jan. 11 elections.
On Thursday, a U.S. State Department spokesperson responded to the vessel's transit, telling CNA on background that the U.S. maintained a deep and abiding interest in cross-strait peace and stability.
"The United States urges China to abstain from coercion that would jeopardize the security, or the social or economic system, of the people in Taiwan," the official said.
Reaffirming the U.S. stance on the issue, the official urged Beijing and Taipei to pursue dialogue that seeks a peaceful resolution of differences, and is acceptable to people on both sides of the Taiwan Strait.