Taiwanese activist jailed in China receives visit from wife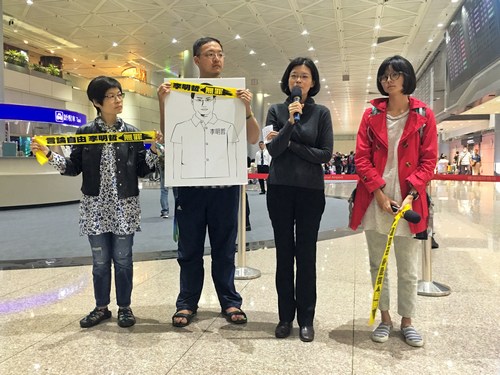 Taipei, March 28 (CNA) The wife of pro-democracy advocate Lee Ming-che (李明哲) has finally been able to visit her husband, who is imprisoned in China for promoting democracy to Chinese netizens on social media.
"To all appearances, he looked fine," Lee Ching-yu (李凈瑜) said of her husband's health at a press conference at Taiwan Taoyuan International Airport Wednesday upon her return from the visit that took place a day earlier in Chishan Prison in Hunan Province.
Lee Ching-yu said that she and her husband, separated by glass, were allowed to communicate for 30 minutes.
She said she told her husband that his parents miss him very much and what he did that led to his conviction has generated support for him, both in Taiwan and internationally.
Lee Ming-che was sentenced in November last year to five years in prison for "subversion of state power," because of comments he made and information he circulated on social media about democracy, freedom of expression and human rights in China.
An administrator at Wenshan Community College in Taipei, Lee Ming-che went missing March 19 last year when he entered China from Macau and had met his wife only twice since then -- once when he went on trial in September and again when the verdict was announced in November.
Tuesday's visit was the first granted to Lee Ming-che since he began his sentence.
He is still deprived of the right to communicate freely, Lee Ching-yu said.
Only two of 11 books he asked her to give him when they met after the court hearing in November, and some letters from her and his mother, have been given to him by the prison authorities. Letters from friends and well-wishers have not been handed over, she added.
The family has never received any messages from him, the reason being that he is tied up in work at a hat factory from 7 a.m. to 5 p.m. every day, she said.
Lee Ching-yu said she has filed an application with the prison to visit her husband again next month and expressed hope that the Taiwan government will continue to persuade China to grant political prisoners the right to receive family visits.
Meanwhile, Taiwan's Mainland Affairs Council (MAC) said in a statement that the visit was "a positive step" that will help cross-Taiwan Strait interaction.
Beijing has cut off official communications with Taipei since May 2016, when President Tsai Ing-wen (蔡英文) took office, blaming her administration for failing to recognize the prerequisite it sets for interaction -- the "1992 consensus."
The "1992 consensus" refers to a tacit understanding between the Kuomintang (KMT) and the Chinese government that both sides acknowledge there is "one China," with each side having its own interpretation of what "one China" means.