Taiwan rejects Chinese official's request to visit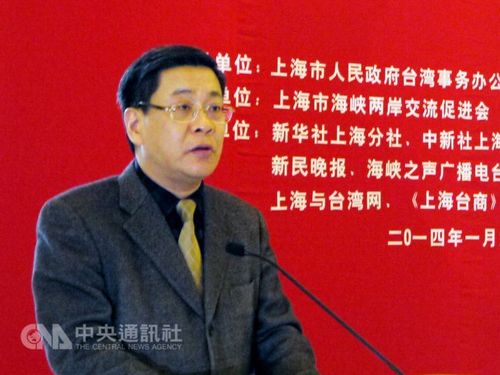 Taipei, Feb. 22 (CNA) Taiwan's government has rejected a request by a Chinese official to visit the island, taking into consideration the controversy sparked by his previous trip here, a Taiwanese senior official in charge of mainland China affairs said on Thursday.
Chiu Chui-cheng (邱垂正), deputy head and spokesperson for Taiwan's Mainland Affairs Council (MAC), Taiwan's top agency in charge of China policy, said that while Chinese people are welcome to carry out exchanges here, the government hopes they will not be conducted for political purposes or based on political intentions and will not spark controversy or fuel differences in Taiwanese society.
Chiu was responding to a United Daily News report on Feb. 15 that an application by the head of the Shanghai city government's Taiwan Affairs Office, Li Wenhui (李文輝), did not receive approval from a joint review panel composed of representatives from the MAC and various government agencies.
The panel's decisions on whether to give approval for the applications of Chinese officials to visit and engage in exchanges in Taiwan are usually made by taking into account the past performance of the applicants when they were in Taiwan, the contents of their application and Taiwan's laws and regulations, according to Chiu.
Li is among China's Taiwan affairs officials who have made the most frequent visits to the island and have sparked great controversy during their visits, Chiu said.
Li paid a visit to Taiwan in September 2017 and attended the Sing China Music Festival, a cultural activity supported by the cities of Taipei and Shanghai. The festival was called off on Sept. 24 after a protest staged by Taiwanese students turned into a clash between the students and pro-China supporters at National Taiwan University (NTU). Li was present at the time of the protest.
The MAC said last year in the wake of the protest that it would investigate whether Li had violated the Code of Conduct for cross-strait exchanges.
Chiu said that Taiwan's authorities have fulfilled their responsibility in handling Li's application for the sake of maintaining public safety and social order.
Asked if Taiwan still would have rejected Li's application if he had applied to visit Taiwan to attend the annual Taipei-Shanghai Forum, which is aimed at advancing city-to-city ties, Chiu did not answer, saying only the panel's decision had nothing to do with the forum.
Chiu also said the rejection of Li's application was unrelated to the government's efforts to strengthen controls of visitor flows.