Ex-U.S. official urges Beijing to resume dialogue with Taipei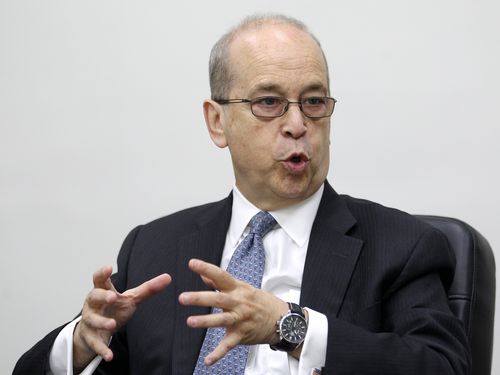 Taipei, Oct. 26 (CNA) A former senior U.S. official on Wednesday urged China to resume official dialogue with Taiwan to improve cross-strait relations, as the 19th Communist Party of China Congress officially concluded in Beijing on Tuesday by further cementing Chinese President Xi Jinping's (習近平) power as he begins his second five-year term.
During an exclusive interview with the Central News Agency (CNA), Daniel Russel, a former U.S. assistant secretary of state for East Asian and Pacific affairs, said that with politics in Beijing now more settled, he hopes Xi will be flexible in restoring cross-strait talks that have been suspended since President Tsai Ing-wen (蔡英文) assumed office in May 2016.
Tsai's recognition of the existence of a "1992 meeting" but not the "1992 consensus" in her inaugural speech has reduced Beijing's willingness to engage with the Tsai government. Relations between Taipei and Beijing have cooled since then.
"It is my hope that, with the 19th party congress behind them, and politics in Beijing perhaps a little more settled, the mainland side will show the kind of flexibility that would be required for it to restore 'authoritative dialogue' in the cross-strait channel," Russel said.
The two sides have to figure out a way to formulate language that is mutually acceptable to both sides and it all depends on how Beijing assesses developments and trends in Taiwan, he noted.
"It is no secret that among the younger generation in the aftermath of the Sunflower Movement, there are questions being asked about the traditional policies and principles of 'One China,'" he said, adding that support for Taiwan independence is strong among the young.
It is up to the leadership in Beijing to reach an understanding internally as to what course of action to take in the face of this new trend in Taiwan, Russel said.
"I hope that it leads them to conclude that respect for Taiwan's dignity; support for Taiwan's appropriate participation in international affairs and organizations; an open and cooperative economic relationship and an authoritative official channel of dialogue" are necessary, he said.
Asked how the Tsai administration can resume cross-strait dialogue, Russel told CNA that it was Beijing not Taipei that made the decision to halt cross-strait dialogue.
Without a doubt the U.S. would like to see a resumption of official dialogue between Taipei and Beijing. However, unlike the mainland, a communist authoritarian system, Taiwan is a democracy.
"If in order to find political formulations that are acceptable to a sufficiently broad spectrum of the public on Taiwan, it takes time. Then it's gonna take time," he noted.
The important thing is that the authorities in Taiwan are making an effort to signal to mainland China that they too want to maintain stability in cross-strait relations.
"Probably the best advice from an outsider, is to urge the leaderships on both sides to keep at it, to be determined, to be creative, to be flexible, to be patient but also to exercise restraint," he said.
"What we don't want is for either side to lose patience, either side to give up and we don't want either side to take unilateral action to upend or disrupt the status quo in a way that may have unfortunate consequences that will affect the U.S.," he added.
Russel arrived on his first visit to Taiwan on Sunday and left Wednesday.
During his stay, Russel visited government agencies, a local university, and exchanged views on U.S-Taiwan links and future cooperation, according to Taiwan's foreign ministry.
A career senior diplomat, Russel served as assistant secretary of state for East Asian and Pacific affairs from July 2013 to March 2017. Before that, he worked at the White House as special assistant to the president and National Security Council senior director for Asian affairs.
In April, he joined the Asia Society Policy Institute (ASPI), a think tank that tackles major policy challenges confronting the Asia-Pacific, where he serves as diplomat-in-residence and a senior fellow.