Taipei mayor calls trip to Shanghai "very successful"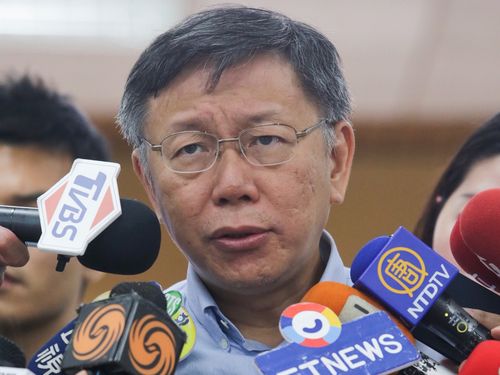 Taipei, July 3 (CNA) Taipei Mayor Ko Wen-je (柯文哲) returned home from Shanghai late Monday night after what he described as "a very successful" city forum in the Chinese city.
Speaking after arriving at Taipei Songshan Airport, Ko said the goal of forum was to ease tensions created by the current stalemate in cross-strait relations and help things take a turn for the better.
He said that as a non-partisan mayor, he has not received support from any political parties or camps and does not have a big team around him when he encounters difficulties.
"I just do my best based on the goodness in my heart," he said.
Addressing his meeting Monday afternoon with China's top official in charge of Taiwan affairs, Zhang Zhijun (張志軍), Ko said each side stated their positions, with Zhang repeating the need for Taiwan to accept the "1992 consensus."
Zhang needed to develop a better understanding of Taiwan's political situation and its historical burden, Ko said.
Before leaving Shanghai, Ko praised cross-strait exchanges as "good things" and Shanghai's progress during the open portion of the meeting with Zhang.
The mayor met the Chinese official a day after attending the Taipei-Shanghai City Forum on a trip that has drawn significant attention because of the standstill in official cross-strait exchanges between the two sides' central governments.
Ko said at Sunday's forum that "both sides are of one family," but in the first nine minutes of Ko's meeting with Zhang that were open to the media, he spoke mostly about his experience at the previous day's gathering.
The Taipei mayor said he has been to Shanghai and other cities on the mainland many times, and has been impressed by the rapid progress they have made each time, praising in particular Shanghai's strength in the areas of e-commerce, logistics and city planning.
Zhang said the twin-city forum took place at a time when cross-strait relations were experiencing change, but China's approach toward Taiwan remained clear and consistent and would not change because of a change in Taiwan's government.
Agreeing with Ko's remarks on Sunday, Zhang said the mainland has always considered that the "two sides are of one family, share the same destiny and will prosper if the family is harmonious."
Whether political parties, groups or individuals in Taiwan, as long as they have the "correct perception" of cross-strait relations, the mainland will welcome them to take part in and promote the peaceful development of cross-strait relations, Zhang said.
He said he came to appreciate the twin-city forum after assuming his office in 2013, and expressed the hope that the forum could continue to insist on the "correct perception and direction."
The Ko-Zhang meeting took place at 4:30 p.m., but after the first nine minutes when the two spoke briefly, Ko and Zhang met for about 30 minutes behind closed doors.
Ko did not make any statements after the meeting was over.
Taiwan's Mainland Affairs Council was not impressed with the Taipei-Shanghai City Forum, however, saying China's Taiwan Affairs Office used it to promote its political line and engage in political maneuvering and its united front strategy.
Official cross-strait exchanges are stalled due to the refusal of President Tsai Ing-wen (蔡英文) to accept the "1992 consensus" that Beijing wants as the foundation for cross-strait exchanges.
The "1992 consensus" refers to a tacit understanding reached in 1992 between China and Taiwan, which was then under a Kuomintang government, that there is only one China, with both sides free to interpret what that means.
Tsai and her Democratic Progressive Party deny that a consensus ever existed and object to it because they see it as forcing Taiwan to accept the idea that it is a part of China, something many Taiwanese reject.