Detained Taiwan activist's wife says she will not accept blackmail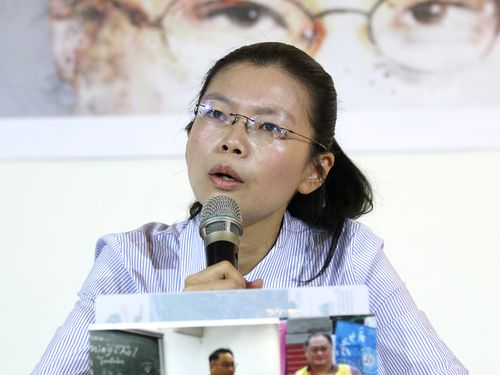 Taipei, April 9 (CNA) Lee Ching-yu (李凈瑜), wife of human rights and democracy advocate Lee Ming-che (李明哲) who has been detained in China since March 19, said Sunday night she will not accept blackmail from anyone and she called on Beijing to understand her good will and self- restraint.
Lee issued a statement in response to an earlier statement of China's Taiwan Affairs Office that an unnamed organization had been authorized to send private messages and personal letters from her detained husband to her and to his parents in Taiwan.
She called the Beijing delegate "a broker," quoting the broker as telling her to "remain low profile and cooperative" so Lee Ming-che will be released soon but if she insists on taking a scheduled flight to Beijing to make her appeals, then a "TV in Guangdong Province will immediately broadcast a film of Lee Ming-che confessing to his crime."
Lee Ching-yu, accompanied by two Straits Exchange Foundation (SEF) officials, is scheduled to take an EVA Air flight to Beijing Monday in hopes to meet her husband.
She said, "As I had said on March 31, I will not acknowledge any confessions or statements issued by Lee Ming-che before I meet him in person."
On April 7, "a cross-strait broker brought to me a xeroxed copy of Lee Ming-che's hand-written statement which absolutely was penned not of his own accord. This channel (of communication) is not an official one. This letter definitely is the work of a security unit in Guangdong. Why did it not send the message through an open and legal channel? Why did it rather send a broker to privately issue a threat?" she said.
"Besides threatening me not to board a Beijing-bound plane," she continued, "the broker told me categorically to look at the other side (referring to China) as a kidnapper who will never talk with me about the rule of law."
The broker stressed to her that he had "saved 20-odd lives. If you want me to help you, immediately cancel your Beijing trip. Otherwise, I can do nothing to help even if I want," Lee Ching-yu said.
"I'm sure Lee Ming-che is not a hostage in the hands of a group of bandits. Neither do I believe the central government in Beijing can have acted so lawlessly. I do not accept any deals or threats. Why are Guangdong Province's security authorities so afraid of our going to Beijing? Are they trying to hide something and stop the facts being exposed?" she said.
In spite of her family's scare and unease, she said she will go ahead with her Beijing trip plan Monday "with a heart of hope and friendliness to try to win a chance of a humanitarian visit to my husband."
She stressed that she is not someone who "makes a scene" or creates disturbances, hoping that the Beijing government understands her self-restraint and good will.