Groups urge release of Taiwanese activist detained in China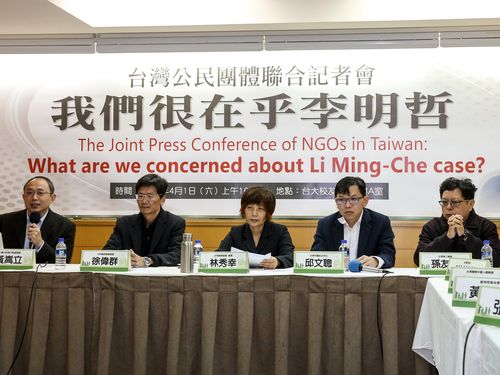 Taipei, April 1 (CNA) Several civic groups on Saturday called for Beijing to release a Taiwanese human rights advocate who is being detained in China, saying that the case will only trigger greater dissatisfaction with Beijing among people in Taiwan.
At a joint news conference, the groups urged Beijing to free as soon as possible Lee Ming-che (李明哲), a former Democratic Progressive Party worker who has been detained for what Beijing describes as suspicion of endangering China's national security.
The groups said keeping Lee in custody would only spark greater dissatisfaction with Beijing among younger Taiwanese and create uncertainty over future exchanges across the Taiwan Strait.
Lin Hsiu-hsin (林秀幸), head of the Taiwan Association of University Professors, said Taiwan and China have engaged with each other for a while and established a model for bilateral cooperation. If such a model is ruptured, she said, it would only force Taiwan to grow further apart from China.
At the same time, China's arrests and suppression of "outsiders" will do nothing but undermine its image in the international community, Lin said.
Lee, now a staff member of Wenshan Community College in Taipei, went missing on March 19 after entering the city of Zhuhai from Macau.
Ma Xiaoguang (馬曉光), a spokesman of the Taiwan Affairs Office under China's State Council, confirmed Wednesday that Lee is being investigated for alleged involvement in activities endangering national security.
Ma said Lee was in good health, but he did not disclose the location where he is being detained.
Taiwan's government expressed regret over China's silence on the details of the investigation or Lee's whereabouts, despite repeated calls from the public and private sectors in Taiwan to provide the information.
Cabinet spokesman Hsu Kuo-yung (徐國勇) said Taiwan will continue to seek answers from China through various channels on where Lee is being held, what laws he has violated and for how long his personal freedom would be restricted.
He also called on China to protect Lee's rights and quickly communicate with Taiwan on the incident to avoid worsening the already "complicated and sensitive relations" across the Taiwan Strait.
Lee Ching-yu (李淨瑜), the wife of the detained Taiwanese, said Friday that she will go to Beijing herself to understand the situation and rescue her husband.
She did not specify when she would leave for China, saying only that she would go in the coming days.
(By Lu Hsin-hui and Elaine Hou)ENDITEM/ls