China's first self-built carrier likely nuclear-powered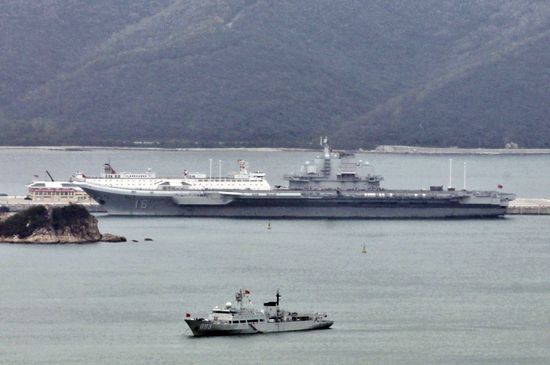 Taipei, July 30 (CNA) China's first domestically-built aircraft carrier could be nuclear-powered, Chinese web media reported Thursday, quoting an internal document of the shipbuilder responsible for building the carrier.
"The priority missions of building the aircraft carrier and nuclear-submarines have been carried out smoothly and with outstanding achievements," the China Shipbuilding Industry Corporation said in an internal document, reported the media, including the mil.news.sina.com (新浪軍事)and huanqiu.com (環球網).
The document also said that the corporation has delivered many batches of military weapons and equipment of excellent quality to the military, the reports said.
Coincidently, the Russia-based sputnik.news.cn also reported in an article on July 28 that China is sure to show the world its domestically-built aircraft carrier ahead of schedule, with all the equipment 100 percent produced domestically.
Vasily Kashin, the author of the article, said that China will build three carriers, most likely nuclear-powered and equipped with an electromagnetic aircraft launch system.
The article mainly discusses India's aircraft carrier development strategy, during which Kashin said India should not launch a naval arms race with China as India stands no chance of winning over China.
Xinhuanet.com, run by China's government mouthpiece, the Xinhua News Agency, reported earlier this month that China's first aircraft carrier battle group is expected to be formed next year to make up for the shortcoming of the limited combat radius of its existing fleets.
Citing the Military-Industrial Courier, a Russia-based weekly, the report said that under the escort of 12 vessels of different classes, China's first carrier, the Liaoning, which was purchased from Ukraine in 1998, embarked on its first blue-water passage in early 2014.
This means that China is considering different approaches in forming its aircraft carrier battle groups, including the one used by the United States Navy.
But the report added that China is planning to build itself two new aircraft carriers with bigger displacements and greater power, with the long-term goal of having four aircraft carriers.
With a driving power of 200,000 horsepower, the Liaoning has a displacement of 67,500 tons at maximum load.
China began to build its first new aircraft carrier in 2013, which is expected to have "initial combat ability" in 2020.