Bihar State officials from India visit Taiwan to woo investment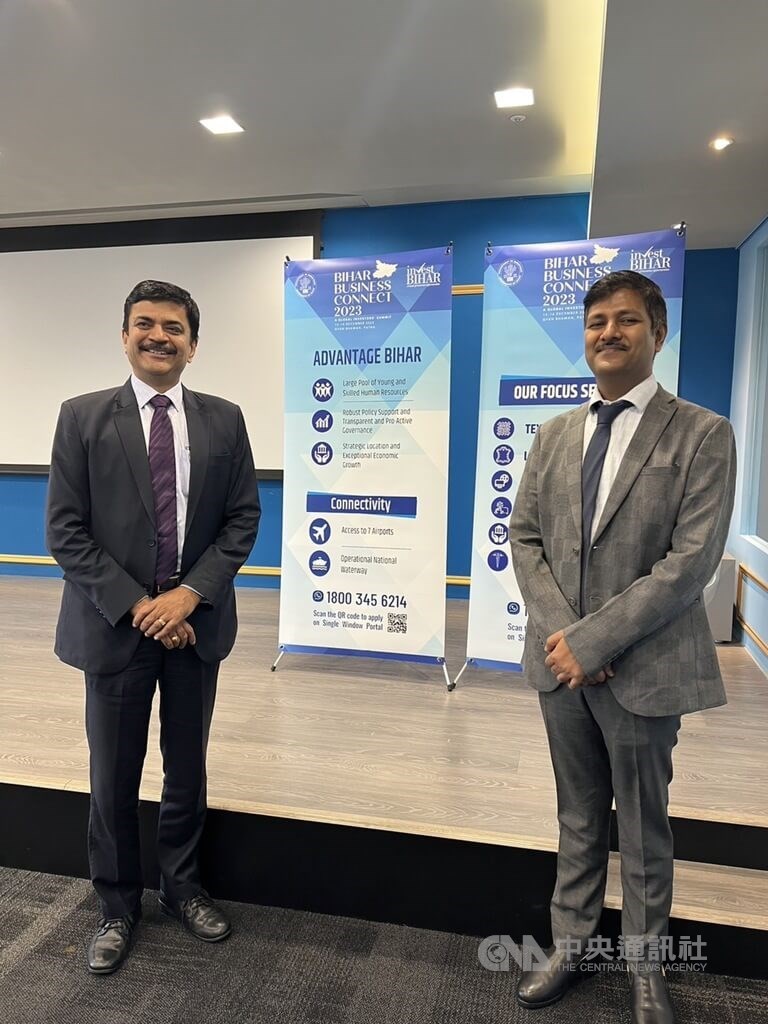 Taipei, Nov. 20 (CNA) Three officials from Bihar State in India are paying a two-day visit to encourage Taiwan enterprises to attend the Bihar Business Connect 2023 slated for Dec. 13-14 in Patna as part of their efforts to attract greater Taiwanese investment to the East Indian state.
During their stay from Monday to Tuesday, Sandeep Poundrik, additional chief secretary of the Department of Industries under the government of Bihar, along with Pankaj Dixit, director of the Technology and Industries Department of Bihar, and Parv Kapoor, a consultant from the Bihar Industrial Area Development Authority, will visit Hon Hai Technology Group, Taiwan Electrical and Electronic Manufacturers' Association, and Tzu Chi Foundation.
Interviewed by CNA at the India Taipei Association, Poundrik said the state authorities are set to sign two MOUs with the Taipei Economic and Cultural Center in India by the end of this year to establish two centers in Bihar to train Indian students to speak Chinese, considering the language barrier that Taiwanese enterprises might encounter in the state once they open plants.
Individuals with Chinese language proficiency will be better placed to help Taiwanese CEOs better manage and communicate with local workers, he said.
Other than being a pilgrimage destination for Buddhists around the world, he said, Bihar is also a popular tourist destination and an industrial hub that accommodates the IT, food processing, textile and leather industries.
Poundrik also touted a good work environment at many factories across Bihar featuring a plug-and-play computer system, which has been made possible thanks to an array of subsidies from the Bihar and central government authorities.
According to information on the official website of "Bihar Business Connect 2023" -- A Global Investors' Summit, the Department of Industries of Bihar said it is committed to transforming the industrial landscape of the state.
Over the past few years, Bihar has emerged as one of the nation's biggest consumer markets, the department said, adding that the state is convening the two-day investment event to present the transforming industrial landscape, while also exploring synergies and partnership opportunities.