Incentives for rooftop solar panel should be raised: Civil groups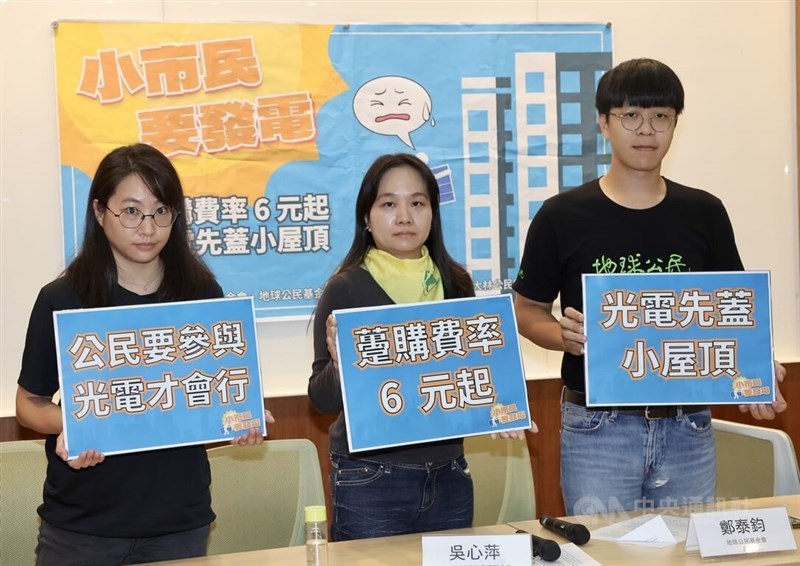 Taipei, Nov. 13 (CNA) Civil groups on Monday called for changes to regulations governing the installation of solar panels on existing buildings to provide better incentives for communities and familiarize the public with renewable energy.
With a government-convened review committee set to decide the renewable energy feed-in tariff (FIT) rates for next year later this week, several civil groups called for incentives to install solar panels on residential rooftops to be increased by raising the FIT for smaller installed capacity.
The FIT rate for rooftop solar energy capacity is currently divided into four intervals, with the smallest being 1kW to 20kW (approximately NT$5.8/kWh) and the largest being over 500kW (approx. NT$4/kWh).
The Green Citizens' Action Alliance (GCAA), the Citizens of the Earth (CET), Taiwan, and the Homemakers United Foundation (HUF) held a joint press conference on Monday to call for the introduction of a new interval of 1kW to 10kW, with the rate raised to NT$6.0/kWh.
They argued that as most residential buildings in Taiwan have rooftop space of about 160 square meters, after excluding the space needed for other installations that leaves less than 99 square meters for rooftop solar panels which could have a maximum capacity of 10kW.
HUF Director Wu Hsin-ping (吳心萍) said as installing panels for 10kW requires the same fixed cost as that for 20kW or 30kW, including cranes, labor, panel transportation and administrative fees, the cost spread per kW is higher for 10kW-installation.
Raising the FIT for the installation of 10kW or below is necessary to increase the incentive for residential communities to embrace renewable energy projects, Wu said.
The calculation is based on the experience of a cooperative for community renewable energy projects in Chiayi that currently has about 33 projects, two-thirds of which are below 10kW, according to Wu.
"Successful projects often attract many communities to visit and learn, as the one in Chiayi has.
"A community project in Taipei's Xinyi District has attracted more than 70 visiting groups a year, and Guan Do Junior High School with which HUF works has also used the savings made to fund energy education," Wu said.
Liu Ru-yi (劉如意), a researcher at GCAA, said that although the time and energy spent communicating with communities about setting up rooftop solar panels can be hard to quantify, it is necessary.
"Once the installations are made, the social benefit is huge," Liu said.
Cheng Tai-chin (鄭泰鈞), a CET member, points out that as solar power plants often encounter multiple challenges and controversies when building large-scale solar farms on farmland, rooftop PV systems are a way for the government to simultaneously familiarize the public with renewable energy and increase renewable power generation.
The groups also called for the streamlining of the application process and the prioritizing of grid connecting for smaller installations, to encourage the wider participation of residential communities in such projects.