Talent Taiwan Office one-stop service for foreign professionals launches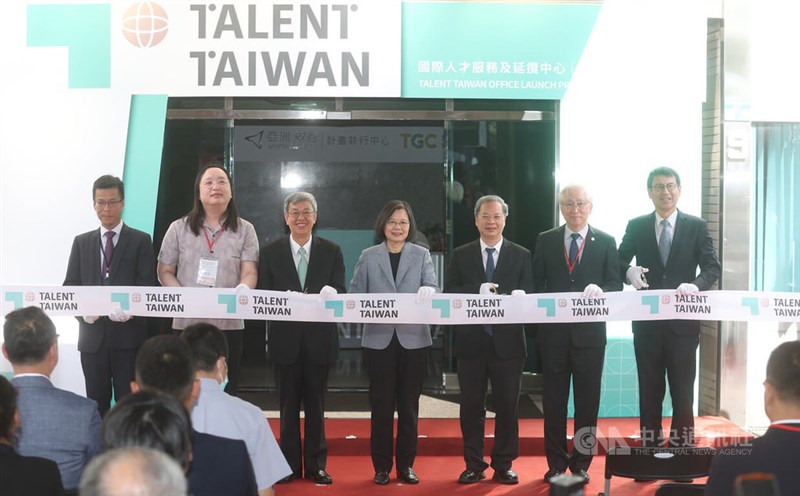 Taipei, Nov. 1 (CNA) The Talent Taiwan Office, a service center dedicated to recruiting foreign professionals and helping them get accustomed to life in Taiwan, was officially launched in Taipei on Wednesday.
Located at the former National Development Council office on Songjiang Road in Taipei, the International Talent Taiwan Office is an extension of the Taiwan Employment Gold Card Office that was set up in October 2020 to provide professional consultation and assistance to Employment Gold Card holders, according to the National Development Council (NDC).
In order to provide the service to more people, the NDC said the Talent Taiwan Office has expanded the service from only being available to the 8,348 gold card holders (as of the end of September) to also being accessible to those holding the Taiwan Entrepreneur Visa and other employed foreign professionals.
The one-stop service is now available both online and in person, NDC Minister Kung Ming-hsin (龔明鑫) said.
The service will include pre-arrival consultation and post-arrival all-round services including assistance with housing, banking, children's education, tax, insurance, and even pets, Kung said.
The office also has the support of two major professional accounting firms that will provide professional tax and legal services, he added.
President Tsai Ing-wen (蔡英文) said at the launch press conference that the office aims to make Taiwan's institutions more friendly and flexible.
"If we are to make Taiwan an innovative place, life and work for talented people has to be made easier," she said, adding that recruiting international professionals and ensuring they remain in the country will be vital in transforming Taiwan into a key economic power.
Kung said that since 2021 the NDC has been conducting inter-ministerial meetings that included chiefs from the Ministry of Economic Affairs, the Ministry of Labor, the Ministry of the Interior, and the Overseas Community Affairs Council to help identify foreign professionals, foreign students, and intermediate skilled foreign workers that form the main target groups in the country's recruitment plan.
The council has a target of attracting 400,000 workers by 2030, including at least 70,000 professionals, with the rest classified as skilled workers.
Premier Chen Chien-jen (陳建仁) and Minister of Digital Affairs Audrey Tang (唐鳳) were also present at Wednesday's launch ceremony.
Steven Chen (陳士駿), the Taiwanese-American internet entrepreneur who co-founded YouTube, was also at the press conference. He is the first-ever Taiwan Employment Gold Card Holder and has been described by President Tsai as "leaving his mark on Taiwan's history.