TSMC's May sales down compared with 2022 despite 19% monthly rise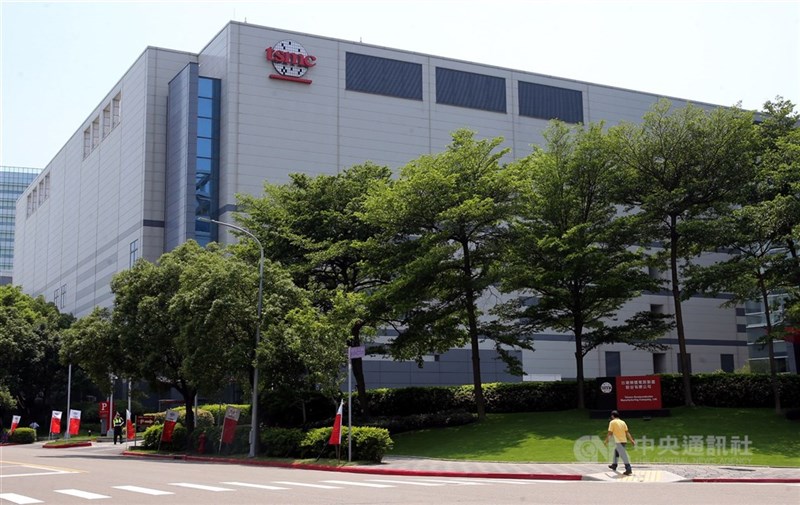 Taipei, June 9 (CNA) Despite recording a 19.4 percent month-over-month increase in sales, Taiwan Semiconductor Manufacturing Co. (TSMC) on Friday reported that its May revenues were down 4.9 percent compared with 2022.
In a statement, TSMC said it posted NT$176.54 billion (US$5.74 billion) in consolidated sales in May, outmatched this year only by January's total of NT$200.05 billion, and the second month in a row the contract chipmaker's revenues increased after a 1.7 percent month-on-month rise in April.
At TSMC's annual general meeting on Tuesday, Chairman Mark Liu (劉德音) said that with demand for generative artificial intelligence applications increasing significantly, TSMC had booked a surge of rush orders.
As a result, Liu said, the chipmaker's high-end IC packaging and testing service capacity is currently oversubscribed.
On Thursday, TSMC announced the inauguration of its Advanced Backend Fab 6 in the Zhunan Science Park of Miaoli.
According to TSMC, the site, the chipmaker's fifth IC packaging and testing service fab, is its first all-in-one automated advanced packaging and testing fab and will allow it to realize 3DFabric integration of front-end to back-end process and testing services.
According to the chipmaker, the new backend fab aims to support the next generation of AI, high-performance computing (HPC), mobile applications and other advanced products.
At Tuesday's AGM, Liu said that TSMC expects to have a better second half of 2023 than the first, although its sales will fall by 1-6 percent from 2022 as global demand has been affected by a weakening world economy, high inflation and aggressive rate hike cycles.
At an investor conference in mid-April, TSMC said it expected to book consolidated second-quarter sales of between US$15.2 billion and US$16.0 billion based on an exchange rate of NT$30.4 against one U.S. dollar, with a median figure of US$15.8 billion, which will be about 6.7 percent lower than a quarter earlier.
Analysts said since TSMC's accumulated consolidated sales for April-May hit NT$324.44 billion, it is possible for the chipmaker to achieve its second-quarter guidance between NT$462.08 billion and NT$486.40. billion.
TSMC has also forecast a year-over-year drop of 10 percent for its first-half sales amid high inventory levels and a weaker-than-expected demand recovery in China.
However, TSMC said that the second quarter of this year could be a cyclical low.
In addition to rush orders on chips used in AI applications from U.S. graphics processing unit designer Nvidia Corp., analysts said TSMC is expected to benefit from new products unveiled by American consumer electronics giant Apple Inc. in the second half of this year.
In the first five months of this year, TSMC's consolidated sales fell 1.9 percent from a year earlier to NT$833.07 billion.