Taiwan shares end little changed ahead of 16,800 points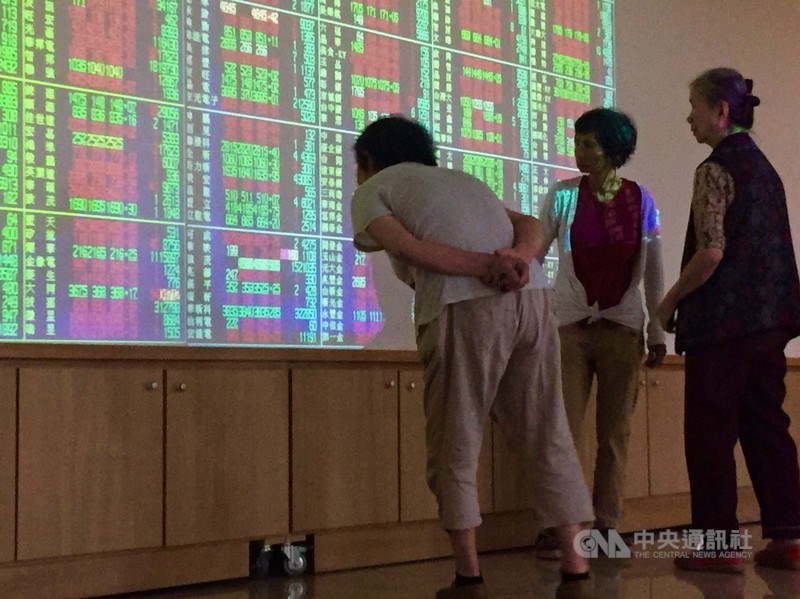 Taipei, June 5 (CNA) Shares in Taiwan closed almost flat Monday after coming off an earlier high with investors locking in profits as the main board moved closer to the nearest technical resistance ahead of the 16,800 point mark, dealers said.
Contract chipmaker Taiwan Semiconductor Manufacturing Co. (TSMC), the most heavily weighted stock on the local market, headed lower throughout the session and took a pause after a recent strong showing boosted by high hopes over artificial intelligence applications.
Buying rotated to the financial sector, which recently underperformed the broader market, as well as select old economy stocks, stabilizing the main board, dealers added.
The Taiex, the weighted index on the Taiwan Stock Exchange (TWSE), ended up 7.52 points, or 0.05 percent, at 16,714.48 after moving between 16,703.60 and 16,781.19. Turnover totaled NT$300.59 billion (US$9.79 billion).
The market opened up 7.57 points and moved to the day's high by rising 74.28 points in a knee-jerk reaction to gains on U.S. markets, where the Dow Jones Industrial rallied 1.21 percent on Friday after a debt ceiling bill cleared the Senate floor, dealers said. On Saturday, U.S. President Joe Biden signed the bill into law to avoid a default.
With the Taiex moving closer to 16,800 points, selling emerged focusing on TSMC with many investors pocketing gains built in recent sessions after Nvidia Corp. CEO Jensen Huang (黃仁勳) talked up AI applications last week. The stock even encountered more pressure in the last few minutes of the session, while non-tech stocks served as an anchor enabling the main board to end above the previous closing level, dealers added.
With a weaker TSMC, investors also shifted their attention to smaller stocks not only on the main board but also on the over-the-counter market, where the index outperformed the main board, rising 0.88 percent to end at 220.09 Monday, dealers said.
"Nvidia's Huang left after his impact at Computex Taipei last week. Now, investors have turned calm, seeking to take profits from TSMC's gains," Moore Securities Investment Consulting Co. analyst Adam Lin (林漢偉) said.
May sales reports
"As listed companies are set to file their May sales reports by June 10, investors need to face reality at a time of inventory adjustments due to weakening global demand," Lin said.
TSMC lost 1.25 percent to close at NT$555.00, and its losses dragged down the Taiex by about 60 points and led the electronics index and semiconductor sub-index down by 0.36 percent and 0.87 percent, respectively.
"However, even if profit taking continues, TSMC could see strong technical support ahead of NT$545.00, an intraday high on May 25," Lin said.
TSMC selling spread to United Microelectronics Corp. (UMC), a smaller contract chipmaker, which lost 0.97 percent to end at NT$50.90, but shares in Powerchip Semiconductor Manufacturing Corp., another smaller contract chipmaker, bucked the downturn, rising 0.16 percent to close at NT$31.15.
Among other semiconductor stocks, UMC's display drive IC design unit Novatek Microelectronics Corp. gained 1.62 percent to end at NT$438.00, smartphone IC designer MediaTek Inc. rose 1.07 percent to close at NT$759.00 and TSMC's application-specific integrated circuit (ASIC) design subsidiary, added 1.05 percent to end at NT$1,440.00.
Also in the electronics sector, Largan Precision Co., a supplier of smartphone camera lenses to Apple Inc., rose 1.10 percent to close at NT$2,290.00 before the American consumer electronics giant's Worldwide Developers Conference (WWDC) opens later in the day to unveil new gadgets. In contrast, iPhone assembler Hon Hai Precision Industry Co. lost 0.46 percent to end at NT$107.50.
June 5: Hon Hai May sales up 5% from April, but down year-on-year
"While TSMC moved in weakness, investors tended to seek targets outside the tech sector," Lin said. "Today, the financial sector was highlighted as financial heavyweights played catch-up with its tech counterparts due to their relatively low valuations."
Financials, 'military concept stocks'
The financial sector rose 1.16 percent, with Fubon Financial Holding Co. up 1.82 percent to close at NT$61.70, and Cathay Financial Holding Co. up 1.80 percent to end at NT$45.25. In addition, Mega Financial Holding Co. rose 1.66 percent to close at NT$36.70. and E. Sun Financial Holding Co. grew 1.35 percent to end at NT$26.35.
Buying also rotated to the so-called "military concept stocks" at a time of growing tensions across the Taiwan Strait, Lin said.
Among these stocks, shares in Thunder Tiger Corp., an unmanned aerial vehicle (UAV) producer, rose 5.64 percent to close at NT$73.00, aircraft maintenance service provider Air Asia Co. gained 2.56 percent to end at NT$48.00, aviation component supplier Aerospace Industrial Development Corp. added 1.78 percent to close at NT$57.30, and Aero Win Technology Corp., another airplane part maker, ended up 0.82 percent at NT$61.00.
"Although the Taiex came off a high, the technical uptrend remains unchanged after recent solid gains," Lin said. "If the main board is able to jump over 16,800 points, it could take off and jump over 17,000 points or higher."
The Taiex still closed to hit its highest level in about one year Monday.
According to the TWSE, foreign institutional investors bought a net NT$978 million worth of shares on the main board Monday.