Taiwan shares end lower, as electronics rally loses steam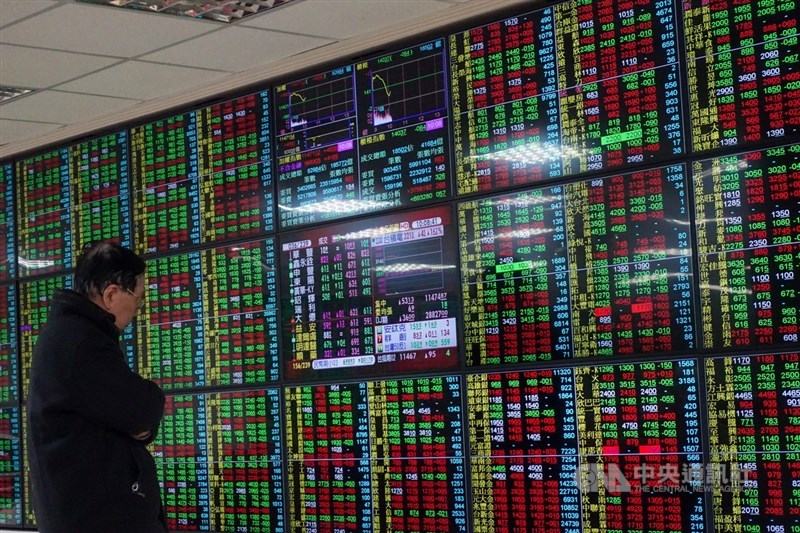 Taipei, May 31 (CNA) Shares in Taiwan closed slightly lower Wednesday as the electronics sector lost momentum after rallying in recent sessions, and MSCI weighting cuts were about to take effect, dealers said.
While the electronics sector slipped, however, buying rotated to select old economy stocks to offset the tech losses, dealers said.
The Taiex, the Taiwan Stock Exchange's benchmark weighted index, ended down 43.78 points, or 0.26 percent, at 16,578.96 after moving between 16,491.90 and 16,636.65. Turnover totaled NT$409.04 billion (US$13.31 billion).
The market opened down 0.16 percent and selling escalated with contract chipmaker Taiwan Semiconductor Manufacturing Co. (TSMC) in focus after its American depositary receipts (ADRs) fell 1.19 percent overnight, dealers said.
When the Taiex fell below the 16,500 mark midway through the morning, bargain hunters turned active to pick up TSMC shares to briefly push the index into positive territory before selling reemerged in the last few minutes of the session.
The selling came as passive mutual funds responded to a downgrade of Taiwan's weighting in two of MSCI's major indexes by cutting their holdings in Taiwanese stocks, dealers added.
The cuts, which were announced in mid-May, were to take effect after market closings Wednesday.
"The expanded turnover today largely reflected the effects of the MSCI's downgrade," Mega International Investment Services Corp. analyst Alex Huang said. "TSMC simply fell victim to weighting cuts,"
After the quarterly index review, MSCI cut Taiwan's weighting in the MSCI Emerging Markets Index, which is closely watched by foreign institutional investors, by 0.17 percentage points to 14.66.
Its weighting in the MSCI All-Country Asia ex-Japan Index was cut by 0.19 percentage points to 16.59 percent.
TSMC suffered the steepest weighting cut of 0.28 percentage points among the 90 constituents of the MSCI Taiwan Index.
The chipmaker, the most heavily weighted stock in the local market, fell 1.41 percent to close at NT$558.00. Led by TSMC, the electronics index and semiconductor sub-index shed 0.45 percent and 0.98 percent, respectively.
In addition to MSCI's weighting downgrade, selling in TSMC also came after Jensen Huang (黃仁勳), founder and CEO of American graphics processing unit (GPU) designer Nvidia Corp., said Tuesday that Nvidia was diversifying its supply chains by buying chips from TSMC and Samsung and was open to working with Intel as well.
"After recent gains on high hopes over artificial intelligence due to Nvidia's better-than-expected second quarter sales, it was time for TSMC to take a pause. I think the stock's recent upturn was kind of an overshot," Mega's Huang said.
Last week, TSMC gained 6.39 percent to jump over stiff technical resistance ahead of NT$546.00, an intraday high on Feb. 10.
Among other semiconductor heavyweights, United Microelectronics Corp., a smaller contract chipmaker, rose 0.39 percent to end at NT$51.80 and Global Unichip Corp., TSMC's application-specific integrated circuit (ASIC) design subsidiary, added 0.34 percent to close at NT$1,495.00.
Smartphone IC designer MediaTek Inc. lost 0.52 percent to end at NT$759.00.
Also in the tech sector, iPhone assembler Hon Hai Precision Industry Co. fell 0.47 percent to close at NT$106.50, while Qunata Computer Inc., a leading contract notebook computer maker, rose 1.30 percent to end at NT$116.50.
"As TSMC and the electronics sector showed weakness, funds moved to other targets in the non-tech sector," Huang said. "Today's buying rotated to the tourism sector."
In the tourism industry, which rose 3.90 percent, Chateau International Development Co. soared 10 percent, the maximum daily increase, to close at NT$72.90, and First Hotel Co. gained 5.62 percent to end at NT$16.90.
My Humble House Hospitality Management Consulting rose 5.17 percent to close at NT$75.20, and FDC International Hotels Corp. added 4.43 percent to end at NT$92.00.
In the aviation industry, China Airlines rose 1.83 percent to close at NT$22.20, and EVA Airways gained 1.19 percent to end at NT$33.95, while aviation maintenance service provider Air Asia Co. soared 10 percent to close at NT$46.10.
Also benefiting from prospects of higher domestic consumption, Wowprime Corp., a restaurant chain operator, rose 7.07 percent to close at NT$333.00, and dumpling restraint chain owner Bafang Yunji International Co. gained 5.78 percent to end at NT$174.00.
"The construction industry was boosted by bargain hunters because of its relatively low valuations," Huang said.
"Many property developers have proposed high cash dividends, and investors appeared willing to buy these stocks for the money."
The construction industry rose 0.84 percent, with BES Engineering Co. surging 10 percent to close at NT$11.45, Crowell Development Corp. gaining 3.80 percent to close at NT$25.29, and JSL Construction & Development Co. adding 2.62 percent to close at NT$82.10.
"Market sentiment remained cautious before a vote in the U.S. House and Senate on the debt ceiling deal to avert a default," Huang said. "How the vote will proceed is expected to move U.S. and other global markets, including Taiwan."
According to the Taiwan Stock Exchange, foreign institutional investors bought a net NT$5.83 billion in shares on the market Wednesday.