'De-Taiwanization' of semiconductor industry unlikely: Analysts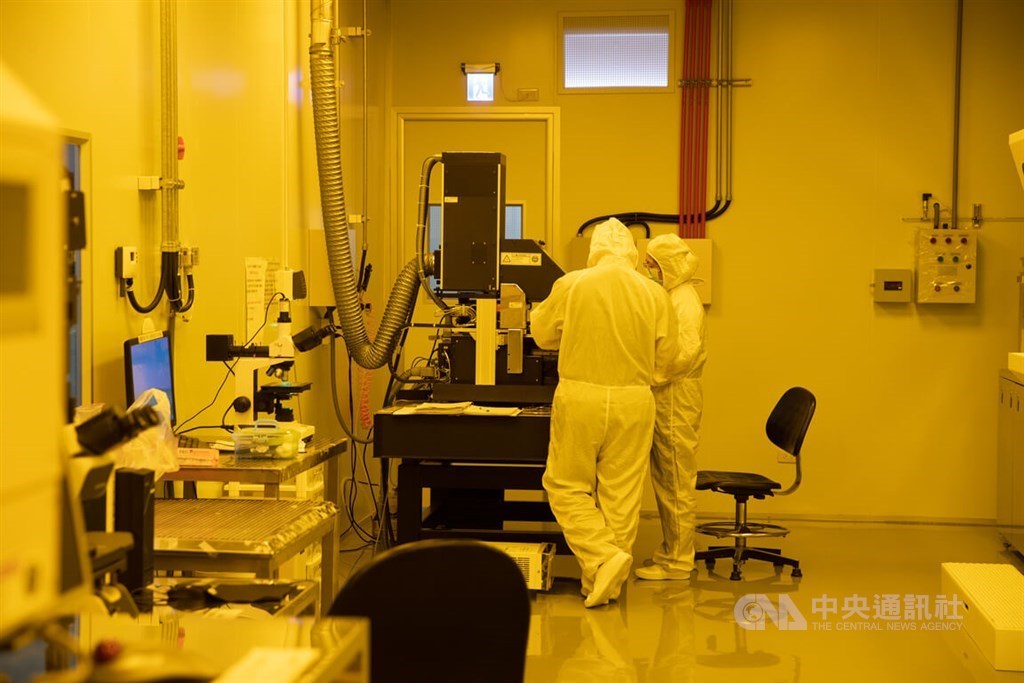 Taipei, Feb. 3 (CNA) Industry analysts suggest growing fears over the possibility of Taiwan's marginalization in the global chipmaking industry following major investments by Taiwan Semiconductor Manufacturing Co. (TSMC) in the United States are in fact overblown.
On Dec. 6, 2022, TSMC held a tool-in ceremony for its first fab in Phoenix, Arizona, which will use the advanced 4-nanometer process and is scheduled to begin operations in 2024. The event was attended by U.S. President Joe Biden.
Before the ceremony, the world's largest contract chipmaker gifted the United States a plan to increase future investment in the Arizona fab to US$40 billion, one of the largest foreign investments in U.S. history.
A second fab using the more advanced 3nm process will be built in the Arizona complex and become operational in 2026, TSMC announced.
However, the investments have raised fears among Taiwanese about whether such a move could cause Taiwan to lose its competitive edge in the global semiconductor sector.
The investment plan in Arizona has also heightened concerns of a brain drain of semiconductor engineers amid news of hundreds of Taiwanese engineers and their families being flown to the U.S. on charter flights.
But Hou Tuo-hung (侯拓宏), director-general of the government-funded Taiwan Semiconductor Research Institute, said in an interview with CNA that the "de-Taiwanization" scenario was unlikely.
He compared international semiconductor competition to chess, in which Taiwan, as an early comer to the chipmaking scene and a powerhouse in the industry, ensured that it "has the first move."
It is not the first time TSMC has invested in the U.S., Hou said.
In a joint venture 25 years ago, TSMC set up a wafer foundry in the northwestern U.S. state of Washington, and at that time, it had to source water, electricity, and land all by itself.
This time, TSMC introduced plans to build its second American fab shortly after the US$280 billion CHIPS Act was signed into law by Biden, and it should definitely benefit from incentives under the act, Hou said.
As such, plans to build wafer foundries in Arizona should be seen as an opportunity rather than a pitfall, he said.
With the semiconductor industry forecast to continue growing for the next 10 to 20 years, "it is inevitable that Taiwanese chipmakers will expand overseas," he said.
While Taiwan still has a pool of high-quality talent and a complete semiconductor sector supply chain, it needs to move quickly to seek connections with sources in other countries to "grow the pie," Hou said.
Referring to the hundreds of Taiwanese engineers being flown to the U.S., he said semiconductor engineers have greater international mobility than people in other professions like chefs and physicians, and "this mobility goes both ways."
As foreign chipmakers such as Micron and Qualcomm establish foundries in Taiwan where they can readily gain access to quality engineers and necessary technology, Taiwanese chipmakers are hiring foreign talent at their overseas fabs, he said.
Nevertheless, Hou admitted that as the semiconductor industry continues to grow, the demand for talent is also rising. He revealed TSMC has forecast a shortage of 7,000 to 8,000 engineers in the future, while MediaTek also projected a shortage of 3,000 to 4,000.
To fill these workforce gaps, local semiconductor companies are driven to recruit students specialized in related disciplines regardless of whether they have advanced academic degrees, Hou said.
Local companies have accepted the idea that "you don't need to have a Ph.D. to get a job," said the head of the country's research center, which cultivates 2,200 semiconductor engineers each year.
As countries like South Korea, the U.S., and Japan up the ante in subsidizing their respective semiconductor industries, talent is still the dominant factor that will determine who prevails in the global semiconductor competition, Hou noted.
Echoing Hou's view, Jason Chin (晉麗明), senior vice president at the 104 Corp. Executive Recruitment Consultancy Division, said that Taiwan's semiconductor industry -- including its management style, company culture, and processes -- is highly distinctive and therefore nearly irreplaceable.
Over the past decade, Chinese companies poached many engineers from Taiwan using vastly higher pay, but they eventually learned that headhunting alone was not enough to replicate Taiwan's success in the industry, Chin said.
"Top semiconductor professionals from Taiwan might be able to make more money elsewhere, but the trade-off is that their careers can face limitations," he said.
"As we've seen in recent years, those hotshots have all returned to work in Taiwan," he said.
In addition, Taiwanese companies have been very generous in the remuneration packages they offer semiconductor engineers, which could also help to prevent a brain drain.
According to data on the Market Observation Post System, the annual salary of employees at listed semiconductor companies averaged NT$1.7 million (US$55,373.60) in 2021, a year-on-year increase of 20.75 percent, while that of employees at over-the-counter semiconductor companies averaged NT$1.31 million, a rise of 14.72 percent from the previous year.
Citing TSMC as an example, Chin said that employees with a master's degree have an average starting salary of NT$1.5 million, while many engineers who have worked there for three years earn an annual salary of more than NT$3 million, Chin said.
"In Taiwan, such salaries are extremely rare," he said.