Taiwan shares surge after LNY break as TSMC soars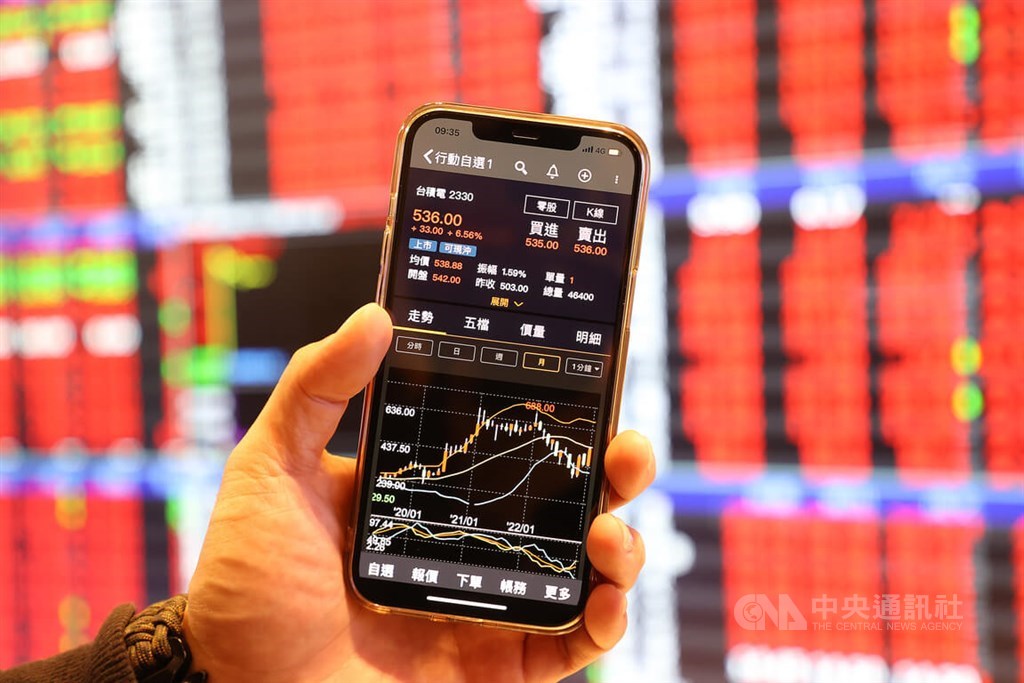 Taipei, Jan. 30 (CNA) Shares in Taiwan moved sharply higher Monday, the first trading session since Jan. 17 because of the Lunar New Year holiday, following a rally on U.S. markets during the break, dealers said.
The bellwether electronics sector led the charge as contract chipmaker Taiwan Semiconductor Manufacturing Co. (TSMC) surged almost 8 percent on solid gains posted by its American depositary receipts (ADRs) during the market recess in Taiwan, dealers said.
The Taiex, the Taiwan Stock Exchange's benchmark weighted index, closed up 560.89 points, or 3.76 percent, at the day's high of 15,493.82 after hitting a low of 15,291.53. Turnover totaled NT$329.72 billion (US$10.93 billion).
The market opened up 2.40 percent at well above the 15,000-point mark, with buying focused on large cap semiconductor companies after a 4.9 percent increase in the tech-heavy Nasdaq index and a 5.16 percent rise in the Philadelphia Semiconductor Index during the holiday.
U.S. markets benefited from a 4.4 percent rise in the December core personal consumption expenditures (PCE) index, the smallest rise since October 2021, leading to expectations that the Fed may limit future interest rate hikes, dealers said.
The momentum continued Monday as TSMC, the most heavily weighted stock on the market, kept rising after its ADRs rose 7.49 percent during the holiday, lifting the Taiex to the day's high at the close and its highest closing level since June 27, 2022.
U.S. economic data
"Markets at home and abroad are rising on optimism that the Fed will adopt a more dovish policy after the favorable PCE data," Mega International Investment Services Corp. analyst Alex Huang said.
"Expectations that the Fed will hike rates at a slower pace led investors to pick up tech stocks, which had been previously hit by rising yields, making them look less attractive."
Many investors were also encouraged by the better-than-expected 2.9 percent growth in U.S. gross domestic product in the fourth quarter, giving them hope of a soft landing for the U.S. economy, Huang said.
TSMC rose 7.95 percent to close at the day's high of NT$543.00. TSMC's gains led to a 5.16 percent surge in the electronics sector and a 7.17 percent jump in the semiconductor sub-index, while also contributing about 330 points on their own to the Taiex's increase Monday.
"Today's Taiex rally largely came from buying in TSMC. I think many investors have agreed that inventory adjustments in the global semiconductor industry will end in the second quarter, leading to a rebound in the second half of this year," Huang said.
TSMC's buying spread to smaller contract chipmakers. United Microelectronics Corp. rose 6.20 percent to end at NT$48.80 after its ADRs rose 4.53 percent during the holiday, and Powerchip Semiconductor Manufacturing Corp. gained 5.11 percent to close at NT$33.95.
Tech stocks
Among other semiconductor stocks, high-speed IC designer Asmedia Technology Inc. and power management IC designer Silergy Corp. soared 10 percent, the maximum daily increase, to end at NT$888.00 and NT$578.00, respectively.
TSMC's application-specific integrated circuit design subsidiary Global Unichip Corp. gained 7.34 percent to close at NT$775.00, and smartphone IC designer MediaTek Inc. rose 6.64 percent to end at NT$789.00.
Also in the electronics sector, flat panel maker AU Optronics Corp. gained 5.05 percent to close at NT$16.65 on reports that the company secured orders on screens used in vehicle production, and rival Innolux Corp. also rose 4.80 percent to end at NT$12.00.
Huang said the two stocks largely benefited from their relatively low valuations.
iPhone assembler Hon Hai Precision Industry Co., second to TSMC in terms of market capitalization, underperformed the broader market, closing unchanged at NT$98.10.
"Although the market has been generally upbeat about Hon Hai's electric vehicle development in recent years, the stock's large market cap made it hard for the stock to rise amid bargain hunting. But optimism over EV development did lift partner Yulon Motor," Huang said.
Auto, old economy sectors
In the auto sector, which rose 4.91 percent, Yulon Motor Co, soared the maximum 10 percent to close at NT$78.10.
Buying was seen among other auto stocks, with China Motor Corp. rising 5.46 percent to end at NT$59.90 and Hotai Motor Co. closing 5.59 percent higher at NT$661.00.
In addition, Hota Industrial Manufacturing Co., one of the leading auto part suppliers in Taiwan, gained 4.83 percent to end at NT$71.60.
Huang said the gains Monday were seen across the board, but gains by non-tech stocks lagged behind those of the tech sector because TSMC attracted most of the market's attention.
Among old economy companies, Formosa Plastics Corp. rose 1.58 percent to close at NT$90.00, and Nan Ya Plastics Corp. gained 2.67 percent to end at NT$77.00.
Also, Taiwan Cement Corp. rose 2.64 percent to close at NT$36.95, and food brand Uni-President Enterprises Corp. closed 0.15 percent higher at NT$68.00.
In the financial sector, which rose 1.58 percent, Fubon Financial Holding Co. gained 2.01 percent to close at NT$61.00, Cathay Financial Holding Co. rose 1.67 percent to end at NT$42.70, and CTBC Financial Holding Co. closed unchanged at NT$23.20.
"The Fed has scheduled a policymaking meeting for Jan. 31-Feb. 1. It will be worth watching, and its decision and comments could move markets worldwide," Huang said.
According to the Taiwan Stock Exchange, foreign institutional investors bought a net NT$72.26 billion in shares market Monday, the second largest single-day net buy after NT$125.28 billion seen on Dec. 28, 2005.