Taiwan shares end flat after early rally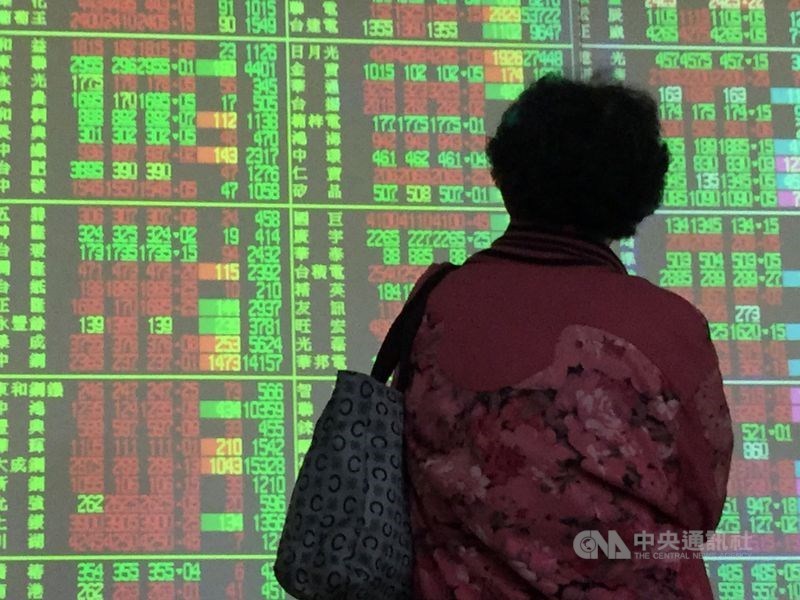 Taipei, Dec. 5 (CNA) Shares in Taiwan closed relatively flat Monday after tech stocks gave up early gains following a downturn in the sector on American markets at the end of last week, dealers said.
Rotational buying remained active, however, helping give some momentum to select old economy stocks in the transportation and commodities sectors throughout the session, dealers said.
The Taiex, the Taiwan Stock Exchange's benchmark weighted index, ended up 10.06 points, or 0.07 percent, at 14,980.74, after moving between 14,969.97 and 15,088.06. Turnover totaled NT$240.68 billion (US$7.9 billion).
The market opened up 1.49 points and climbed to the day's high just after 10 a.m. on a technical rebound from a session earlier.
But selling soon followed and was particularly noticeable in the last hour of trading as investors pocketed earlier gains in semiconductor heavyweights, including contract chipmaker Taiwan Semiconductor Manufacturing Co. (TSMC), dealers said.
The electronics sector closed down 0.06 percent at 698.88, off a high of 706.02, with the semiconductor sub-index falling 0.42 percent.
"The selling in semiconductor stocks resulted from the losses incurred by their counterparts on U.S. markets Friday. Without a lead from these major tech stocks, the Taiex simply drifted without any direction," Concord Capital Management analyst Lu Chin-wei said.
On Friday, the Philadelphia Semiconductor Index lost 1.19 percent and the tech-heavy Nasdaq index fell 0.18 percent.
Following a 1.43 percent fall on its American depositary receipts in the U.S. on Friday, TSMC, the most heavily weighted stock locally, lost 0.71 percent to close at NT$487.00, coming off an earlier high of NT$497.50.
Among other semiconductor stocks, United Microelectronics Corp. (UMC), a smaller contract chipmaker, dropped 0.22 percent to end at NT$45.40, while smartphone IC designer MediaTek Inc. closed unchanged at NT$739.00.
Bucking the downturn in the semiconductor industry, UMC's display IC design subsidiary, Novatek Microelectronics Corp., gained 0.50 percent to end at NT$300.50, and dynamic random access memory (DRAM) chip supplier Nanya Technology Corp. rose 0.18 percent to close at NT$56.20.
Also in the electronics sector, iPhone assembler Hon Hai Precision Industry Co. ended unchanged at NT$105.50, but smartphone brand HTC Corp. rose 2.20 percent to close at NT$60.40 on reports it will take its virtual reality business public in the United States.
"With many large tech stocks weaker, investors shifted their attention to the over-the-counter market," Lu said.
"So when TSMC came under pressure, investors simply parked their money in smaller stocks in the chipmaker's supply chain. Today, Chunghwa Precision Test Tech. Co. was highlighted."
Semiconductor testing equipment maker Chunghwa Precision rose 1.65 percent to end at NT$553.00 on the OTC market, where the index rose 0.57 percent.
"After Federal Reserve Chair Jerome Powell struck a softer tone on interest rates, investors at home and abroad are anticipating the Fed will only raise key interest rates by 50 basis points instead of 75 at its December policymaking meeting," Lu said.
"The Taiwan dollar has stabilized without a massive fund flight in recent sessions, and it was no surprise that rotational buying in non-tech stocks continued to lend support to the Taiex," Lu said.
The steel sector attracted solid buying, finished 1.47 percent higher, with Ta Chen Stainless Pipe Co. soaring 6.91 percent to close at NT$43.30, and Chung Hung Steel Corp. rising 4.66 percent to end at NT$24.70.
In addition, China Steel Corp., the largest steel maker in Taiwan, rose 0.69 percent to close at NT$29.20, and China Steel Structure Corp. gained 1.05 percent to end at NT$58.00.
In the transportation sector, which rose 0.63 percent, China Airlines surged 5.59 percent to close at NT$18.90, and EVA Airways rose 2.90 percent to end at NT$28.40 amid optimism over their operations now that border controls have been eased.
Underperforming the broader market, the financial sector lost 0.29 percent, with Fubon Financial Holding Co. falling 1.50 percent to close at NT$59.20, and Cathay Financial Holding Co. shedding 2.61 percent to end at NT$42.85.
"The Taiex failed to close above 15,000 points today, indicating that technical resistance ahead of that level remained strong," Lu said.
"More losses are possible. But any fall would probably be limited as conglomerates prop up their stock prices to dress up their year-end accounts, preventing a major downturn," he said.
According to the Taiwan Stock Exchange, foreign institutional investors bought a net NT$2.42 billion in shares Monday, when the U.S. dollar shed NT$0.150 to end at NT$30.455 against the Taiwan dollar.