Taiwan shares end up as electronics sector rebounds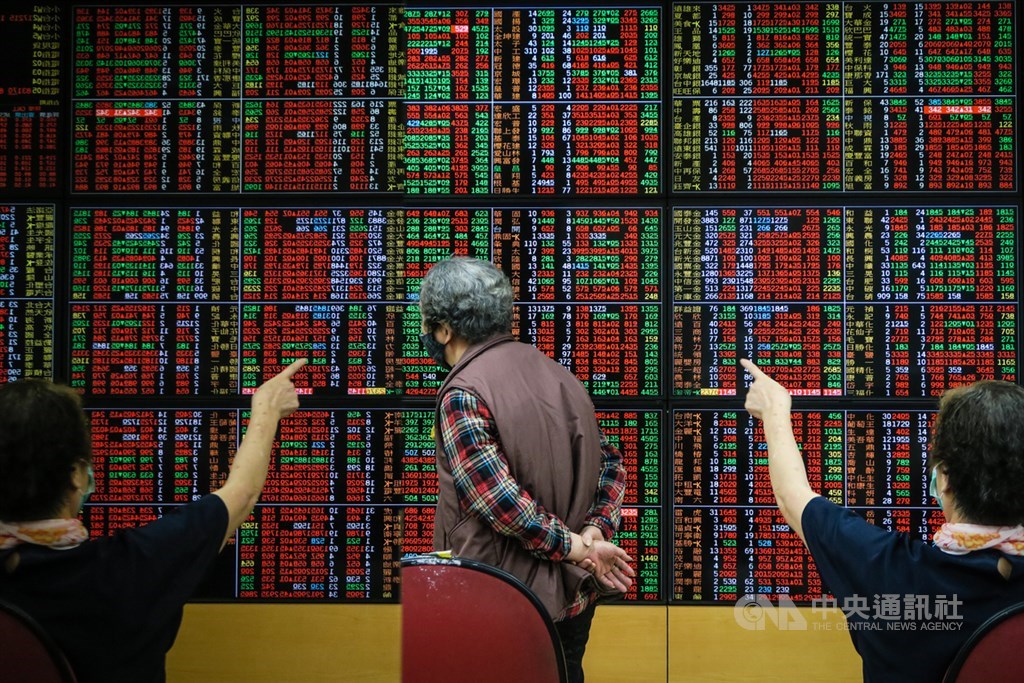 Taipei, Sept. 27 (CNA) Shares in Taiwan reversed the slump seen a session earlier to move above the 13,800-point mark as the bellwether electronics sector staged a mild technical recovery, leaving behind losses on the United States markets overnight, dealers said.
Turnover remained thin as many investors stayed on the sidelines, reluctant to chase prices for the moment amid lingering concerns over an aggressive rate hike cycle adopted by the U.S. Federal Reserve, dealers added.
The Taiex, the weighted index on the Taiwan Stock Exchange (TWSE), ended up 48.40 points, or 0.35 percent, at 13,826.59, after moving between 13,732.32 and 13,862.84. Turnover totaled NT$189.44 billion (US$5.95 billion).
The market opened up 0.25 percent and rose to the day's high, up about 85 points as investors ignored a 1.11 percent decline on the Dow Jones Industrial Average overnight, as fears over the hawkish Fed continued to weigh on investor confidence, dealers said.
Selling followed, dragging the Taiex below the previous closing level at one point point before bargain hunters emerged, picking up large semiconductor stocks, in particular contract chipmaker Taiwan Semiconductor Manufacturing Co. (TSMC), to help the main board bounce back by the end of the session, dealers added.
On Monday, the Taiex plunged 2.41 percent.
"After yesterday's sell-off, the Taiex appeared oversold with the tech sector overshooting," Concord Securities analyst Kerry Huang said. "Today, bargain hunters turned active after the index dipped to the day's low and bought into TSMC, which was the most effective way to push up the broader market."
TSMC, the most heavily weighted stock on the local market, rose 0.34 percent to close at NT$448.00, coming off a low of NT$446.00.
"I suspect government-led funds and even the National Stabilization Fund were among the bargain hunters in a bid to bolster market confidence," Huang said.
After Monday's tumble, Vice Finance Minister Juan Ching-hwa (阮清華), who serves as executive secretary of the stabilization fund committee, said later in that day that the fund was determined to work with related agencies to stabilize the local stock market, emphasizing that the fundamentals in Taiwan remain sound.
The NT$500 billion stabilization fund was set up in 2000 by the government to serve as a buffer against unexpected external factors that might disrupt the local bourse.
Among other semiconductor stocks, shares in United Microelectronics Corp., a smaller contract chipmaker, rose 1.22 percent to close at NT$37.30, and memory chip suppliers Macronix International Co. and Winbond Electronics Corp. gained 1.18 percent and 2.09 percent, respectively, to end at NT$30.00 and NT$19.50.
Bucking the upturn, smartphone IC designer MediaTek Inc. fell 0.18 percent to close at NT$568.00, and IC packaging and testing services provider ASE Technology Holding Co. dropped 0.25 percent to end at NT$81.10.
Also in the electronics sector, which rose 0.54 percent, iPhone assembler Hon Hai Precision Industry Co. lost 0.48 percent to close at NT$103.50, while Yageo Corp., the world's third largest multi-layer ceramic capacitor (MLCC) supplier, rose 1.01 percent to end at NT$300.00.
"In addition to the tech sector, shipping stocks also made a comeback today to lend further support to the Taiex," Huang said.
The buying was sparked by hopes of peak season effects in the fourth quarter, dealers said.
After plunging 7.91 percent Monday, the transportation sector, where the major shipping stocks are traded, rose 1.86 percent Tuesday, with Evergreen Marine Corp., the largest container shipping firm in Taiwan, rising 5.50 percent to close at NT$153.50.
Evergreen Marine's rivals Yang Ming Marine Transport Corp. and Wan Hai Lines Ltd. gained 3.57 percent and 2.31 percent, respectively, to end at NT$63.80 and NT$71.00.
Elsewhere in the old economy sector, textile brand Far Eastern New Century Corp. rose 2.02 percent to close at NT$32.75, and Eclat Textile Co. added 2.40 percent to end at NT$426.00, while food brand Uni-President Enterprises Corp. lost 0.15 percent to close at NT$65.90 and Lian Hwa Foods Corp. dropped 0.97 percent to end at NT$71.70.
The financial sector underperformed the broader market, down 0.83 percent. Fubon Financial Holding Co. lost 1.89 percent to close at NT$51.90, and Cathay Financial Holding Co. shed 1.33 percent to end at NT$40.95.
"I expect the stabilization fund will further lend its support as volatility on the U.S. markets is likely to continue given the aggressive Fed," Huang said. "However, the Taiex could face stiff technical resistance ahead of 14,764 points, the 60-day moving average."
Despite the rebound on the Taiex, foreign institutional investors sold a net NT$6.34 billion worth of shares on the main board Tuesday.