Taiwan shares end slightly down; concerns over hawkish Fed increase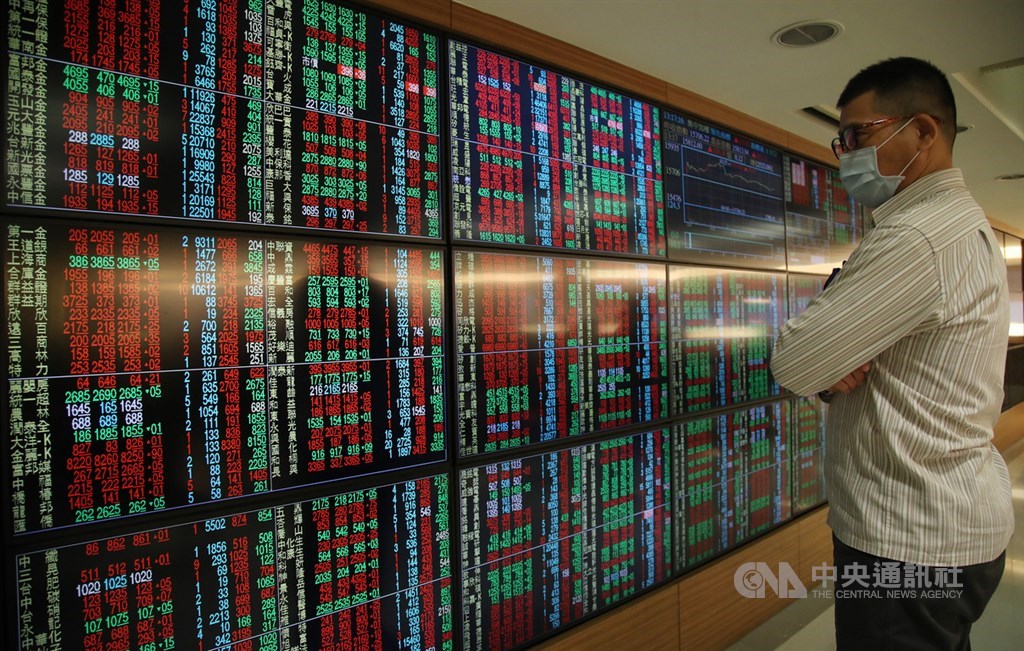 Taipei, Aug. 8 (CNA) Shares in Taiwan closed slightly lower after recovering most of their earlier losses on Monday to return to the 15,000 point mark, but turnover remained thin amid renewed concerns over the U.S. Federal Reserve's current aggressive rate hike cycle, dealers said.
The bellwether electronics sector recouped its initial downturn caused by the losses of tech stocks on U.S. markets Friday, while the financial sector remained relatively resilient, providing additional support to the broader market, they said.
The Taiex, the weighted index on the Taiwan Stock Exchange (TWSE), ended down 15.63 points, or 0.10 percent, at 15,020.41, after moving between 14,908.17 and 15,034.87. Turnover totaled NT$171.41 billion (US$5.7 billion).
The market opened down 0.42 percent and soon fell to the day's low led by large cap semiconductor stocks, as investors took their cue from a 0.91 percent fall on the Philadelphia Semiconductor Index and a 0.50 percent drop on the tech-heavy Nasdaq index on Friday, when Washington reported better than expected job data for July, dealers said.
U.S. job data, rate hikes
Although the non-farm job data prompted investors at home and abroad to think the Fed will continue its hawkish rate hike cycle, dealers said, the local main board seemed to have technical support to recover earlier losses after the Taiex dipped to the day's low, with the market leaving behind political tensions across the Taiwan Strait.
"With the Taiex moving closer to the 10-day moving average of 14,868 points, bargain hunters turned active," MasterLink Securities analyst Tom Tang said. "But, turnover remained thin with many investors staying on the sidelines after the strong jobs report in the U.S."
On Friday, Washington reported that the U.S. market added 528,000 new jobs in July, beating the previous market estimate of 258,000, which raised fears that the Fed will raise its key interest rates by an additional 75 basis points in September due to the strong job market. Since March, the Fed has increased rates by 225 basis points to combat skyrocketing inflation.
"It was no surprise that liquid large cap semiconductor stocks followed their American counterparts causing the Taiex to move lower today," Tang said. "Fortunately, contract chipmaker Taiwan Semiconductor Manufacturing Co. (TSMC) came off its earlier low, helping the broader market ease the earlier weakness to some extent."
Tech stocks
TSMC, the most heavily weighted stock, lost 0.78 percent to close at NT$512.0 after hitting a low of NT$509.00. Led by TSMC, the electronics sector lost 0.28 percent to end at 701.07, off a low of 696.53, and the semiconductor sub-index fell 0.68 percent to close at 337.85, off a low of 335.94.
Among other semiconductor heavyweights, United Microelectronics Corp., a smaller contract chipmaker, lost 2.61 percent to end at NT$41.05, and smartphone IC designer MediTek Inc. dropped 1.12 percent to close at NT$709.00. However, bucking the downturn, shares in display driver IC designer Novatek Microelectronics Corp. rose 3.64 percent to end at NT$256.50.
While semiconductor stocks largely faced downward pressure, the optoelectronics industry was stable, rising 0.28 percent, with flat panel maker AU Optronics Inc. up 1.79 percent to close at NT$14.20, and photovoltaic material supplier Gigastorage Corp. up 2.41 percent to end at NT$21.25.
Also in the tech sector, iPhone assembler Hon Hai Precision Industry Co. closed unchanged at NT$108.00, while Largan Precision Co., a supplier of smartphone camera lenses to Apple Inc., lost 0.95 percent to end at NT$2,080.00.
Financials, shipping firms
"The financial sector served as an anchor to stabilize the broader market as investors embraced the hope that the rate hike cycle will widen the interest spread and strengthen banks' bottom lines," Tang said.
In the financial sector, which rose 0.64 percent, Fubon Financial Holding Co. rose 1.93 percent to NT$58.1, SinoPac Financial Holding Co. gained 1.46 percent to end at NT$17.35, Shahai Commercial & Savings Bank added 0.98 percent to close at NT$51.60, and Cathay Financial Holding Co. ended up 0.87 percent at NT$46.15.
As for the old economy sector, the transportation industry was led by large cap shipping companies, rising 0.56 percent on a technical rebound. Among them, Evergreen Marine Corp., the largest container cargo shipper in Taiwan, rose 1.81 percent to close at NT$101.00, and rival Yang Ming Marine Transport Corp. added 0.66 percent to end at NT$91.10.
However, elsewhere in the old economy sector, Nan Ya Plastics Corp. lost 0.59 percent to close at NT$67.20, and Formosa Chemicals & Fibre Corp. fell 0.58 percent to end at NT$68.70. In addition, Taiwan Cement Corp. dropped 0.39 percent to close at NT$38.70, and Asia Cement Corp. shed 0.12 percent to end at NT$40.90.
"As the U.S. remains in a rate hike cycle, more and more foreign institutional investors are expected to move their funds out of the local market for U.S. dollar denominated assets," Tang said. "So, turnover on the local market is expected to remain thin and it is unlikely the Taiex will jump over the high technical hurdles ahead of 15,400 points, the 60-day moving average, any time soon."
According to the TWSE, foreign institutional investors sold a net NT$2.36 billion worth of shares on the local main board Monday.