Taiwan shares end lower on U.S. markets' weakness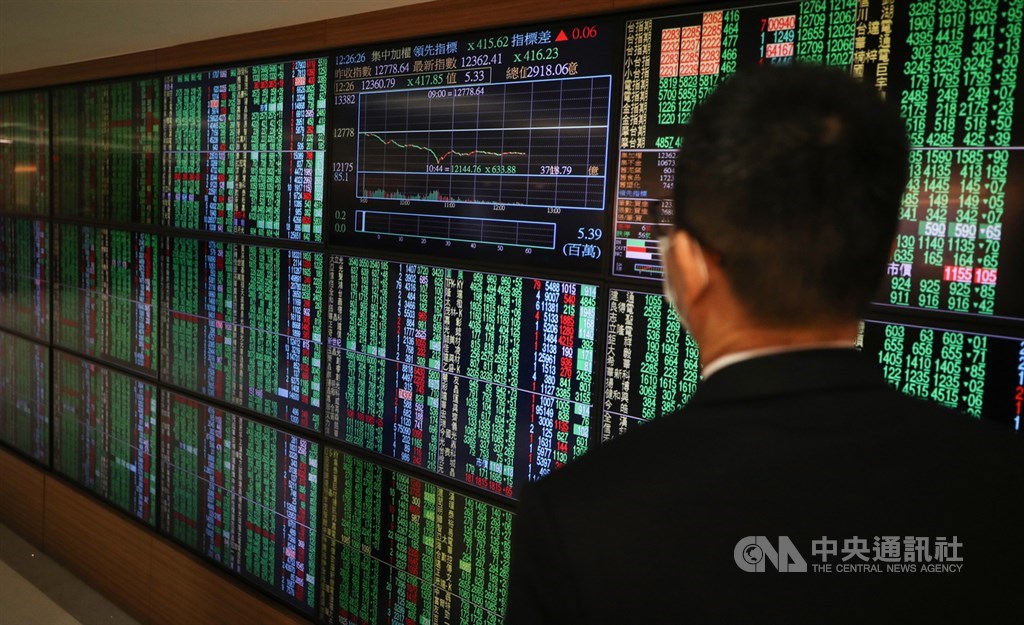 Taipei, June 28 (CNA) Shares in Taiwan closed lower Tuesday as overnight losses in the U.S. prompted local investors to lock in profits gained during a rally in the previous day's session.
Amid lingering concerns over a rate-hike cycle by the U.S. Federal Reserve, the bellwether electronics sector came under pressure, leading the broader market to trend lower as rising bond yields continued to dwarf dividends.
The Taiex, the weighted index on the Taiwan Stock Exchange (TWSE), ended down 108.09 points, or 0.70 percent, at 15,439.92, after moving between 15,375.65 and 15,533.34. Turnover totaled NT$233.28 billion (US$7.86 billion).
The market opened down 0.18 percent and selling increased as investors took cues from a retreat on the U.S. markets overnight.
The Dow Jones Industrial Average fell 0.2 percent and the tech-heavy Nasdaq index lost 0.72 percent after the benchmark 10-year Treasury yield rose amid continued rate-hike speculation.
U.S. tech-led sell-off
Led by the losses suffered by tech stocks on the U.S. markets, Taiwan's semiconductor stocks gave up gains from Monday, and selling soon spread to old economy and financial stocks, moving the Taiex below the previous session's closing mark by the end of trading Tuesday.
The electronics sector lost 0.74 percent with the semiconductor subindex down 0.82 percent.
"The U.S. markets remain unstable so it was no surprise that Taiwan fell back from Monday's gains [of 1.60 percent]," Mega International Investment Service Corp. analyst Alex Huang said.
"Markets around the world remain rattled by the Fed's tightening, which is expected to hurt global economic growth," Huang said.
The consensus among traders Tuesday was that investors had simply removed their funds from the equity markets and parked the money in the bond markets.
Huang said the electronics sector, in particular large semiconductor stocks, became the target of the selling throughout Tuesday.
Local tech stocks
Among the falling semiconductor stocks, United Microelectronics Corp., a smaller rival to contract chip maker Taiwan Semiconductor Manufacturing Co. (TSMC), lost 2.45 percent to close at NT$41.85, while TSMC dropped only 0.20 percent to end at NT$497.50 after hitting a high of NT$500.00.
"Fortunately, TSMC remained resilient or the Taiex would have fallen further today," Huang said. "The world's largest contract chipmaker has no problems in fundamentals but the stock's performance is still tied to falling liquidity levels in the wake of the Fed's rate increases."
With the global smartphone market facing a slowdown, smartphone IC designer MediaTek Inc. shed 3.98 percent to close at NT$651.00, while dynamic random access memory chipmaker Nanya Technology Corp. dropped 1.51 percent to end at NT$58.90 and rival Winbond Electronics Corp. lost 2.32 percent to close at NT$23.20 after DRAM stocks' target prices were lowered by American brokerages due to weaker demand.
Outperformers
Bucking the downturn, power management IC designer Silergy Corp. rose by 5.74 percent to end at NT$2,670.00, with the company announcing it would start a four-for-one stock split on July 13.
Also in the tech sector, iPhone assembler Hon Hai Precision Industry Co. rose 0.90 percent to close at NT$112.00, and flat-panel maker AU Optronics Corp. gained 0.60 percent to end at NT$16.85.
While the electronics sector remained in the doldrums, investors rushed to pick defensive telecom stocks, Huang said. Chunghwa Telecom Co. rose 0.39 percent to close at NT$129.00, and Far EasTone Telecommunications Co. gained 1.19 percent to end at NT$85.00.
"Shipping stocks largely moved in consolidation today," Huang said. "Yesterday's rally led by Yang Ming Marine Transport Corp. was technical in nature as there have been rising worries over demand in the second half of this year."
Following a 10 percent surge Monday, Yang Ming Marine Transport rose 6.50 percent to close at NT$91.70 Tuesday after going ex-dividend a session earlier. Rivals Evergreen Marine Corp., the largest container cargo shipper in Taiwan, and Wan Hai Lines Ltd. ended unchanged at NT$108.50 and NT$128.00.
Cement, financial companies
Elsewhere in the old economy sector, Taiwan Cement Corp. lost 0.50 percent to close at NT$39.60, and Asia Cement Corp. dropped 0.80 percent to end at NT$43.65.
In the financial sector, which lost 0.72 percent, CTBC Financial Holding Co. lost 1.53 percent to close at NT$25.80, and Yuanta Financial Holding Co. shed 4.13 percent to end at NT$20.90. But, Cathay Financial Holding Co. rose 0.56 percent to close at NT$53.80.
"Today's turnover remained moderate, indicating that many investors were reluctant to buy the dips despite the fall in the Taiex," Huang said. "Caution toward depleting liquidity is expected to push down the main board and it is possible for the index to threaten the 15,100-point mark soon."
According to the TWSE, foreign institutional investors sold a net NT$10.59 billion worth of shares on the main board Tuesday.