Taiwan shares end above 16,600 points, up over 2%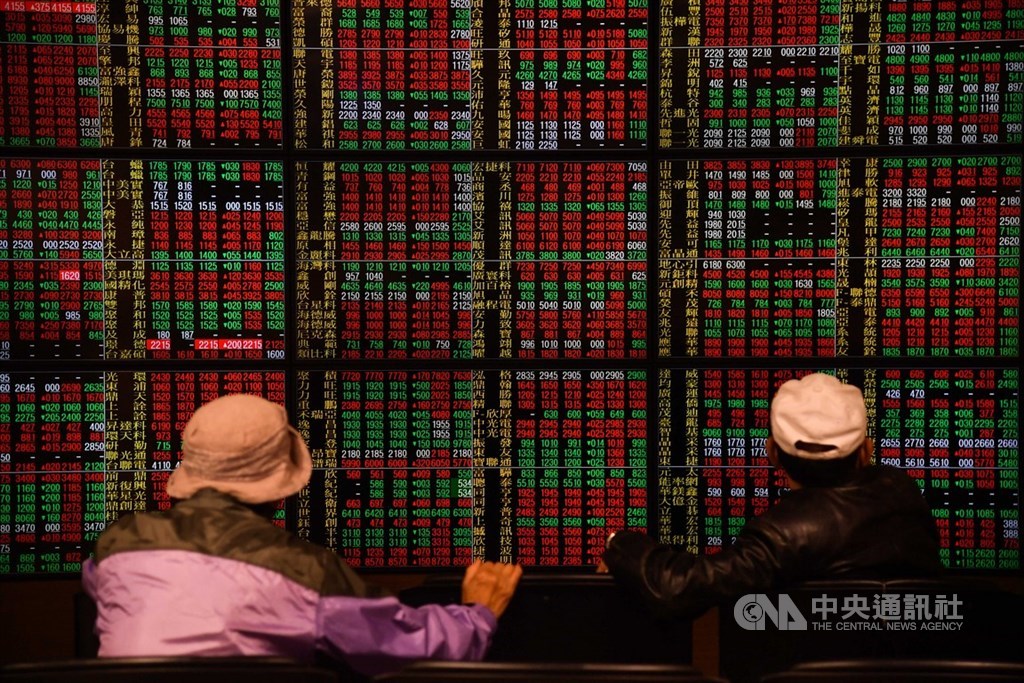 Taipei, May 30 (CNA) Shares in Taiwan moved sharply higher by more than 2 percent to close above 16,600 points Monday, with investors encouraged to buy by strong gains on United States markets at the end of last week, dealers said.
The bellwether electronics sector continued its momentum from a session earlier amid eased concerns over inflation in the U.S. following the latest favorable core personal consumption expenditure (PCE) data, while the financial sector lent more support to the broader market on a strong technical comeback, they said.
The Taiex, the weighted index on the Taiwan Stock Exchange (TWSE), ended up 344.40 points, or 2.12 percent, at the day's high of 16,610.62, after coming off a low of 16,368.93. Turnover totaled NT$256.04 billion (US$8.77 billion).
The market opened up 0.63 percent to breach 16,300 points. Buying in large cap electronics stocks, in particular in the semiconductor industry, accelerated as investors took their cue from a 3.33 percent surge of the tech-heavy Nasdaq index on Friday.
On that day Washington reported that core PCE rose 4.9 percent in April, compared with 5.2 percent in May, dealers said.
Buying spread to financial heavyweights as bargain hunters shrugged off concerns over massive claims by COVID-19 insurance holders at a time when indigenous cases remain high.
It pushed the Taiex up to 16,600 points by the end of the session, the first time the index has closed above that level since May 5, when the main board ended at 16,696.12, dealers said.
"Thanks to a strong showing on U.S. markets on Friday, consumers here simply seized on positive leads to hunt bargains in the electronics sector, which had been hit hard by fears over a hawkish U.S. Federal Reserve," Mega International Investment Services Corp. analyst Alex Huang said.
"Many investors at home and abroad appeared relieved to some extent as they witnessed core PCE growth moderating in April. Many of them are expecting the Fed to not take a more hawkish stance in tightening," Huang said.
The local electronics sector rose 2.55 percent with the semiconductor sub-index soaring 3.08 percent in the wake of the surging Nasdaq index.
"TSMC (Taiwan Semiconductor Manufacturing Co.), again, served as an anchor to the local main board's rally and such a sanguine mood was also found among other major semiconductor stocks," Huang said.
The U.S. Fed raised its key interest rates by 25 basis points in March and another 50 basis points earlier this month, with the next policymaking meeting scheduled for June.
After a 3.04 percent increase in its American depositary receipts (ADRs) on Friday, shares in contract chipmaker TSMC, the most heavily weighted stock on the local market, rose 3.21 percent to close at the day's high of NT$547.00.
TSMC's gains contributed about 140 points to the Taiex's rise.
Among other smaller contract chipmakers, United Microelectronics Corp. (UMC), which saw its ADRs rise 1.62 percent on Friday, added 1.59 percent to end at NT$51.00, while Powerchip Semiconductor Manufacturing Corp. added 2.83 percent to close at NT$58.10.
Also in the electronics sector, iPhone assembler Hon Hai Precision Industry Co. rose 0.45 percent to end at NT$110.50, and Largan Precision Co., a supplier of smartphone camera lenses to Apple Inc., gained 1.51 percent to close at NT$1,680.00.
In addition, power management solution provider Delta Electronics Inc. rose 3.02 percent to close at NT$238.50, and printed circuit board maker Gold Circuit Electronics Ltd. also gained 4.25 percent to end at NT$80.90.
"Financial stocks left worries over massive COVID-19 insurance claims behind. In addition, many investors have hopes that financial institutions will see less impact in asset value reductions overseas due to slower rate hikes," Huang said.
The financial sector rose 2.05 percent with Fubon Financial Holding Co. rising 3.10 percent to close at NT$63.20, and Cathay Financial Holding Co. up 2.66 percent to end at NT$54.00.
Meanwhile, E. Sun Financial Holding Co. rose 2.21 percent to close at NT$30.05, and CTBC Financial Holding Co. gained 1.88 percent to end at NT$27.10.
As for the old economy sector, airline stocks attracted strong buying on hopes that the government will ease border controls soon, dealers said.
EVA Airways rose 3.95 percent to close at NT$34.20, and China Airlines gained 2.68 percent to end at NT$26.80.
Optimism over the possibility of eased border controls also boosted tourism stocks with Phoenix Tours and Lion Travel soaring 10 percent, the maximum daily increase, to end at NT$72.00 and NT$106.00, respectively.
"Today's solid gains are paving the path for a higher Taiex as the Taiwan dollar trended higher amid eased fears over an aggressive Fed," Huang said, "But, I expect unless turnover expands to NT$300 billion or higher or it will not be easy for the main board to jump over high technical hurdles ahead of 16,800 points."
According to the TWSE, foreign institutional investors bought a net NT$27.58 billion worth of shares on the main board Monday, with the U.S. dollar falling NT$0.206 to close at NT$29.144.