Taiwan shares soar almost 300 points after U.S. rally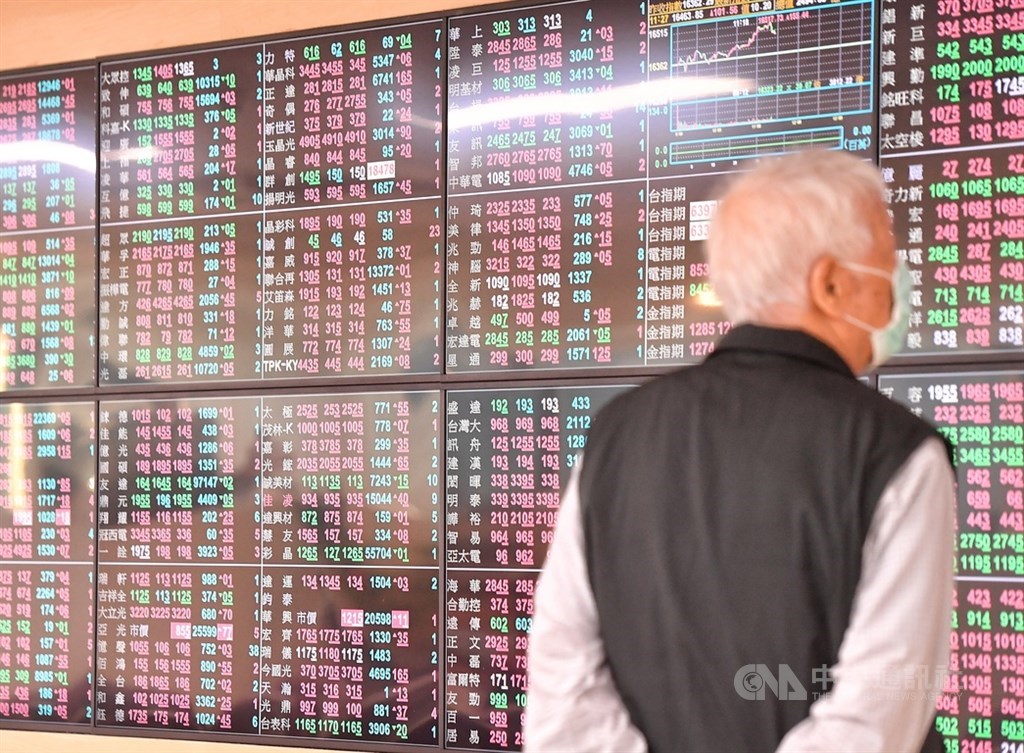 Taipei, May 27 (CNA) Shares in Taiwan moved sharply higher by almost 300 points Friday, with investors encouraged by a rally on United States markets overnight in the wake of an upbeat earnings forecast from retailers, dealers said.
Buying focused on the bellwether electronics sector on the back of a rebound staged by tech stocks on U.S. markets Thursday, following a fall in U.S. treasury yields, dealers said.
Container cargo shippers also attracted interest, pushing the local main board above the 20-day moving average by the end of the session, they added.
The Taiex, the weighted index on the Taiwan Stock Exchange (TWSE), ended up 297.39 points, or 1.86 percent, at 16,266.22, after moving between 16,075.91 and 16,266.22. Turnover totaled NT$219.44 billion (US$7.47 billion).
The market opened up 0.67 percent to pass the 16,000 point mark and momentum accelerated with semiconductor heavyweights in focus on the back of a 1.61 percent rise on the Dow Jones Industrial Average and a 2.68 percent surge on the tech-heavy Nasdaq index amid optimism about retailers' earnings, dealers said.
Interest spread to non-tech stocks, including the transportation sector as well as the financial sector, lending additional support to the broader market which helped the Taiex overcome technical resistance at about 16,160 points, the 20-day moving average, by the end of the session, they added.
After a fall of 0.84 percent on Thursday, "the Taiex managed itself well and bounced back today as investors seized on the U.S. rally as a reason to hunt bargains," Concord Securities analyst Kerry Huang said.
"The optimism on earnings by retailers in the U.S. market eased concerns about the growth of the U.S. economy, the largest in the world so a strong showing by American shares prompted their counterparts in Taiwan to steam ahead," Huang said.
Huang pointed out that the electronics sector once again led the local main board out of Thursday's weakness by rising 2.12 percent, with the semiconductor sub-index up 2.86 percent after contract chipmaker Taiwan Semiconductor Manufacturing Co. (TSMC), the most heavily weighted stock on the local market, surged 3.11 percent to close at the day's high of NT$530.00.
TSMC's gains contributed more than 130 points to the Taiex's upturn on Friday.
Among other large cap semiconductor stocks, United Microelectronics Corp. (UMC), a smaller contract chipmaker, gained 1.62 percent to end at NT$50.20; smartphone chip designer MediaTek Inc. rose 2.16 percent to close at NT$851.00; and power management IC designer Silergy Corp. jumped 9.04 percent to end at NT$2,775.00.
"Tech stocks had been hit hard by worries over a rate hike by the U.S. Federal Reserve," Huang said. "However, with the Fed showing signs of being less aggressive in tightening the benchmark 10-year U.S. treasury yield moved lower, which encouraged investors to hunt bargains in the tech sector."
Overnight, the 10-year U.S. treasury yield fell slightly to 2.738 percent after the Fed released the minutes from its May policymaking meeting a day earlier, which indicated the American central bank plans to go ahead with multiple 50-basis-point interest rate increases in June and July instead of the 75 basis points the market previously anticipated.
Also in the electronics sector, shares in iPhone assembler Hon Hai Precision Industry Co. rose 0.92 percent to close at NT$110.00, and PC brand Acer Inc. gained 1.78 percent to end at NT$28.60.
Largan Precision Co., a supplier of smartphone camera lenses to Apple Inc., added 2.16 percent to close at NT$1,655.00, and flat panel maker AU Optornics Corp. rose 2.36 percent to end at NT$17.35.
Container cargo shippers rode the wave of high hopes that China could ease lockdowns, which would boost demand for cargo services and push up freight rates, Huang said.
The transportation sector, where several major shippers are traded, rose 1.46 percent with Evergreen Marine Corp., the largest container cargo shipper in Taiwan, rising 1.76 percent to close at NT$144.50.
Evergreen Marine's rivals Yang Ming Marine Transport Corp. and Wan Hai Lines Ltd. also gained 1.99 percent and 2.56 percent, respectively, to end at NT$128.00 and NT$160.50.
Elsewhere in the old economy sector, Taiwan Cement Corp. rose 1.20 percent to close at NT$42.20, and Asia Cement Corp. gained 1.57 percent to end at NT$45.20.
In addition, Formosa Plastics Corp. added 1.43 percent to close at NT$106.50, and Formosa Petrochemical Corp. rose 1.17 percent to end at NT$95.00.
The financial sector rose 2.06 percent with Fubon Financial Holding Co. rising 2.68 percent to close at NT$61.30, and Cathay Financial Holding Co. gaining 2.14 percent to end at NT$52.60 as investors put to one side massive claims by COVID-19 insurance policy holders amid a spike in indigenous infections, Huang said.
"After the Taiex closed above the 20-day moving average, the local main board has turned technically stronger," Huang said. "But, whether the index will challenge the 60-day moving average (of around 16,890) will depend on how China's eased lockdowns proceed."
According to the TWSE, foreign institutional investors bought a net NT$20.33 billion worth of shares on the main board Friday.