Taiwan shares soar to end above 17,700 points as TSMC's gains continue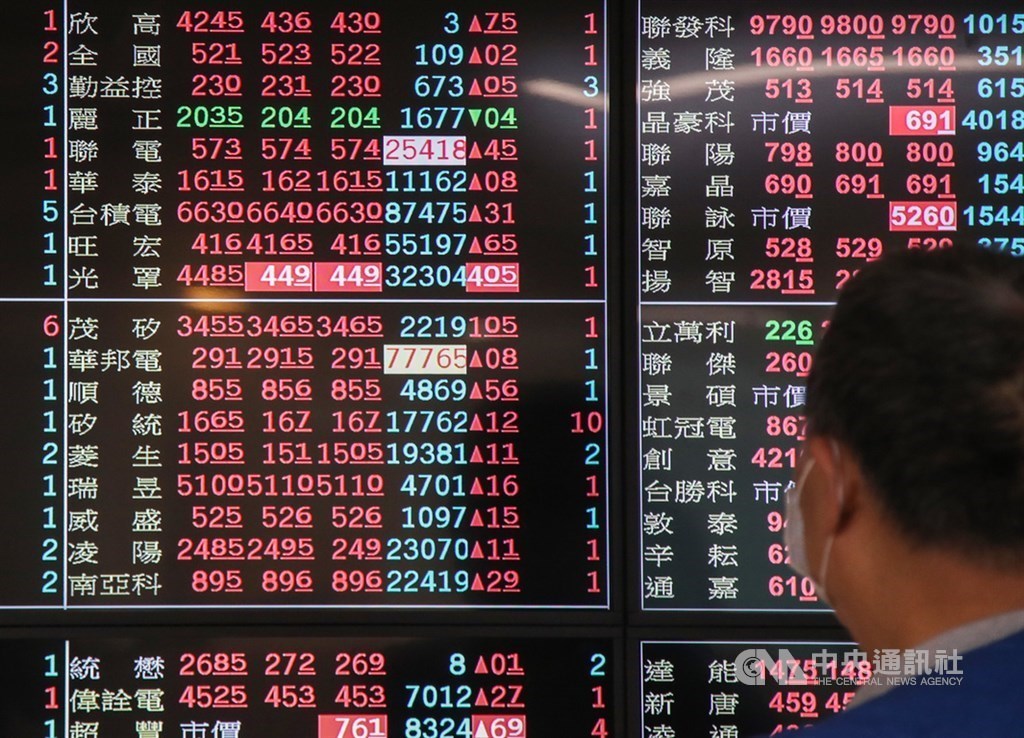 Taipei, Dec. 2 (CNA) Shares in Taiwan moved sharply higher Thursday to close above the 17,700 point mark, as strong buying of shares in contract chipmaker Taiwan Semiconductor Manufacturing Co. (TSMC) continued from a session earlier to lead the gains on the broader market, dealers said.
Investors ignored the heavy losses suffered by U.S. markets overnight and rushed to pick up large cap shipping stocks, lending additional support to the main board throughout the session, they said.
The Taiex, the weighted index on the Taiwan Stock Exchange (TWSE), ended up 138.89 points, or 0.79 percent, at 17,724.88, after moving between 17,559.44 and 17,741.55. Turnover totaled NT$384.3 billion (US$13.87 billion).
The market opened down 10.08 points and soon fell to the day's low in the wake of a 1.34 percent decline on the Dow Jones Industrial Average overnight after the United States confirmed its first case of the Omicron variant, dealers said.
However, buying emerged in semiconductor stocks, in particular TSMC, the most heavily weighted stock on the local market, with investors taking their cue from a 2.97 percent surge in the stock's American depositary receipts (ADRs) on Wednesday, dealers added.
TSMC's momentum continued, offsetting the impact of the Dow's decline, while buying also rotated to the shipping sector amid expectations that the Omicron variant will exacerbate ongoing port congestion worldwide, pushing up freight rates, dealers said.
"Many local investors simply left behind the U.S. volatility overnight and focused on the rosy business outlook enjoyed by pure wafer foundry operators, in particular TSMC, at a time of global chip supply shortages," Hua Nan Securities analyst Kevin Su said.
"A stronger Taiwan dollar indicated foreign funds kept coming in. Foreign investors with large new funds on hand simply picked up large stocks and TSMC was their top choice," Su said.
TSMC rose 2.50 percent to close at the day's high of NT$615.00, after a 0.67 percent rise on Wednesday. TSMC's gains contributed roughly an 126 point increase in the Taiex and boosted the electronics index and semiconductor sub-index by 1.03 percent and 1.92 percent, respectively.
"After TSMC stood above the NT$600 mark yesterday, many investors appeared more willing to chase prices today to lift the stock higher," Su said. "I expect TSMC's momentum will extend further and challenge NT$623, an intraday high seen on Nov. 19, in the short term."
Among other semiconductor stocks, shares in integrated circuit designer MediaTek Inc. rose 1.41 percent to end at NT$1,050.00 and IC packaging and testing services provider ASE Technology Holding Co. added 0.96 percent to close at NT$105.00.
Bucking the upturn, United Microelectronics Corp., a smaller contract chipmaker, lost 0.45 percent to end at NT$66.70 after coming off a high of NT$68.50, as investors locked in gains built for the stock in recent trading sessions.
Also in the tech sector, iPhone assembler Hon Hai Precision Industry Co. lost 0.47 percent to close at NT$105.00, while Largan Precision Co., a supplier of smartphone camera lenses to Apple Inc., rose 0.75 percent to end at NT$2,015.00.
Contract notebook computer Inventec Corp. moved lower by 2.67 percent to close at NT$25.55 after its solar cell subsidiary Inventec Solar Energy filed a bankruptcy application with a court in Taoyuan after incurring more than NT$2.2 billion in losses.
"Buying also focused on shipping stocks in the hope of higher freight rates amid Omicron concerns. Their large turnover on the back of strong gains in share prices served as another driver to the Taiex's upturn," Su said.
In the transportation sector, which soared 4.77 percent, Evergreen Marine Corp., the largest container cargo shipper in Taiwan, rose 6.83 percent to close at NT$133.00, and rivals Yang Ming Marine Transport Corp. and Wan Hai Lines Ltd. rose 6.09 percent and the maximum daily increase of 10 percent, respectively, to end at NT$122.0 and NT$169.50.
However, the new COVID-19 variant caused airline stocks to plunge amid fears of a fall in passengers with China Airlines down 3.33 percent to close at NT$26.10 and EVA Airways down 3.29 percent to end at NT$25.00.
In the financial sector, which underperformed the Taiex, down 0.1 percent, Cathay Financial Holding Co. lost 0.67 percent to close at NT$59.50, and Fubon Financial Holding Co. fell 0.54 percent to end at NT$73.70.
"Taiwan has sound economic fundamentals and I think it is possible the equity market will continue to trend higher and challenge the intraday high of 17,986 points on Nov. 19," Su said.
According to the TWSE, foreign institutional investors bought a net NT$12.63 billion worth of shares on the main board Thursday.