Nearly 1 million apply for digital format of new spending vouchers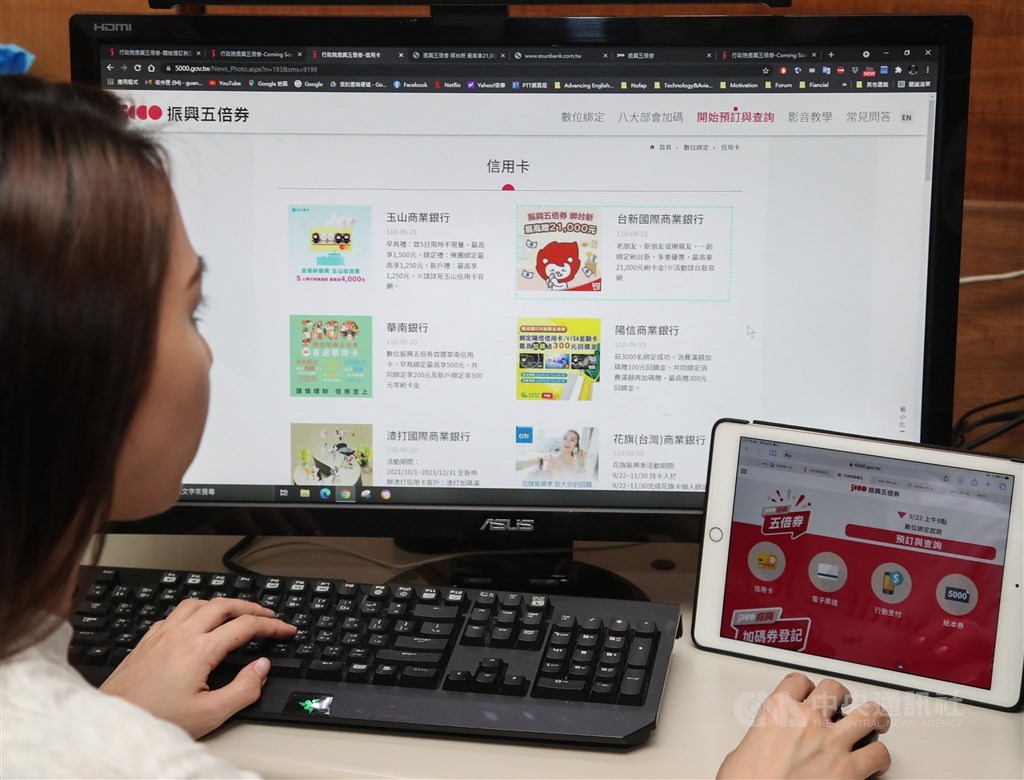 Taipei, Sept. 22 (CNA) Nearly 1 million people applied for the digital version of government vouchers issued to stimulate consumer spending in the first few hours after they became available Wednesday, according to the Ministry of Economic Affairs (MOEA).
A government website began accepting applications from people intending to use the vouchers, valued at NT$5,000 (US$180), through their credit cards or mobile payment services, at 9 a.m. Wednesday. The vouchers can be used starting on Oct. 8.
The website recorded heavy traffic during the first three hours, as more than 3.51 million people visited the site, according to the ministry.
Of those who applied, 995,848 had linked the vouchers to their credit cards or payment services such as Apple Pay or Line Pay as of 12:55 p.m., MOEA data showed.
Of that group, 799,265 applied for themselves, while others did so for 196,583 of their friends or relatives to pool the vouchers together, the data showed.
Around 60 percent of the applicants linked the vouchers to credit cards, 34.3 percent chose to spend them through mobile payment services, and 0.53 percent decided to add the value of the vouchers to stored value cards, such as EasyCard and iPass, according to the data.
With Taiwan's recent COVID-19 outbreak having come under control, President Tsai Ing-wen (蔡英文) wrote in a Facebook post that "we need to now begin stimulating the economy."
She also reminded people who planned to collect the physical version of the stimulus vouchers to register through the website starting Sept. 25 and spend them before April 30, 2022.
This is the second time the government has issued spending vouchers to boost consumption after COVID-19 restrictions affected the operations of many businesses that deal directly with consumers.
In July 2020, the government issued the first round of spending vouchers of NT$3,000, which people needed to pay NT$1,000 to obtain and which expired on Dec. 31 that year. This time, no upfront payment is required.
According to the ministry, 23.32 million people, or 98.35 percent of those eligible collected the vouchers in that round, leading to spending of nearly NT$64.48 billion.