CORONAVIRUS
/
How to get Taiwan's new stimulus vouchers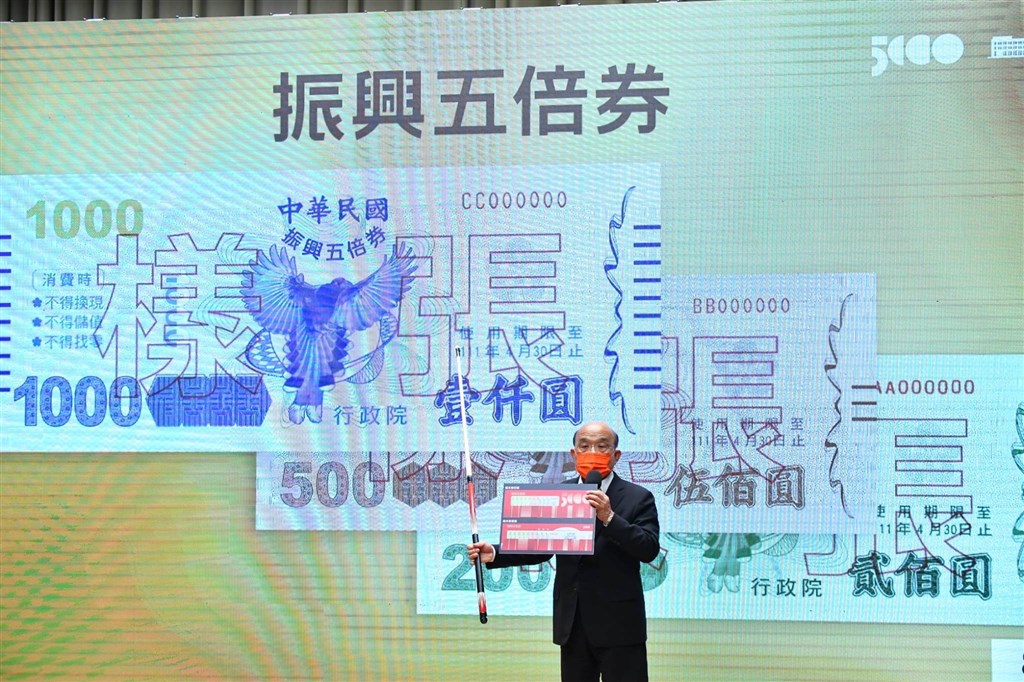 Taipei, Sept. 21 (CNA) People who are eligible to receive the new spending vouchers issued by the Taiwan government to stimulate the local economy will be able to apply for the digital version from Wednesday.
The following is some information about the new stimulus vouchers, which can be reserved through the program's official website at https://5000.gov.tw.
What are the vouchers?
The vouchers, valued at NT$5,000 (US$179.56) each, are part of the Taiwanese government's efforts to stimulate the nation's domestic economy which has been hit by the COVID-19 pandemic. They will be released for free to the public.
Who are eligible for the vouchers?
Taiwanese citizens of all ages, their foreign or Chinese spouses, holders of Alien Permanent Resident Certificates, and diplomats can apply for the vouchers. Parents who meet the criteria can apply for their children as long as they are born before April 30, 2022.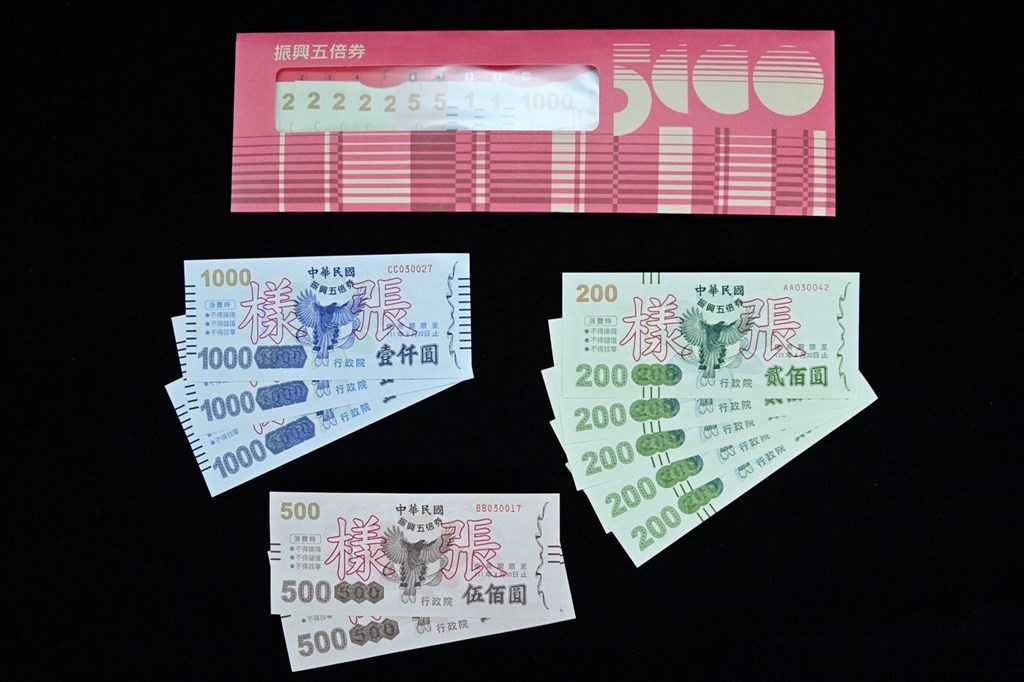 What are the voucher formats?
The vouchers will be offered in either print or digital format, consisting of three NT$1,000 coupons, two NT$500 coupons and five NT$200 coupons.
How to make reservations for the vouchers?
1. Applications for digital vouchers, which could be used via digital payment services such as credit cards, mobile wallets, and electric cards, will start at 9 a.m. on Sept. 22. They can be made on https://5000.gov.tw or directly through the website or app of service providers.
2. Those who opt for physical vouchers can make reservations via https://5000.gov.tw or the kiosks at major convenience stores using National Health Insurance cards from Sept. 25. They can also make pre-orders through Chunghwa Post's website or by telephone from Oct. 4.
How to collect the vouchers?
1. Digital voucher applicants can start using them through digital payment services on Oct. 8.
2. Physical voucher applicants can pick them up at convenience stores and other designated supermarkets such as PX Mart and Simple Mart from Oct. 8.
Applicants can also collect the vouchers at post offices from Oct. 12. Meanwhile, from Nov. 1, people can pick up vouchers directly at post office without making reservations.
When can the vouchers be collected until?
The vouchers can be collected up until April 30 next year.
When will the vouchers expire?
The vouchers will remain valid until April 30 next year.
Can you ask for change with the vouchers?
It will be up to business operators to decide whether they want to give change.
Are there restrictions with the vouchers?
The vouchers cannot be used to pay taxes, utility bills, fines, and other administrative fees. They cannot be used to purchase stocks, make investments, and cross-border e-commerce services.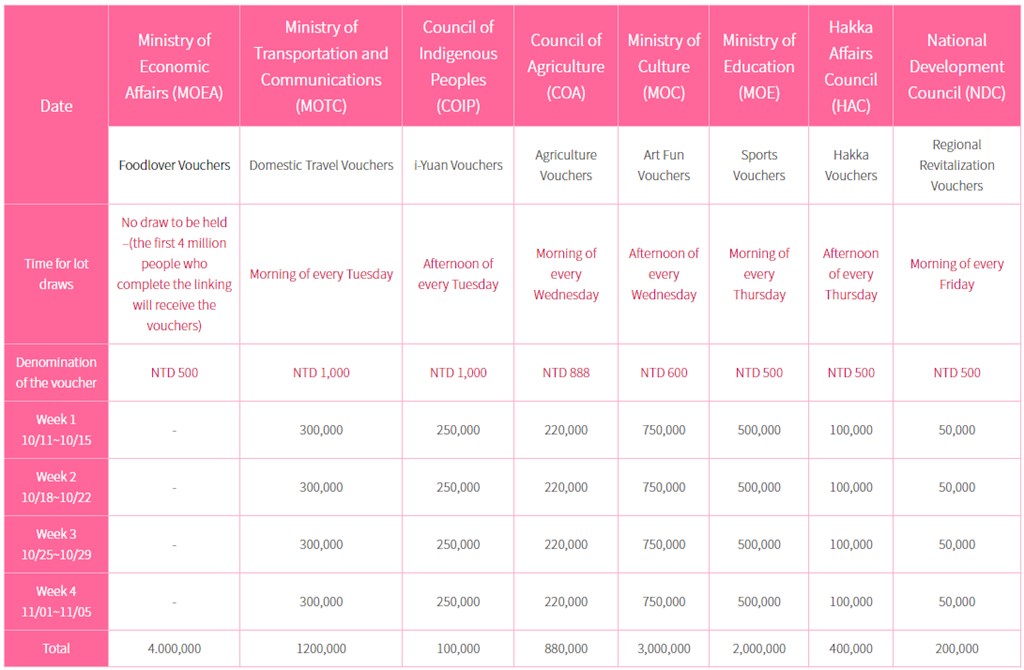 What about vouchers issued by different ministries to boost the economy in various sectors?
There are eight types of vouchers that will be released for the same people eligible for the NT$5,000 vouchers.
These extra vouchers cover food consumption and domestic travel, as well as services and products in the cultural, agricultural and sports sectors.
There are also vouchers designed to boost incomes for indigenous groups, Hakka people, and small businesses dedicated to local revitalization.
How can people get those extra vouchers?
Except for the food vouchers, which will be issued digitally for the first 4 million applicants, others will be given in lucky draws every week between Oct. 11 and Nov. 5.
During this four-week period, people can go to https://5000.gov.tw each Friday (starting Oct. 8) to register for the vouchers to be released for the next week.
People should choose which type of these vouchers they wish to get when they register because they can only get one type of voucher each week as the vouchers are mutually exclusive.
Each type of voucher will be released on different days of the week, and those who win the lucky-draw will be informed by cell phone messages.
View All