Taiwan shares end moderately higher in consolidation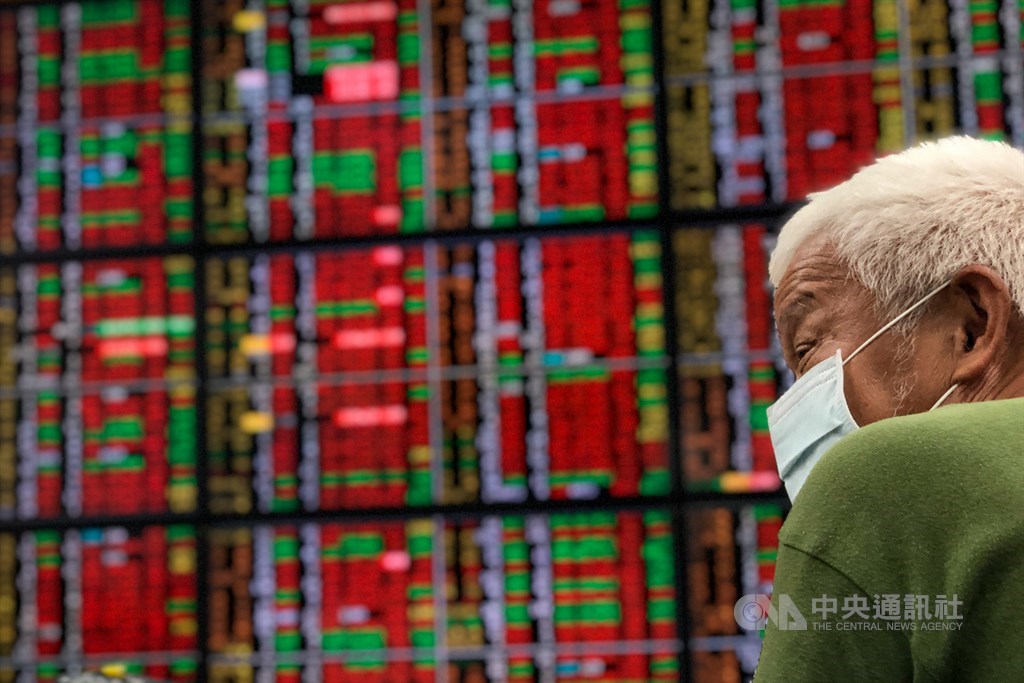 Taipei, Aug. 3 (CNA) Shares in Taiwan closed moderately higher Tuesday, after moving in consolidation mode throughout the session on a mixed performance on the U.S. markets overnight, dealers said.
While old economy and financial stocks came under pressure on a technical correction from their gains in the previous session, the bellwether electronics sector appeared resilient, providing support to broader market, they said.
The Taiex, the weighted index on the Taiwan Stock Exchange, ended up 50.48 points, or 0.29 percent, at the day's high of 17,553.76, after coming off a low of 17,456.20 and 17,553.76. Turnover was NT$384.17 billion (US$13.72 billion).
The market opened down 0.08 percent and moved in a narrow range during most of the session, after U.S. markets dropped Monday, with the Dow Jones Industrial Average falling 0.28 percent amid concerns over an increase in COVID-19 cases there, dealers said.
Taiwan's semiconductor stocks, however, got a boost from a 0.62 percent gain on the Philadelphia Semiconductor Index. The buying accelerated late in the trading session, offsetting the downturn among non-tech stocks and helping to push the Taiex to the day's high by the end of the session, dealers said.
"It seemed that the Taiex followed the U.S. markets, where tech stocks posted gains, but old economy and financial stocks suffered losses," Cathay Futures Consulting analyst Tsai Ming-han said.
"Today, local semiconductor stocks attracted buying, as funds exited the non-tech sector in a market where rotational buying continued to dominate," Tsai said.
The electronics sector rose 0.53 percent to close at the day's high, with the semiconductor sub-index up 0.81 percent.
Among the winning semiconductor stocks, contract chipmaker Taiwan Semiconductor Manufacturing Co., the most heavily weighted stock on the local market, rose 0.68 percent to end at the day's high of NT$594.00, after a 0.19 percent increase in its American depositary receipts on the U.S. market overnight.
Similarly, in the wake of a 2.28 percent rise in its ADRs Monday, United Microelectronics Corp., a smaller contract chipmaker, gained 3.30 percent to close at the day's high of 59.40.
Integrated circuit packaging and testing services provider ASE Technology Holding Co. added 1.20 percent to end at the day's high of NT$127.00, after its ADRs rose 1.80 percent Monday.
Outside the semiconductor industry, tech stocks appeared mixed, with iPhone assembler Hon Hai Precision Industry Co. closing down 1.13 percent at NT$111.50, and Largan Precision Co., a supplier of smartphone camera lenses to Apple Inc., falling 0.86 percent to end at NT$2,895.00.
PC brand Asustek Computer Inc., however, bucked the downturn to close 1.56 percent higher at NT$324.50.
"After yesterday's strong showing, many old economy stocks fell into the doldrums today, as investors rushed to lock in their earlier gains," Tsai said. "I think the volatility among those old economy stocks may continue for a while, after their recent solid gains, and they would need some time to digest the pressure."
In the steel sector, which lost 0.94 percent, China Steel Corp., the largest steel maker on the local market, fell 0.94 percent to close at NT$36.90, and Tung Hon Steel Enterprise Corp. dropped 1.68 percent to end at NT$46.85.
Meanwhile, after a fall in international crude oil prices overnight, the petrochemical sector lost 0.44 percent, with Formosa Petrochemical Corp. closing down 1.81 percent at NT$97.90 and Formosa Plastics Corp. dropping 0.98 percent to end at NT$101.00.
In the shipping industry, Evergreen Marine Corp., the largest container cargo company in Taiwan, fell 0.35 percent to close at NT$141.00, and rival Wan Hai Lines Ltd. lost 1.29 percent to end at NT$229.00, while Yang Ming Marine Transport Corp. bucked the downturn, closing up 5.00 at NT$126.00.
"Today's turnover was moderate, as many investors sat idle on the sidelines, waiting for new leads from the U.S. markets," Tsai said. "The main board was basically in consolidation mode."
He said that if tech stocks on the U.S. markets continue their uptrend, their Taiwanese counterparts could follow, and the Taiex is likely to challenge the 120-day moving average of 17,610 soon.
The Taiex's moderate gains came despite a net sell of NT$939 million worth of shares by foreign institutional investors on the main board Tuesday.