Legislature passes bill on tax rebates for home appliances, vehicles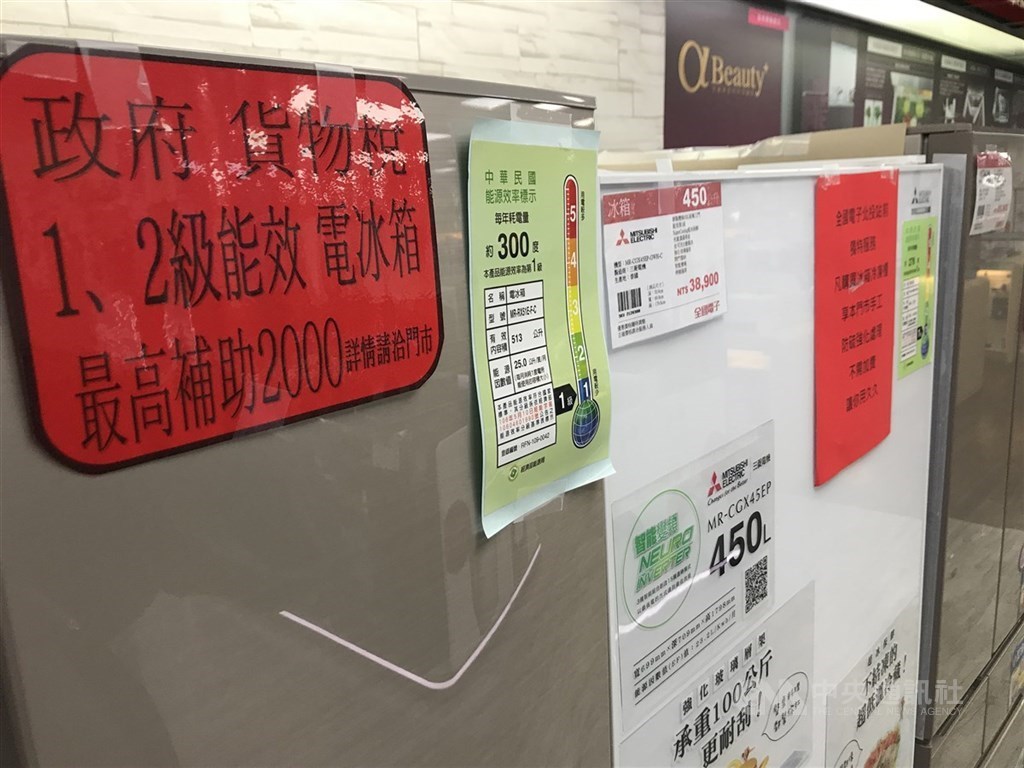 Taipei, May 7 (CNA) The Legislature passed a bill Friday green- lighting a government plan to extend tax rebates on purchases of energy-saving home appliances and the replacement of old vehicles with new ones.
Under amendments to the Commodity Tax Act, a measure aimed at encouraging consumers to buy energy-saving home appliances will continue until June 14, 2023.
A tax rebate of up to NT$2,000 (US$71) will be offered for each newly purchased refrigerator, air conditioner or dehumidifier that meets a Level 1 or Level 2 energy-saving standard as specified in the Bureau of Energy's efficiency rating system.
According to Cabinet data, the government had offered rebates of about NT$4.5 billion on 2.72 million home appliances as of Jan. 31 since the measure was adopted in June 2019.
At the same time, the measure had helped save roughly 400 million kilowatt-hours of electricity per year and cut carbon emissions by 220,000 metric tons, the Cabinet said in April.
The Ministry of Economic Affairs has estimated that 42.72 percent of air conditioners and refrigerators in Taiwanese households are more than 10 years old.
The Ministry of Finance (MOF), which proposed the amendments, predicted that the extension of the tax refunds will further help consumers economize on energy bills and drive the development of the manufacturing sector.
Meanwhile, tax rebates on the replacement of old vehicles with new ones will be extended by five more years until Jan. 7, 2026, even though stricter rules will be imposed.
Consumers who retire an old vehicle and buy a new one within a six-month period can enjoy a tax rebate of up to NT$50,000.
In the case of motorbikes, the maximum tax refund is NT$4,000.
However, based on the amendments, the vehicles must be aged 10 years or older in order to get the rebate, rather than the six years or older as required in the previous version of the act.
The reason for raising the bar on the vehicle age is to protect the used car market in Taiwan, said the MOF, adding that the new measure will discourage people from retiring their cars with less than 10 years of ownership.
In addition, applicants for refunds are no longer limited to the owner of old vehicles. Instead, anyone within second-degree kinship of the vehicle's owner will also be eligible.
The amendments regarding the replacement of old vehicles will be enforced retrospectively from Jan. 8, but consumers who retire vehicles between 6-10 years of ownership and buy new ones within a six-month period and before the amendments take effect are still entitled to tax rebates.