TSMC shares dip below NT$600, sending Taiex lower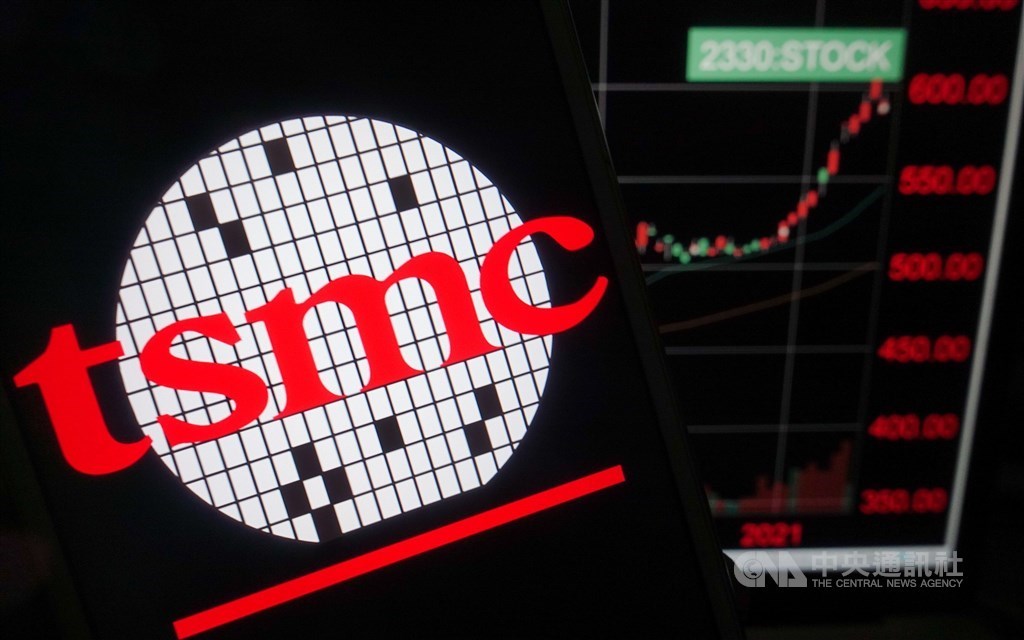 Taipei, April 21 (CNA) Shares in contract chipmaker Taiwan Semiconductor Manufacturing Co. (TSMC) fell below the NT$600.00 (US$21.43) mark Wednesday morning as investors took their cue from a plunge in tech stocks on U.S. markets overnight, dealers said.
As the most heavily weighted stock on the local market, TSMC's losses sent ripples through the broader market amid fears that recent solid gains on the local equity market could suffer a major technical pullback, they said.
As of 11:42 a.m., TSMC shares had lost 1.33 percent at NT$595.00 with 19.50 million shares changing hands on the Taiwan Stock Exchange, where the benchmark weighted index, the Taiex, was down 0.46 percent at 17,244.14 points.
Soon after the local equity market opened at NT$599.00, down from the previous close of NT$602.00, selling pushed the stock further down in the wake of a 0.92 percent drop on the tech-heavy Nasdaq index and a 1.56 percent fall on the Philadelphia Semiconductor Index overnight, dealers said.
"Investors simply used the losses suffered by the U.S. markets as an excuse to dump their stocks in Taiwan," MasterLink Securities analyst Tom Tang said. "TSMC became one of the targets of the selling due to its high valuation."
Tang said while TSMC remains fundamentally sound, investors seem to be unhappy with its dividend payout policy as the company did not indicate it would raise cash dividends at an investor conference held last week as the market had anticipated.
"TSMC said it will raise its capital expenditure for 2021 to a record high of US$30 billion. I do not think the company will raise its cash dividend payout anytime soon as it needs to keep funds on hand for future expansion," Tang said.
"Based on the company's current high valuation, its dividend yield seems to have become less attractive to many investors at a time when there has been a hike in 10-year U.S. treasury yields, and it was no surprise that investors rushed to lock in their gains built in recent sessions," Tang added.
Tang said he expected TSMC shares to continue to consolidate in the near term with strong technical support at around NT$560.00.
Led by TSMC's losses, the electronics sector and the semiconductor sub-index were down 0.80 percent and 1.10 percent, respectively.
TSMC's selling spread to other tech stocks with United Microelectronics Corp., a smaller contract chipmaker in Taiwan, down 0.92 percent at NT$53.60, and integrated circuit designer MediaTek Inc. down 0.50 percent at NT$993.00 as of 11:42 a.m.
"As the bellwether electronics sector lost its luster, select old economy stocks still attracted rotational buying in a market awash in liquidity," Tang said. "Today, momentum in the shipping sector lent some support to the broader market."
In the shipping sector, which was boosted by rising freight rates on strong demand, rising 6.91 percent, Evergreen Marine Corp. had risen 7.68 percent to NT$74.30, and Yang Ming Transport Marine Corp. had added 8.77 percent to NT$62.00.