Tsai lays out economic development strategies on National Day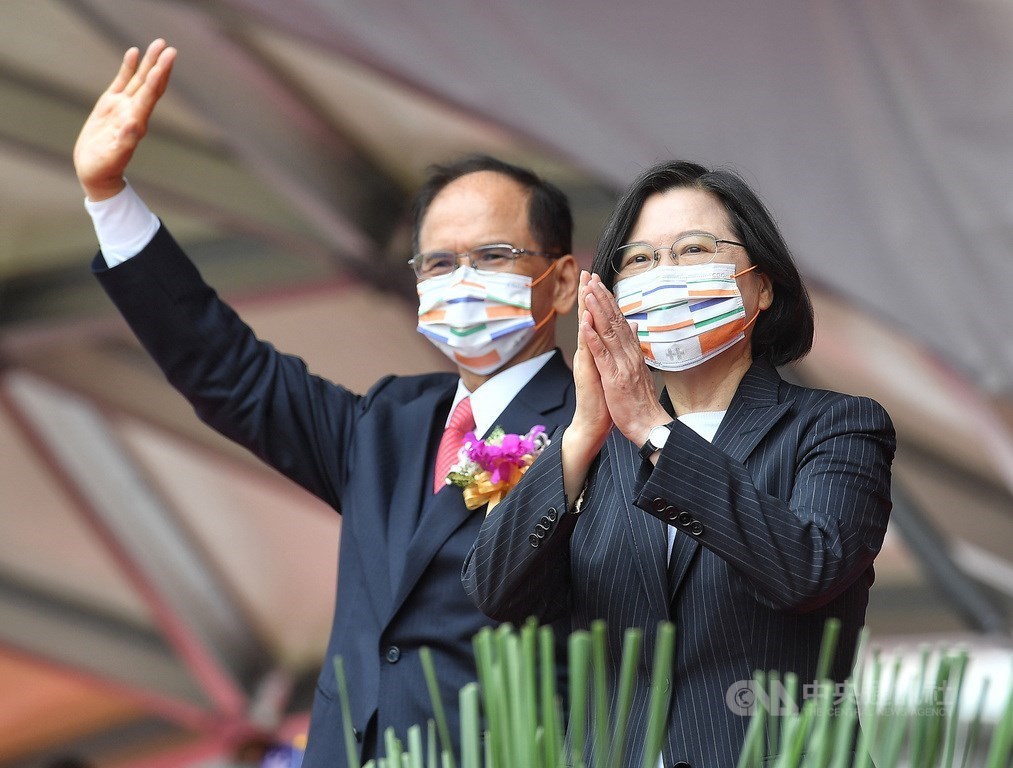 Taipei, Oct. 10 (CNA) President Tsai Ing-wen (蔡英文) on Saturday said in her National Day speech that the government will pursue three major strategies to boost the local economy as Taiwan is doing better than many other countries in fighting COVID-19.
"Because the pandemic was properly controlled, Taiwan became one of the few countries in the world that maintained positive economic growth," Tsai said in the speech.
"We have also prepared for economic development in the post-pandemic era," Tsai said, referring to the six core strategic industries she announced earlier this year, such as the Internet of Things/artificial intelligence, information security, biotech applications, national defense and renewable energy development.
Tsai also said the government will continue to push for the Forward-looking Infrastructure Development Program, which covers a wide range of aspects, including rail transport construction, water improvement, digital development, urban and rural development, child care environment improvement, and food safety improvement.
In the speech, Tsai laid out three major strategies to facilitate the growth of the local economy as Taiwan is determined to steam ahead economically amid the fading impact from the pandemic.
First of all, Tsai said, at a time when global supply chains have been in a process of restructuring, Taiwan will fully take part in the reorganization.
"The rapid dismantling and realignment of global supply chains is now irreversible, and Taiwanese businesses around the world are moving toward segmented markets, production base migration, and reshoring to invest in Taiwan at an ever-faster pace," Tsai said.
"We will link all of these related policies and programs while integrating government and private sector resources with cross-department capabilities to achieve full and comprehensive participation in the realignment process, making Taiwan an indispensable force in global supply chains," Tsai said.
Secondly, Tsai said, Taiwan will transform itself into a hub for international capital, talent, and digital technology, adding the efforts for such an upgrade is critical for Taiwan to participate in the global supply chain reorganization.
"We will continue to deepen reforms and eliminate obstacles to create an environment and legal structure to attract international capital and talent," Tsai said. "We will also actively cultivate domestic industrial talent through international exchanges, industry-academia cooperation, and a bilingual nation policy."
Third, Tsai said the government will do its best to reach a balance between economic and social development to get rid of possible risks caused by unbalanced development as well as likely repercussions resulting from a massive increase in capital supply.
"The government will therefore put greater emphasis on the reasonable distribution of resources, take care of the disadvantaged affected by our economic transformation, strengthen and spur youth employment, and encourage and effectively utilize funding to bring back Taiwan's economic growth dividend for everyone to share," Tsai said.
According to Tsai, under the government's policy which started in January 2019 to provide incentives to encourage Taiwanese investors with overseas operations to return home for investments, firms have pledged to invest more than NT$1 trillion (US$34.48 billion) in Taiwan.
Tsai said an additional NT$100 billion are expected to come in, while many multinational companies planning to pour funds into Taiwan as well.
Meanwhile, Tsai touted the government's efforts in international economic cooperation, citing the signing of a Framework to Strengthen Infrastructure Finance and Market Building Cooperation between Taiwan and the United States last week.
Under the agreement, Taiwan is expected to jointly participate in infrastructure projects in the Americas and the Indo-Pacific region, Tsai said.
Tsai said Taiwan and the U.S. will hold a high-level economic dialogue to identify future cooperation opportunities in realignment of global supply chains, technological cooperation and infrastructure among many aspects.