Star Travel temporarily closes 5 stores, plans business transformation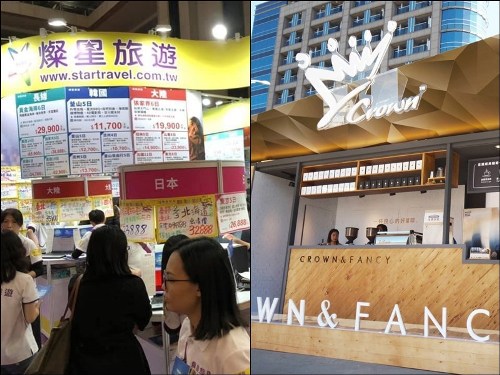 Taipei, Aug. 23 (CNA) Star Travel Corp., one of Taiwan's leading travel agencies, temporarily closed five of its outlets in Taipei Friday and is planning a business transformation after years of losses.
After the news of the business downsizing surfaced, shares of Star Travel plunged 10 percent, the maximum daily decline, to close at NT$3.33 (US$0.11) on the local over-the-counter (OTC) market Friday, when the index of the OTC market ended down 0.09 percent at 138.50.
Chen Hung-sheng (陳宏勝), spokesman of Star Travel, told reporters that the local economy is slowing down, which has had an adverse impact on the domestic tourism sector.
Chen said that faced with the deteriorating tourism business, Star Travel has no choice but to kick off restructuring by optimizing its operations through adjustments in its outlets to take on a fast- changing market and stem its losses.
Before the closing of the five stores, including two flagship shops, Star Travel had six stores in the capital city and an additional 43 around the country.
The news of the business downsizing of Star Travel came after the Department of Labor of the Taipei City government confirmed that the travel agency will lay off 18 employees in Taipei after filing a report with the city government about the closures in early August.
Before the confirmation by the Taipei City government on the layoffs, speculation had been circulated in the market that Star Travel would lay off 360 employees after four years of losses.
Star Travel reported a loss per share of NT$0.42 (US$0.01), NT$1.78, NT$3.31 and NT$2.96, respectively, in 2015, 2016, 2017 and 2018, following NT$0.80 in earnings per share in 2014.
In the first half of this year, Star Travel incurred an additional NT$0.95 in loss per share, compared with NT$1.18 in loss per share over the same period of last year.
Analysts said Star Travel specializes in group travel but Taiwan has got more and more individual travelers in recent years, a change that has hit the travel agency hard.
In March, Star Travel staged a capital reduction to cut its paid-in capital by almost 50 percent to improve its financial condition. However, analysts said the company still has to downsize its business by temporarily closing the five stores in Taipei.
Chen said the closure of the five stores is a temporary measure since the company is seeking an appropriate business model to grow in the future, while he added that it is possible for the company to close more outlets, although no specific plans have been made.
In a statement filed to the Taiwan Stock Exchange, Star Travel said the company is determined to reach a goal for corporate sustainability after going through the difficult time by launching a business transformation.
Star Travel is a subsidiary of 3C distributor Tsann Kuen Enterprise Co.
Also Friday, the Ministry of Labor said that Crown & Fancy, a Tainan-headquartered coffee shop chain, which is another unit of Tsann Kuen, will lay off 224 of its 283 employees around Taiwan, as the chain has incurred losses amid escalating competition in the local coffee market. The reduction is scheduled to take effect Oct. 20.
Shares of Tsann Kuen fell 1.34 percent to close at NT$18.45 on the Taiwan Stock Exchange Friday, when the weighted index ended up 0.08 percent at 10,538.11.