Nuclear power critical to Taiwan's development: Han Kuo-yu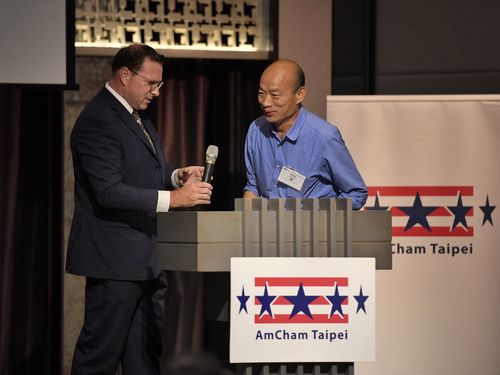 Taipei, Aug. 21 (CNA) Kaohsiung Mayor Han Kuo-yu (韓國瑜), the opposition Kuomintang's (KMT's) 2020 presidential candidate, said Wednesday that is important to keep nuclear power as viable option in Taiwan since it is crucial to the country's development.
In a speech at a luncheon at the American Chamber of Commerce (AmCham) in Taipei, Han criticized President Tsai Ing-wen's (蔡英文's) energy policy, saying that the agenda of the ruling Democratic Progressive Party (DPP) to make the country nuclear free is a "paranoid" and "hasty" policy that falls into an ideology trap.
Taiwan has encountered numerous problems such as poor air quality, insufficient electricity supply, and reluctant foreign investment, as a result of the government's current energy policy that relies heavily on coal-fired power, Han said.
The continued use of nuclear power, therefore, is important to Taiwan's future development, he said.
The DPP administration has set a goal of phasing out nuclear energy in Taiwan by 2025. To that end, an amendment to the Electricity Act was approved by the Legislative Yuan on Jan. 11, 2017, requiring all nuclear power operations to end by 2025.
In November 2018, however, the Taiwanese electorate voted in a referendum to support abolition of Paragraph 1 of Article 95 of the Electricity Act, which stipulates that "all nuclear energy-based power-generating facilities shall completely cease operations by 2025."
Despite the setback, the DPP has maintained its 2025 goal, completely ignoring the people's will, Han said in his speech.
He said the government should focus on areas such as the development of smart grids and energy conservation. The government should also strengthen competition in the electricity market so that suppliers and consumers of power could decide what type of energy is best suited to Taiwan, Han said.
Speaking with the press after his address, he said that if elected president, he would start operation of the mothballed No. 4 nuclear power plant, as long as "it is safe to do so and I have the people's consent."
In response to Han's comments, Deputy Minister of Economic Affairs Tseng Wen-sheng (曾文生) said in a statement Wednesday that it is very difficult to begin operation of the fourth nuclear plant because the issue of nuclear waste will not just "vanish."
If anyone wants to put the fourth nuclear plant into operation, they would have to first figure out a location for the disposal of nuclear waste and how much it would cost to manage such a site, Tseng said.
"None of those problems can be solved by shouting slogans," he said in the statement.
New Taipei Mayor Hou You-yi (侯友宜) of the KMT, meanwhile, said Wednesday that commercial operation of the fourth nuclear plant is a "fake issue" as many of the fuel rods have already been removed and sent back to the United States.