Draft bill seeks to address major hurdles for foreign job-seekers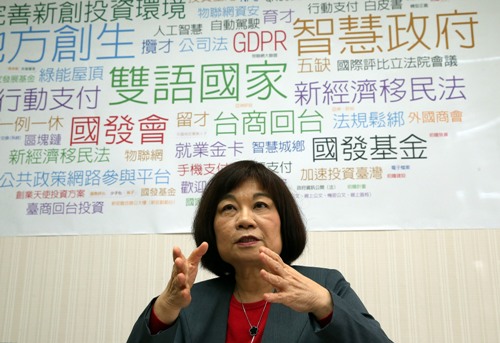 By Lee Hsin-Yin, CNA staff reporter
Foreign chambers of commerce in Taiwan and foreign nationals interested in working in the country have long complained that regulations governing foreign workers in the country are too restrictive and complicated.
The draft New Economic Immigration Act put forth by the National Development Council (NDC) and currently under review at the Legislature hopes to remove some of the biggest barriers, NDC Minister Chen Mei-ling (陳美伶) told CNA in an exclusive interview recently.
"Taiwan has not provided a friendly enough environment for foreign nationals trying to work or live here," Chen said, stressing that Taiwanese need to change and adapt as more countries recruit foreign talent in the era of globalization.
Easing requirements
Under existing law, foreign white-collar workers need a bachelor's degree, two years work experience, and a job in Taiwan paying a minimum monthly salary of NT$47,971 (US$1,554) to receive a work permit, considered major hurdles by foreign job-seekers.
Those requirements would mean that even someone like Facebook founder Mark Zuckerberg would not be allowed to work in Taiwan because he did not graduate from college, the NDC said.
The American Chamber of Commerce in Taipei raised the salary barrier issue in its 2018 Taiwan White Paper, noting that the NT$47,971 minimum is higher than the minimum applicable for a local Taiwanese (NT$23,100).
That puts "young foreign talent wishing to integrate into the local startup community at a disadvantage," AmCham Taipei said.
The proposed bill would move to waive the specific salary and two-year experience requirements and install a scoring system that gauges a foreign work permit applicant's qualifications using several factors.
They include an applicant's level of expertise, educational background, patent holdings, experience setting up a company, salary and work experience.
The NDC has left open the possibility of also allowing applicants to apply using the existing system (two years experience plus NT$47,971 salary), but in principle it wants to adopt the scoring system in the future, though it said further discussions are needed on the issue.
The bill will also open up more industries and occupations to foreign professionals, with only a select few remaining restricted. The NDC believes these options and changes could open Taiwan's doors to more overseas young people.
(Chen Mei-ling)
Streamlined regulations
Given that the regulation of work permits issued to foreign professionals is currently spread between different immigration and labor laws, the new act is also expected to boost administrative efficiency and policy implementation by bringing all pertinent provisions together in a single statute, Chen said.
She said the bill will cover the provisions of the Employment Service Act and Immigration Act, the two major references for foreign job-seekers at present.
That could address concerns raised by the European Chamber of Commerce Taiwan (ECCT), which said in its 2019 Position Papers released last November that the laws are difficult to understand.
"To be effective in attracting talent, Taiwan's legislation should be simplified, preferably by combining all the related legislation into a single act to ensure consistency," the ECCT suggested.
Mid-level technicians
The new legislation will also create a new classification of foreign worker called a "mid-level technician," a hard-to-define term that seems to refer to workers one step up from typical manual laborers.
The government defines mid-level technicians as people with intermediate skill levels such as technicians and associate professionals, trade workers and machine and equipment operators, and personal health care workers.
"Mid-level technician is a brand new category of foreign job-seeker we created because even though this group of workers is most in demand in Taiwan, there is a lack of laws governing their work and stay," Chen said.
According to the Directorate General of Budget, Accounting and Statistics (DGBAS), as of February 2018, Taiwan had a labor shortage of 214,000 people, 54 percent of which were mid-level technician positions.
Taiwan is desperate to fill that gap, Chen said, particularly because the country's working age population will fall below two-third of the total population in 2027.
The bill divides this group into three categories: foreign and overseas compatriot students with at least a high school or Overseas Youth Vocational Training Program diploma from Taiwan; migrant workers who have worked in Taiwan for at least six years; and non-resident foreigners with intermediate-level technical skills.
Minimize local impact
Chen argued that these "mid-level technicians" are not considered blue-collar workers, even if the type of work they do seems to approximate blue-collar jobs, and she insisted they would not have a negative impact on the local job market because they would fill jobs Taiwanese avoid.
Under the bill, foreign mid-level technicians will be subject to specific requirements, including professional certification, minimum salary levels, and caps on the total number of technicians and number of technicians per individual industry.
The minimum salary standard will be at least the 70th percentile of the average salary for each occupation, which in 2018 would have been NT$41,393 for industrial technicians and NT$32,000 for health care workers.
Currently, minimum monthly pay is NT$17,000 for foreign domestic helpers and in-home caregivers and NT$23,100 for institutional caregivers and industrial workers.
The NDC stressed that the higher salaries are not meant to keep foreign employees out of Taiwan but to define the mid-level technician category and make jobs that many Taiwanese shun more attractive to foreign nationals.
Other qualifications are less well-defined. When asked what kind of certificates would be required, for example, the NDC said it would need to discuss the issue further with relevant authorities.
Also, because of concerns that the third category of mid-level technician -- directly imported foreign workers -- could stir up local opposition, the bill says quotas for this group will be decided in the future.
According to Chen, that means it will take longer to introduce imported foreign technicians to the labor market than workers from the other two categories.
Matchmaking jobs
While many programs aim to create a friendly working environment for foreign nationals, some job-seekers have said they would like the government to help with career matchmaking.
One of them is Adrien Gillès, a Belgium technology expert who has enrolled in the council's Employment Gold Card program, which targets high-end foreign professionals, allowing them to come to Taiwan without a job or to start their own businesses.
"I fully agree about how great this program is," he said. "The only thing I would suggest is that maybe the government could connect the card holders with companies in the sectors targeted by the program."
To address that problem, Chen said, the government has established a website called "Contact Taiwan" so that foreign talent and local employers have easier access to the job market.
Enditem/AW/ls