Taiwan shares end little changed after recouping earlier losses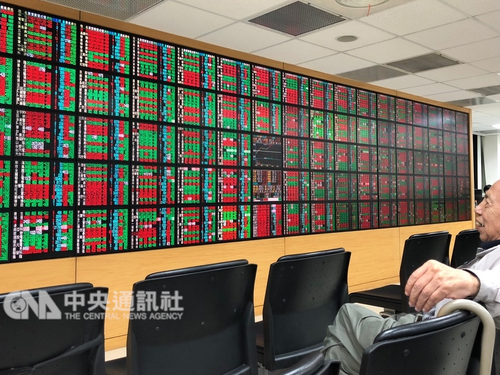 Taipei, Dec. 21 (CNA) Shares in Taiwan closed little changed Friday after recouping earlier losses caused by a plunge in U.S. markets overnight amid worries over a rate hike cycle in Washington, dealers said.
Bargain hunters focused on the bellwether electronics sector, rushing to pick up large-cap tech stocks such as contract chipmaker Taiwan Semiconductor Manufacturing Co. (TSMC), to help the broader market surmount the earlier weakness, the dealers said.
The weighted index on the Taiwan Stock Exchange (TWSE), or Taiex, ended up 2.15 points, or 0.02 percent, at 9,676.67, after moving between 9,585.32 and 9,683.95, on turnover of NT$110.35 billion (US$3.58 billion).
The local main board will open Saturday as a make-up trading session for a lost session during the upcoming prolonged New Year holiday.
The market opened down 0.26 percent Friday and fell further to dip below the 9,600-point mark in the mid-morning session as investors were shocked by heavy losses in the U.S. markets, where the Dow Jones Industrial Average closed down 464 points or 1.99 percent overnight to a new 14-month low, the dealers said.
However, bargain hunters became active after witnessing a sharp fall in the morning session by picking up heavyweights in the electronics sector, and buying appeared more apparent in the late trading session pushing up the Taiex above the previous closing level by the end of the session, they said.
"Today's rebound largely resulted from bargain hunting, as investors were betting that Wall Street will bounce back later in the day after recent plunges," MasterLink Securities analyst Tom Tang said.
"I expect that the local equity market will move in a narrow range amid lingering concerns over more volatility in the U.S. market at a time of a rate hike cycle in the United States," Tang said, referring to a statement by the Fed after a Dec. 18-19 policymaking meeting that said the central bank will continue to raise rates.
Tang said bargain hunting put select large-cap tech stocks in spotlight so that the Taiex was able to recover significantly from its earlier low. Among the gaining large-cap tech stocks, TSMC, the most heavily weighted stock in the local market, rose 1.13 percent to close at NT$223.50 after hitting a low of NT$219.00, with 43.51 million shares changing hands.
Led by TSMC, the bellwether electronics sector ended up 0.44 percent and the semiconductor sub-index closed up 0.87 percent.
Other semiconductor stocks also moved higher, with memory chip makers Nanya Technology Corp. up 1.32 percent to end at NT$53.90, off a low of NT$52.20, and Macronix International Co. up 4.37 percent to close at NT$17.90, off a low of NT$16.90.
Also in the electronics sector, Largan Precision Co., a smartphone camera lens supplier to Apple Inc. rose 1.40 percent to close at NT$3,270.00 after hitting NT$3,090.00, while iPhone assembler Hon Hai Precision Industry Co. fell 0.14 percent to end at NT$71.40.
While buying in the tech sector accelerated, old economy and financial stocks largely underperformed the broader market, the dealers said.
In the wake of falling international crude oil prices, Formosa Plastics Corp. shed 1.00 percent to close at NT$98.60 and Formosa Chemicals and Fibre Corp. lost 0.94 percent to end at NT$105.00.
In the financial sector, which closed down 0.13 percent, CTBC Financial Holding Co. fell 0.25 percent to close at NT$19.90 and Cathay Financial Holding Co. lost 0.11 percent to end at NT$46.95, while Fubon Financial Holding Co. rose 0.53 percent to close at NT$47.30.
"With many foreign institutional investors away from the trading floor for the Christmas and New Year holiday, the local equity market is expected to continue in consolidation mode," Tang said, referring to a range between 9,600 and 9,800 points.
According to the TWSE, foreign institutional investors sold a net NT$3.44 billion-worth of shares on the main board Friday.