Decommissioning of 1st nuclear power plant facing major delay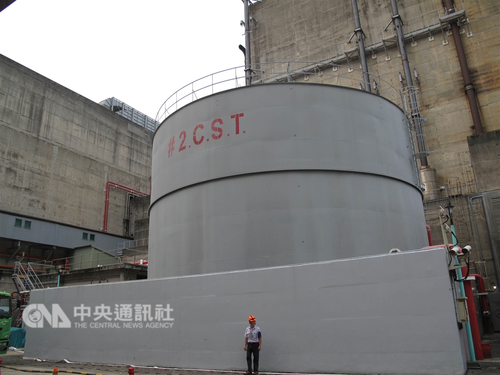 Taipei, Dec. 3 (CNA) Taiwan is scheduled to begin decommissioning the first reactor of its oldest nuclear power plant in New Taipei on Dec. 5 after 40 years of service, but the deadline will not be met because of questions over how to deal with the plant's nuclear waste.
The plan to decommission the two reactors in the Jinshan Nuclear Power Plant included the construction of an outdoor storage yard at the plant site for the dry storage of spent nuclear fuel.
The facility was built in 2013 but has yet to pass a New Taipei government inspection needed to obtain an operating permit, leaving the decommissioning process in limbo.
Hsu Tsao-hua (徐造華), a spokesman for Taiwan Power Company (Taipower), which runs Taiwan's three nuclear power plants, said that if the storage facility cannot be used, the 816 fuel rods still in the Jinshan plant's first reactor will have to stay where they are, and the plant's safety equipment will have to be kept running.
Though the company has planned an indoor storage facility, it will take at least 10 years to build, which could delay the decommissioning process by at least a decade, Hsu warned.
Construction of the Jinshan power plant, located on a hill along the coast in northern New Taipei, was approved in 1970, and its first reactor began commercial runs on Dec. 10, 1978.
With a 40-year operating license, the reactor was set to be decommissioned starting on Dec. 5. The same process for the plant's second reactor is scheduled for July 15, 2019.
Under Taiwanese law, Taipower is required to file a decommissioning application and begin an environmental impact assessment (EIA) three years before such a facility is to stop operations permanently, but that has also presented a roadblock.
Taipower applied in January 2016 to conduct the EIA -- which covers the disposal of spent fuel rods and other materials from the dismantled plant -- for the Jinshan plant.
The first-stage assessment passed an Environmental Protection Administration (EPA) committee review in May that year, and a stricter second-stage assessment was approved in August 2018.
The latter was then submitted to the EPA for final review so that a decommissioning permit could be issued.
But the agency has said no review would take place before this month, and even if it is approved without any disputes, its conclusions still have to be double-checked and approved at a meeting of experts and officials assigned to the case, causing further delays.
The thorny spent fuel storage and EIA review issues that will cause the Jinshan plant to miss the scheduled deadline come down to politics, and at least to some extent to the New Taipei government's attitude on the issue.
New Taipei Mayor Eric Chu (朱立倫) of the opposition Kuomintang (KMT) has declared that his city "can never be the permanent storage place for nuclear waste."
His position has been at odds with the general stance of his party, which advocates the use of nuclear power as the country moves toward its ultimate goal of becoming a nuclear-free homeland.
Whether the city's new mayor-elect, Hou You-yi (侯友宜), who takes office later this month, will veer away from Chu's position is not yet clear.
But he said on Nov. 30 that he hoped the problem of nuclear safety could be resolved before discussing issues related to nuclear power.
"Nuclear waste represents pain in the heart of New Taipei (citizens)," said Hou, after the city has co-existed with two nuclear power plants for nearly four decades.
He also argued that nuclear waste should never be stored in a heavily populated city, and he urged the central government and Taipower to find a permanent storage location as soon as possible, a mission the utility has struggled with for years.
New Taipei is the most populous city in Taiwan with a population of 3.99 million as of November, government statistics show.
Even if the decommissioning of the Jinshan power plant were to start on time, it would still be a long process.
Under Taipower's plan, it would involve eight years to shut the plant down, 12 years to dismantle it, three years to inspect its final condition and two years to restore the land.