U.S.-China trade impact on markets may be short-lived: scholars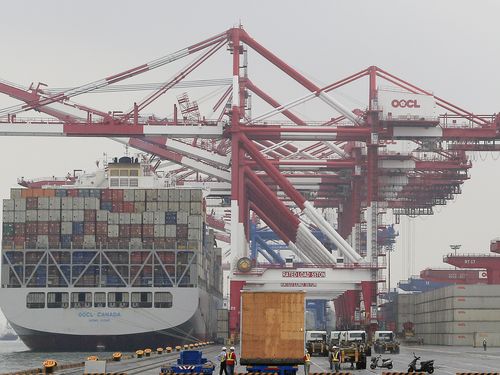 Taipei, June 19 (CNA) The impact on local financial markets resulting from escalating trade friction between the United States and China could be short-lived, economists said Tuesday.
Dachrahn Wu (吳大任), director of National Central University's Research Center for Taiwan Economic Development, said the two sides still have time to negotiate in a bid to reverse the current unfavorable situation caused by the moves made by both sides to impose additional tariffs on each other's goods last week.
In the wake of the latest imposition of tariffs, the weighted index on the Taiwan Stock Exchange closed down 183.28 points, or 1.65 percent, at the day's low of 10,904.19 points.
Last week, U.S. President Donald Trump announced that the U.S. will impose an additional 25 percent tariff on Chinese goods worth US$50 billion, such as machinery, robotics, aerospace items, information technology devices and auto products, starting from July 6.
In retaliation, China announced that a 25 percent tariff will be imposed on U.S. goods, including soybeans and electric vehicles, worth US$34 billion, also starting from July 6. Another list of U.S. goods worth US$16 billion will be subject to review before being applied.
On Monday, Trump also threatened to impose a 10 percent tariff on US$200 billion-worth of Chinese goods, which sent ripples through global financial markets.
Due to the trade tension between the world's two largest economies, investors moved their funds out of the region to park in U.S. dollar-denominated assets as a safe haven, a move that plunged the Taiwan dollar by NT$0.184, or 0.61 percent, to close at NT$30.186 against the greenback Tuesday, a more-than seven-month low.
Wu said Tuesday's losses in the local equity and foreign exchange market were simply a psychological result of the impact of the deteriorating trade ties between Washington and Beijing.
Trump, Wu said, could soften his stance at the last minute during negotiations with China.
Wu Meng-tao (吳孟道), an economist with the Taiwan Institute of Economic Research (TIER), said financial markets tend to be sensitive to prominent leads like a possible trade war between the U.S. and China but so far, no impact has been imposed on the real global economy.
Wu said the volatility in equity prices and currency values are likely to continue for a couple days and after investors compose themselves, the markets are expected to return to normal. "It is just a short-term shock," Wu said.
But Mega International Investment Corp. analyst Alex Huang was not so upbeat, saying that as Washington and Beijing have lost mutual trust, it will be hard for them to iron out a solution before July 6.
Wu said the U.S.-China trade tension could still create uncertainty for the economy, so he expects that the local central bank will not tighten its monetary policy in the upcoming quarterly policymaking meeting scheduled for Thursday.
If the central bank leaves its monetary policy unchanged, it will be the eighth consecutive quarter in which the bank has kept its key interest rates unchanged, with a discount rate of 1.375 percent.