Taiwan shares hit new 27-year high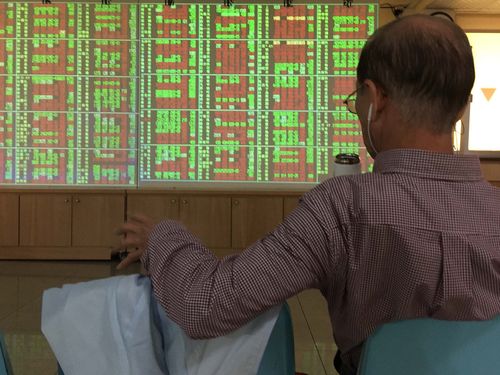 Taipei, Jan. 15 (CNA) Shares in Taiwan set a new 27-year high on Monday after markets in the United States finished strong at the end of last week, dealers said.
The bellwether electronics sector steamed ahead, led by contract chipmaker Taiwan Semiconductor Manufacturing Co. (TSMC), while the financial sector also attracted buying to further boost the broader market, they said.
The weighted index on the Taiwan Stock Exchange closed up 72.35 points, or 0.66 percent, at 10,956.31, after moving between 10,911.89 and 10,962.55, on turnover of NT$125.19 billion (US$4.24 billion).
Monday's closing level was the highest since April 3, 1990 when the main board ended at 11,119.00.
The market opened up 0.44 percent in reaction to gains made on U.S. markets, where three major indexes -- the Dow Jones Industrial Average, the S&P 500 and the tech-heavy Nasdaq -- closed at their all-time highs Friday, dealers said.
Buying then steadied before picking up at the end of the session behind interest in the high-tech sector, with TSMC and other large cap tech stocks moving higher, and in the financial sector, which got a boost from bargain hunting, they said.
"It was liquidity-driven buying as foreign institutional investors continued to remit their funds into the region as the U.S. dollar weakens," Hua Nan Securities analyst Kevin Su said.
Su said the Taiwan dollar and other regional currencies have surged recently on foreign fund inflows because of the decline in the U.S. dollar index, which tracks the currencies of Washington's six major trading partners and fell to a three-year low on Friday.
"Moreover, a booming Wall Street has given investors a bigger appetite for risk in regional equity markets, leading them to target large cap stocks such as TSMC," Su said.
TSMC, the most heavily weighted stock in the local market, rose 1.27 percent to close at NT$240.00, with 27.45 million shares changing hands.
Buying in TSMC spread to other tech heavyweights. Hon Hai Precision Industry Co., which assembles iPhones and has the second highest market capitalization in Taiwan behind TSMC, closed 1.63 percent higher at NT$93.30.
Also in the electronics sector, which closed up 0.85 percent, integrated circuit packaging and testing services provider Advanced Semiconductor Engineering Inc. rose 3.74 percent to end at NT$40.25.
But Largan Precision Co., a smartphone camera lens supplier to Apple Inc., fell 1.71 percent to close at NT$4,030.00 after investors pocketed gains seen on Friday, when the stock jumped by 10 percent, the maximum allowed in Taiwan in a single session.
"It seemed investors are bullish on a tax cut in the U.S. and think it will boost the U.S. economy. So investors were willing to pick up stocks in export-oriented economies, such as Taiwan, expecting a strong U.S. economy to push up global demand," Su said.
Buying also rotated to the financial sector, which rose 1.11 percent. Mega Financial Holding Co. rose 2.37 percent to close at NT$25.95, and Cathay Financial Holding Co. added 1.62 percent to end at NT$56.50.
"As long as foreign investors continue to move funds into the region, the Taiex will soon challenge the 11,000-point mark," Su said. "With plenty of liquidity in the market, I don't expect any major technical hurdles ahead of that level."