Winbond shares down despite investment plan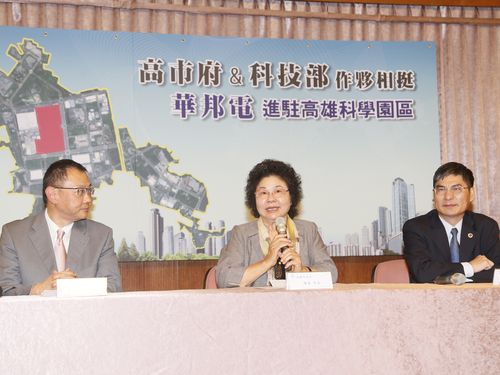 Taipei, Sept. 26 (CNA) Shares of Taiwan-based dynamic random access memory (DRAM) chip maker Winbond Electronics Inc. (華邦電) fell Tuesday morning despite its announcement on Monday that it plans to build a 12-inch memory chip plant in Kaohsiung, dealers said.
The selling in Winbond shares reflected heavy losses on the Philadelphia Semiconductor Index overnight and the desire by investors to cash in on the stock's significant gains this year, they said.
As of 10:33 a.m., shares of Winbond had shed 4.07 percent to NT$25.95 (US$0.85), with 66.46 million shares changing hands on the Taiwan Stock Exchange, where the weighted index was up 0.03 percent at 10,338.51.
"The big investment project in Kaohsiung failed to convince investors to pick up Winbond shares at a time when semiconductor stocks in the U.S. are under pressure. The stock could not isolate itself from the global downturn," Hua Nan Securities analyst Kevin Su said.
On Monday, the Philadelphia Semiconductor Index shed 1.99 percent.
In a news conference on Monday, Winbond Chairman Arthur Yu-cheng Chiao (焦佑鈞) announced that his company will invest NT$330 billion over the next 15 years in a 12-inch wafer plant in the Kaohsiung section of the Southern Taiwan Science Park.
The investment will become the largest in the science park, which houses many of Taiwan's high-tech giants, such as Taiwan Semiconductor Manufacturing Co. (TSMC, 台積電), the world's largest contract chip maker.
According to Winbond, the company has secured a 25-hectare plot of land in the park for the 12-inch wafer plant, which will initially churn out chips for DRAM production.
By the end of 2020, the new plant will start commercial production of chips made by the 20-25 nanometer process, Winbond said, adding that the new plant is expected to eventually use more of the advanced 14nm process in the future.
Chiao said the investment will create a high-tech cluster in Kaohsiung and use the most advanced technologies to save water and technology and recycle waste.
But Winbond shares faced selling as investors locked in their recent gains soon after the exchange opened Tuesday, Su said.
"Winbond's share price had risen significantly on rising DRAM prices because of a global supply shortage," Su said. "So investors seized on the fall in chip stocks in the U.S. as an excuse to unload their holdings."
Before Tuesday's fall, Winbond shares had risen almost 170 percent this year.
"The DRAM industry remains very volatile. With China gearing up to increase production, I'm afraid product prices will become more unstable after their strong rebound recently," Su said.