Buying interest rises in Taipei's upscale homes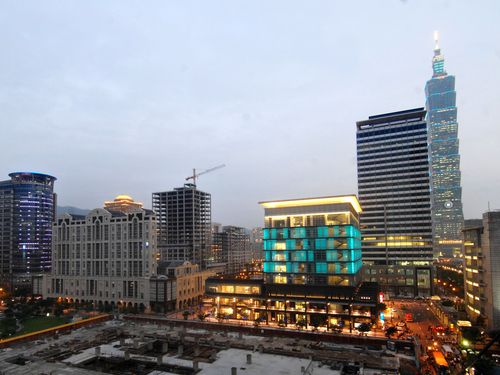 Taipei, Sept. 1 (CNA) Luxury homes accounted for about 10 percent of the total housing transactions in August in Taipei, the most closely watched property market in Taiwan, up from about 7 percent the previous month, according to statistics released Friday by property sale agencies.
Tseng Ching-der (曾敬德), a research manager with Sinyi Realty Inc. (信義房屋), said the increase indicated that buying interest in upscale homes in the capital city has been on the rise.
According to the data, transactions of homes valued at NT$50 million (US$1.66 million) or higher made up 9.9 percent of Taipei's total housing transactions in August, up from 6.8 percent in July.
In addition to the transaction ratio, the average selling price of upscale homes in Taipei rose to NT$617,000 per ping (3.3 square meters) in August compared with NT$596,000 per ping in July, the data showed.
Tseng said the luxury home market boom in Taipei came after consolidation of the entire property market in Taiwan in recent months, which pushed both transaction volume and prices higher.
In August, transactions of residential and commercial property in Taiwan rose 14.8 percent from a month earlier with sales of homes, shops and offices in Taipei increasing 14.6 percent in the lead up to Ghost Month.
In Taiwan, consumers tend to avoid purchases of big ticket items such as homes and cars during the Ghost Month, which is being marked Aug. 22 to Sept. 20 this year and is believed to be an unlucky period for such transactions.
The agencies' statistics showed that residential and commercial property transactions in five other major cities in Taiwan also increased in August. Sales in New Taipei, Taoyuan, Taichung, Tainan and Kaohsiung grew 14.7 percent, 13.1 percent, 15 percent, 15.1 percent and 14.9 percent, respectively, from a month earlier, the data showed.
Tseng said that after consolidation of the local property market in recent months, potential buyers are not expecting a further drop in prices, which has helped narrow the gap between buyers and home sellers' price expectations and allowed for faster deals.
The relatively dry weather in August and a halt in the government's efforts to stop market speculation also encouraged home buyers to enter and explore the market, he said.
Lang Mei-nan (郎美囡), head of research at Great Home Realty (大家房屋), agreed that since the government has loosened its grip on the local property market, banks have become more willing to make home mortgages which in turn has boosted prices and the transaction volume.
Commenting on the property sales in Taoyuan, Chiang Yi-hui (江怡慧), a manager at Taiwan Realty (台灣房屋), said that the market there was boosted by population growth, improved transportation links and a better living environment, particularly in Bade District.