APEC steps up fight against unethical practices by health industry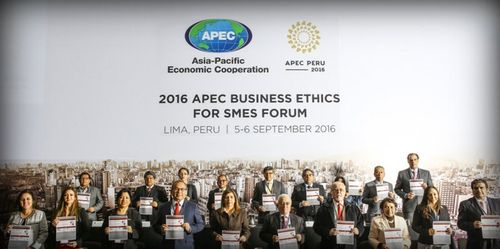 Taipei, Sept. 8 (CNA) The APEC Small and Medium Enterprise Working Group meeting in Lima Peru reported a progress Wednesday local time in its efforts to unite health industry stake-holders against unethical conducts.
A press release issued by APEC said health system stakeholders in Peru and Canada have launched landmark collaborative arrangements to strengthen their ethical interactions.
The two countries will effectively address improper inducements and ensure patient interests while providing a foundation for relevant parties elsewhere in the Pacific Rim to build on this progress.
Peru and Canada's "consensus framework" brings together health agencies, associations, practitioners, hospital groups and patient organizations to jointly develop and adopt codes of ethics, drawing on principles established in APEC for the medical device and biopharmaceutical sectors.
The framework support ethics training across health systems, aiming to open up greater opportunities for these businesses to participate in cross-border trade free from the high costs of corruption.
The approach could significantly improve healthcare outcomes as well as bolster regional trade, job creation and economic growth.
The signing of Peru's consensus framework by 22 parties took place during an APEC business ethics forum in Lima, ahead of a key meeting of ministers from the region on Friday to propel small and medium enterprise development. Canada's new consensus framework was also recognized by forum delegates.
Together, they will provide models to assist fellow APEC member economies in creating their own consensus frameworks. They also complement work in the region to achieve universal adoption of codes of ethics consistent with APEC principles. Both measures are guided by a targeted 2020 deadline. Patricia Garcia, Peru's minister of health, said, "It is essential for the health industry to work in unison to build public trust and now we have a platform to achieve just that."
The APEC-wide pursuit of public-private action to enhance business ethics in health systems was accelerated by Small and Medium Enterprise Ministers in Nanjing, China in 2014.
Reaffirming unethical business environments as a barrier to small business growth, they called for the universal adoption of common, high standard business principles first detailed by APEC economies in Kuala Lumpur for the medical device sector and in Mexico City on the biopharmaceutical sector.