LG said to sell new G Pro 2 phablet in Taiwan in April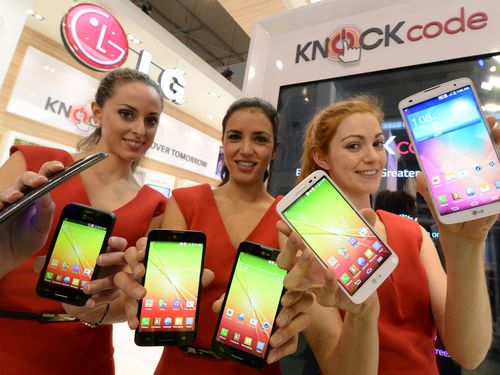 Taipei, Feb. 23 (CNA) South Korea's LG Electronics Inc. plans to bring its new flagship phone, the G Pro 2, to Taiwan in April as it is targeting double-digit revenue growth in the country this year, according to a source with knowledge of the project.
The phone's price and other details of LG's partnership with local telecom operators, however, remain in discussion, the source told CNA and asked not to be identified because the project has not been released.
LG is aiming for a 5 percent share of Taiwan's smartphone market and is hoping the phone's launch will help boost its revenues in the local market by 40 percent in 2014, the source said.
Unveiled on Feb. 13 in South Korea as a follow-up to the award-winning G Pro, the G Pro 2 comes with a 5.9-inch full-HD IPS display with an extra slim bezel of 3.3mm, a Qualcomm Snapdragon 800 2.26GHz quad-core processor and a 13-megapixel camera.
The phone-tablet hybrid's newest feature, called "Knock Code", allows owners to power on and unlock their G Pro 2 smartphones in one step by tapping their screens, LG said in a press release.
The G Pro 2 will make its debut to the public at the Mobile World Congress (MWC) trade show, scheduled for Feb. 24-27 in Barcelona, Spain, the company said.
Kim Byung-hyung, president and chief executive of LG's Taiwan branch, told a local press briefing on Feb. 19 that his company is hoping to become one of Taiwan's top three smartphone vendors by 2015 after gaining more brand awareness among consumers this year, according to Taiwanese news site ETtoday.
(By Jeffrey Wu)ENDITEM/ROBERT
Mobile World Congress 2014:●HTC issues warning to Samsung phone buyers of possible remorse●HTC unveils mid-range Desire phones, supercomputer initiative●Sony introduces new smartphone in Spain, Taiwan●Samsung's first 4G phone using 700 MHz to hit Taiwan in Q2●MediaTek reveals 64-bit LTE chip at 'mainstream price'●Acer debuts Liquid E3, Z4 phones ahead of Mobile World Congress